Wells Fargo American Indian Scholarship
$2,500–$5,000
Award Amount
6/1/2023
Submission Deadline
Explore Similar Scholarships
Wells Fargo & Company, headquartered in San Francisco, California, offers the Wells Fargo American Indian Scholarship to undergraduate and postgraduate students seeking support for their studies in gaming, finance, hospitality, business, information technology, human resources, and other related courses. Registered members of a federally recognized Native American tribe or Alaska Native organization, as well as state-recognized tribes in the United States, are eligible for Wells Fargo scholarships.
Every year, the American multinational financial services company awards a $2,500 to $5000 prize to qualified applicants who are pursuing full-time degrees in any field of study at an accredited institution. The scholarship program is applied for in the fall and spring semesters of each year.
High-achieving students are exposed to new ideas and experiences through the program. Because an online application could qualify you for many opportunities, you should fill out one and give the program staff up to 10 business days to assess it.
Key Information of Wells Fargo American Indian Scholarship
Study Details
Area of Study
Banking
Business
Finance
Gaming
Gaming Management and Operations
Hospitality
Human Resources
Information Technology
Tourism
Country of Study
United States
Scholarship Details
Intended Level of Study
Undergraduate
Postgraduate
Award Amount
$2,500–$5,000
Wells Fargo American Indian Scholarship Timeline
March 1, 2022
Application Open Date
Scholarship applications commence on March 1.
June 1, 2022
Submission Deadline
The application deadline is June 1.
Scholarship Eligibility
To be eligible to apply, applicants must meet the following criteria.
Eligible Grade: College Junior – Postgraduate
Maximum Age: Any
Required GPA: Any
Geographic Eligibility: United States
Gender: Any
Race/Ethnicity: Alaskan Native, Native American
Application Requirements
Here's what you need to submits besides your application.
How to ace the Wells Fargo American Indian Scholarship
1
Determine what financial assistance you need
Scholarships for students are awarded in a variety of methods, based on the applicant's qualifications. Consider what types of scholarships you'd like to apply for and what field of study you'd like to pursue.
2
Make a checklist of your eligibility requirements
Preparing and reviewing a checklist of the qualifying criteria related to your desired course of study is a sensible move. For the most up-to-date program specifics, make sure you read over each relevant information page.
3
Showcase your unique voice in your essay
Make sure you choose experiences that show off who you truly are in your essay, which goes along with all the other application paperwork. You have a fantastic tale to share, and you want to make sure that everyone hears it.
4
Proofread and edit multiple times
As a follow-up to the previous suggestion, read your essay aloud or seek the assistance of a family member or friend to give you a new perspective on your work. This will help to uncover any errors that you may have overlooked. Teachers and professors make up the scholarship committee, so it's worth going over your essay several times.
How the Wells Fargo American Indian Scholarship is Judged
Students are evaluated on their commitment to their field of study and answers provided in the application.
Why We Love the Wells Fargo American Indian Scholarship
You could qualify for multiple opportunities
The Wells Fargo scholarship program is one of many offered by the Native Forward Scholars Fund. As a result, your online application may qualify you for more than one opportunity.
It motivates students to achieve academic goals
The Wells Fargo scholarship program is one of many offered by the Native Forward Scholars Fund. As a result, your online application may qualify you for more than one opportunity
You join a robust alumni
The scholarship program offers not just monetary rewards, but also the chance to attend the recurring Indigenous leadership summit and access to external resources, such as external scholarships, internships, and work possibilities.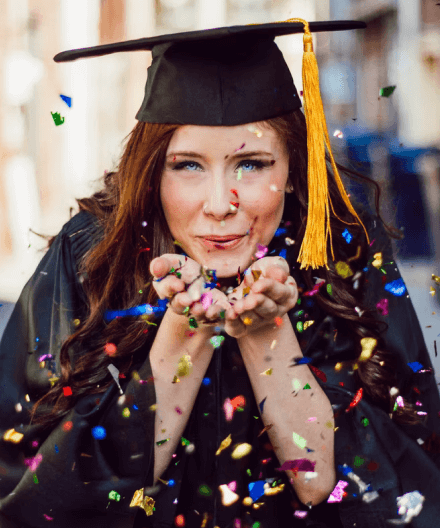 5 Facts of the Wells Fargo American Indian Scholarship
It's the fourth-largest U.S. bank
Wells Fargo is the world's fourth-biggest bank by market capitalization, and it ranks #26 on the Fortune 500 list of the top US corporations by total revenue in 2018.
Its scholarship programs cover multiple areas
Wells Fargo has several scholarship programs aimed toward various populations, skills, and talents, such as Veterans, dependent children, and persons with disabilities.
Native American graduates consistently demonstrate outstanding promise
According to the Native Forward Scholars Fund, Alaska natives and Native Americans graduate at a rate of 95%, with environmental science, engineering, and pharmacy among the most popular fields of study.
Their funds bridged financial gaps during COVID
The company's Student Impact Scholarship project awarded each 200 students $5,000 each, which they could use to cover a variety of expenses and close the unanticipated financial gaps caused by COVID-19.
Scholars participate in engaging events
Winners of the Student of the Month events receive a $50 prize, as well as exposure on social media and the website, as well as consideration for the Student of the Year Award.