Virginia Heinlein Memorial Scholarship
4/1/2023
Submission Deadline
Explore Similar Scholarships
College Major:
Grade Level:
The Virginia Heinlein Memorial Scholarship is an international scholarship awarded to a deserving female student who is looking to complete their degree at an accredited college or university.
The scholarship is awarded by the Heinlein Society in memory of Virginia Heinlein, a chemist, engineer, and biochemist who was married to Robert A. Heinlein, one of the world's most prolific science fiction writers.
The Heinlein Society, in its mission to promote education, literature, and charity, has organized this scholarship to support and recognize women in the field of science and technology.
Key Information of Virginia Heinlein Memorial Scholarship
Study Details
Area of Study
Engineering
Mathematics
Science
Technology
Country of Study
United States
Scholarship Details
Intended Level of Study
Undergraduate
Virginia Heinlein Memorial Scholarship Timeline
January 1, 2023
Application Open Date
Applications open around January, each year.
April 1, 2023
Application Deadline
The last date of submission for entry is early April.
July 7, 2023
Award Announcement
The winner of this award will be declared in July.
Scholarship Eligibility
To be eligible to apply, applicants must meet the following criteria.
Eligible Grade: High School Senior – High School Graduate
Maximum Age: Any
Required GPA: Any
Geographic Eligibility: Any
Gender: Women
Race/Ethnicity: Any
Application Requirements
Here's what you need to submits besides your application.
How to ace the Virginia Heinlein Memorial Scholarship
1
Obtain a membership
Become a member of the Heinlein Society to access the journals, and latest news and participate in the events organized by them. This will help you to structure your scientific ideas and stand out in the crowd.
2
Read up on the subject
Read the latest journals and reviews by eminent scientists to have an understanding of ways to improve your presentation skills for scientific work. Critically review your submissions as the submissions require your own creative and original ideas.
3
Be professional and formal
Professionalism is of utmost priority as the competition is global and several applicants apply from different countries. To avoid rejection check for typographical errors, spelling mistakes, and grammatical errors.
4
Involvement in the community
Community involvement along with the initiatives taken by you for the development of the community you live in should be highlighted. You should mention any charity, a donation done by you to show that you have a strong personal attachment to the people in and around you.
How the Virginia Heinlein Memorial Scholarship is Judged
The Heinlein Society Scholarship Committee selects 10 applicants from all the submissions as winners before the final four winners are chosen, one for each scholarship. Though the financial fund is disbursed among four winners the names of 10 semi-finalist winners are announced. All the names are published on the web page of Heinlein Society giving due recognition and respect.
Why We Love the Virginia Heinlein Memorial Scholarship
It's an international event
Women from all over the world can apply for the Virginia Heinlein Scholarship, as long as they are studying a four-year bachelor's degree at an accredited institution.
A way to motivate women in science
The women pursuing their academic interest in STEM are often prejudged on the basis that men are better, which often demoralizes the female members of the scientific community. This scholarship will work wonders to boost their morale and inspire them.
Earlier winners can reapply
This is one scholarship that allows winners of earlier contests to reapply. Most of the scholarships have reservations that don't allow former winners to reapply.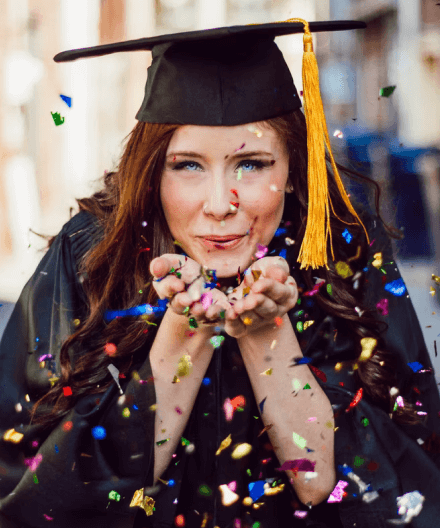 5 Facts About the Virginia Heinlein Scholarship
Minimum and maximum word count
Submission of essay with a minimum word count of 500 and the maximum count of 1,000 words.
Enrolment in undergraduate courses
The applicant must be currently enrolled in a bachelor's program and not have completed any bachelor's degree earlier.
Donations are tax exempt
The Heinlein Society is a charitable organization and all donors are tax exempted.
Submit in PDF format
The applications are required to be submitted in PDF format and sent by email. The candidate may be rejected if applications are sent in any other formats.
Scholarships awarded by the Heinlein Society
The Heinlein Society awards the Robert A. Heinlein Scholarship, Dr. Yoji Kondo Scholarship, Dr. Jerry Pournelle Scholarship, and the Virginia Heinlein Memorial Scholarship every year.