UT Utah Merit Academic Scholarship
$1,000–$4,000
Award Amount
3/1/2023
Submission Deadline
Explore Similar Scholarships
Location:
Grade Level:
Utah Tech University is the most affordable university in Utah and the fifth most affordable small college in the United States. The institution started as a high school in 1911 under the name St George Stake Academy. In 1916, after the institution started offering college courses, it became known as Dixie Normal College. It wasn't until July 1, 2022, that the institution settled on Utah Tech University.
The university was able to grow to what it now is thanks to the efforts of the pioneers of the South West Utah community. The university currently has a 100% acceptance rate, it offers 56 bachelor's degrees, 21 associate degrees, and 4 master's degree programs. UT aspires to be a top polytechnic university recognized for its inclusivity and dedication to student learning and success.
Many UT students are beneficiaries of one or more of the school's several scholarship programs. Freshman applicants to any program at Utah Tech are automatically considered for the UT Utah Merit Academic Scholarship if they have an unweighted high school GPA of 3.0 or above and apply to the university before the March 1 deadline. The scholarship is in the form of a $1,000 tuition waiver each year for a maximum of eight semesters (four years), recipients of the scholarship must maintain a minimum GPA of 3.0 to renew their scholarship.
Key Information of UT Utah Merit Academic Scholarship
Study Details
Country of Study
United States
Specific Schools
Utah Tech University
Scholarship Details
Intended Level of Study
Undergraduate
Award Amount
$1,000–$4,000
UT Utah Merit Academic Scholarship Timeline
December 2022
Application Opening Date
Applications open on December 1.
March 2023
Submission Deadline
The submission deadline is on March 1.
Scholarship Eligibility
To be eligible to apply, applicants must meet the following criteria.
Eligible Grade: College Freshman
Maximum Age: Any
Required GPA: 3
Geographic Eligibility: Utah
Gender: Any
Race/Ethnicity: Any
Application Requirements
Here's what you need to submits besides your application.
How to ace the UT Utah Merit Academic Scholarship
1
Pay your admission fees early
Admission fees are considered a part of the admission process. Pay your admission fees before the March 1 deadline to be considered for the scholarship.
2
Start the application process right away
You should start the application process as soon as possible. This will allow you enough time to acquire all necessary documents, complete forms, and contact past winners or mentors for advice. Have everything organized and planned to avoid any last-minute complications.
3
Review your application before submitting
Go over your application before submitting it. Crosscheck your details and make sure you fill out the correct information. Changes to transcripts and applications after the deadline will not be accepted.
4
Reach out to the university contact
If you have any questions regarding your application, don't make assumptions. There is a contact listed on the scholarship website. Reach out to them to help you and correct any misunderstanding.
How the UT Utah Merit Academic Scholarship is Judged
Applications are judged based on academic records for first-time college students only.
Why We Love the UT Utah Merit Academic Scholarship
58% of students are female
The University promotes an inclusivity culture by accepting applications from female and minority students without discrimination. 58% of the student population is female and 23% are minority students.
Active social life
Utah Tech has over 85 clubs and 15 D-I athletic teams, and there are over 300 miles of mountain biking trails in the area. Students enjoy various social events on- and off-campus.
Safe campus
The university police ranked third in the United States. Utah Tech students can feel safe living and studying on campus.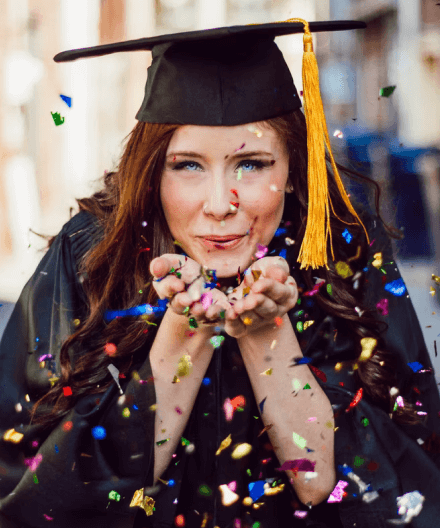 5 Facts About UT Utah Merit Academic Scholarships
Some scores are ineligible
Applicants are ineligible if they have taken the GED, HiSET, or other High School Equivalency.
Students learn from industry partnerships
Utah Tech serves as a polytechnic, giving its students the opportunity to gain real-world learning experiences through various industry partnerships.
Recipients may apply for other scholarships
Recipients of this scholarship may receive other scholarships or financial aid from external organizations.
$45 million awarded in scholarships
In the year 2021, Utah Tech University awarded $45 million through various scholarship programs to its incoming and existing students.
The university has been accredited since 1945
The university has been continuously accredited by the Northwest Commission on Colleges and Universities since 1945.