USPAACC – Denny's Hungry for Education Scholarship
3/31/2023
Submission Deadline
Explore Similar Scholarships
Location:
Grade Level:
The USPAACC-Denny's Hungry for Education is a scholarship program that recognizes and rewards students who demonstrate initiative and creativity in community-building ideas. Denny's launched the Hungry for Education Scholarship program in 2011 to help fight childhood hunger and promote education. Since then, it has given out more than $1.5 million in scholarships to elementary, high school, and college students across the country.
The Hungry for Education Scholarship Program's primary goal is to assist students in continuing their education while rewarding them for their desire to make a difference. Denny's selects strategic partners each September to award scholarships to students who submit essays on how Denny's can help bring communities together. Denny's selects outstanding students to have their ideas implemented in their community.
Asian-American and Pacific-Island American high school students in the United States are eligible for the scholarships. Major corporations have partnered with USPAACC to establish Hallmark Scholarships, and Asian American businesses have stepped forward to support the scholarship program. Every year, between ten and twenty scholarships ranging from $3,000 to $10,000 are awarded to high school seniors across the country for post-secondary education.
Key Information of USPAACC – Denny's Hungry for Education Scholarship
Study Details
Country of Study
United States
Scholarship Details
Intended Level of Study
Undergraduate
USPAACC – Denny's Hungry for Education Scholarship Timeline
November 2022
Application Opening Date
Applications for the USPAACC-Denny's Hungry for Education Scholarship usually open in early November.
March 2023
Submission Deadline
The submission deadline is on March 31.
May 2023
Award Announcement Date
Only awardees will be notified by May 2023, and a list of all the scholarship recipients will be posted on the website.
Scholarship Eligibility
To be eligible to apply, applicants must meet the following criteria.
Eligible Grade: High School Freshman – High School Senior
Maximum Age: Any
Required GPA: 3.3
Geographic Eligibility: United States
Gender: Any
Race/Ethnicity: Asian, Asian American, Native Hawaiian, Pacific Islander
Application Requirements
Here's what you need to submits besides your application.
Essay
Grade transcript
Recommendation letters
How to ace the USPAACC – Denny's Hungry for Education Scholarship
1
Extracurricular leadership activities
Choose experiences that demonstrate your leadership abilities. If you still have a few years before applying for the scholarship, look for extracurricular leadership roles and awards that will show your ability to take initiative.
2
Participation in community service
Highlight your involvement in your school community. Discuss how you will use your relationship with USPAACC to give back to the community if you are awarded the scholarship.
3
Stand out from the crowd
The essay is your best opportunity to tell the scholarship committee about your background, upbringing, and achievements. Discuss what you have had to overcome and how these difficulties have affected or influenced your future goals.
4
Review your application before submitting it
Before submitting your application, ask a trusted family member or friend, teacher, or mentor to review it. The USPAACC Scholarship is competitive.
How the USPAACC – Denny's Hungry for Education Scholarship is Judged
The USPAACC Scholarship Committee consists of entrepreneurs, government officials, corporate representatives, and educators. They get together to go over the applications and make their decisions. The Committee members then present their recommendations for final approval to the USPAACC National President and CEO.
Why We Love the USPAACC – Denny's Hungry for Education Scholarship
USPAACC represents Pan Asian Americans
USPAACC is the most established and longest-running national nonprofit and nonpartisan organization in the United States representing Pan Asian American/AAPI businesses.
Scholars become part of a robust alumni
The foundation provides not only monetary awards but also intellectual opportunities for scholars by hosting meetups.
It assists students in need
The scholarship assists students with financial needs in fulfilling their desire to further their education by providing funds to cover university expenses.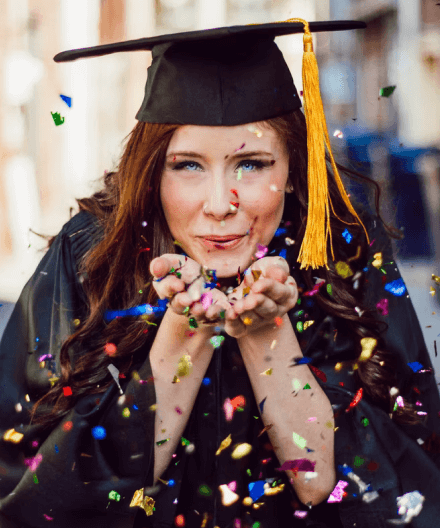 5 Facts About The USPAACC-Denny's Hungry for Education Scholarship
Scholarship funds are sent to the school
USPAACC sends the scholarship funds directly to the recipient's school.
Applicants must be of Asian-Pacific Islander descent
To be eligible for this scholarship, you must be of East, South, Southeast, or Pacific Islander ancestry.
U.S. citizenship or permanent residency
The Denny's Hungry for Education Program is open to all U.S. citizens or residing students.
The scholarship is for high school students
The scholarship applicant must be a high school senior beginning full-time study at an accredited post-secondary educational institution in the U.S.
A minimum of 3.3 GPA is required
A GPA of 3.3 is the minimum grade you need to maintain to be eligible for this scholarship since it is merit-based and rewards excellence.