Undergraduate Diversity Scholarship
5/31/2023
Submission Deadline
Explore Similar Scholarships
AFCEA (Armed Forces Communications & Electronics Association) is a professional, non-profit that aims to create global connections. Out of the four STEM (Science, Technology, Engineering and Math) scholarships that they have, this one focuses on giving an opportunity to either a woman or someone from a minority group from the United States, hence the meaning behind its name.
Every year, the Undergraduate Diversity Scholarship awards $3,000 to a STEM major that is in their sophomore or junior year. The qualified candidate's area of study has to meet the mission of AFCEA that concerns disciples related to cyber security, homeland security and intelligence.
This scholarship is eligible only for students that are already enrolled in an accredited US college or university in a four year program. Scholars of this award have gone on to further enhance their respective STEM fields in their universities. University of Colorado and St. Mary's University are some of the examples!
Key Information of Undergraduate Diversity Scholarship
Study Details
Country of Study
United States
Specific Schools
HBCU Institutes
Scholarship Details
Intended Level of Study
Undergraduate
Undergraduate Diversity Scholarship Timeline
January 2023
Application Opening Date
Applications open around the start of the year. Check the website for more accurate dates.
May 31, 2023
Application Submission Deadline
Applications close around the end of May. Check the website for more accurate dates closer to the time.
Scholarship Eligibility
To be eligible to apply, applicants must meet the following criteria.
Eligible Grade: College Sophomore
Maximum Age: Any
Required GPA: 3
Geographic Eligibility: United States
Gender: Women
Race/Ethnicity: Alaskan Native, Asian American, Black, Hispanic, Native Hawaiian, Native North American, Pacific Islander
Application Requirements
Here's what you need to submits besides your application.
Recommendation letters
Essay
Grade transcript
Short Answers
How to ace the Undergraduate Diversity Scholarship
1
Express your passion for STEM
Since the organization is focused on STEM and its mentioned disciples, it is important for them to know how interested you are in this field as well. When answering one of the short questions, elaborate on why you chose your STEM major and talk about it in your interview too. Reflect on how passionate you are about your field and highlight all the contributions you've made in it.
2
Maintain a solid GPA
This scholarship requires a current overall GPA of 3.0 or higher in the current program you're studying in which means they're looking for scholarly and academically strong candidates. Put effort in your assignments, exams and projects and make sure you maintain your exceptional academic record to show consistency of hard work.
3
Refine your personal statement
A personal statement is a direct gateway into your goals and aspirations but needs to be concise since there is a word limit! Focus on AFCEA's mission of contributing to the American Workforce and how you can play your part through your career goals. Make a rough draft of all relevant points to the prompt, plan it out beforehand and get it proofread.
4
Procure solid recommendations
Recommendations are another way to gain insight into the authenticity of your performance as a student and individual. The application requires two recommendations from faculty members of your major of study. Seek out professors that have witnessed your potential and know you well and list them off as recommenders. Inform them of the deadline and online submitting process beforehand to avoid any delays.
How the Undergraduate Diversity Scholarship is Judged
Applicants are assessed on their remarkable academic performance and ability to contribute to the field of STEM. They are expected to be talented in their subject of study and possess the capacity to take forward the mission of AFCEA through their future career aspirations.
Why We Love the Undergraduate Diversity Scholarship
It gives opportunities to women
The scholarship is provided only to women or individuals from a minority group, aiming to lessen discrimination in the field of education. Individuals from HBCUs (Historically Black College and Universities).
It includes a diversity of STEM fields
Even though there is a specific area of study for this scholarship, there are multiple fields within the qualifying majors that can apply, from mechanical engineering to statistics!
One application form for all four scholarships
There are four STEM major scholarships but one application form will be enough to apply to all of them and you will be considered for whichever you qualify for.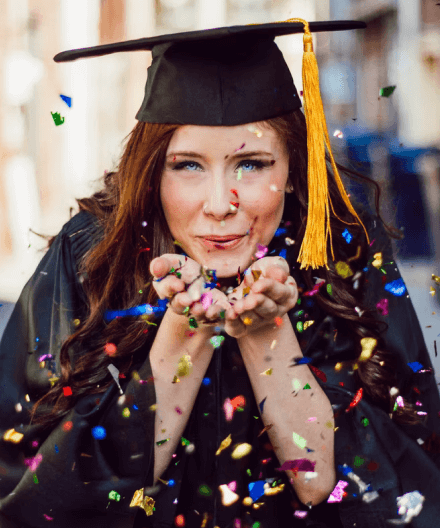 5 Facts About the Undergraduate Diversity Scholarship
Funds are restricted to educational costs only
Award money depends upon its availability. It can be used for tuition and course-related expenses only such as books and supplies.
Online programs are eligible
Applicants have to be enrolled in a specific field of study. If you've been pursuing an online program, that is also eligible.
AFCEA greatly contributes to education
Apart from this scholarship, there are various opportunities created by AFCEA such as the Educational Foundation Program and Lavon Jordan Scholarship.
There are opportunities for graduate students too
Along with undergraduate and high school students, graduate students can also avail such educational chances through AFCEA. This includes the Ralph W.Shrader Diversity Scholarship.
You need to portray financial need
Within the application, there is a short question-answer part which will require a brief description of your financial need.