UMKC Provost Award
11/15/2022
Submission Deadline
Explore Similar Scholarships
Grade Level:
The University of Missouri-Kansas City (UMKC) is the largest, fully accredited university in the Kansas City area. The university is dedicated to empowering the Kansas City community through various outreach programs and initiatives. The UMKC Provost Award is just one way the university seeks to invest in the future of the region.
The scholarship award amount is $2,000 and will be given to incoming freshman students who are U.S. citizens or residents of Missouri or Kansas. To be eligible for the award, students must have ACT composite scores of at least 22 and GPAs of at least 3.0.
The scholarship is only open to students who are enrolled full-time — that's at least 12 credits per semester. Additionally, students will be required to complete and earn 24 credits per year. There is no separate application process for the scholarship, meaning all first-time college students are considered.
Key Information of UMKC Provost Award
Study Details
Country of Study
United States
Specific Schools
University of Missouri-Kansas City
Scholarship Details
Intended Level of Study
Undergraduate
UMKC Provost Award Timeline
January 2022
Application Opening Date
Applications open on January 1.
July 2022
Fall Submission Deadline
The submission deadline for the fall semester is on July 1.
November 2022
Spring Submission Deadline
The submission deadline for the fall semester is on November 15.
Scholarship Eligibility
To be eligible to apply, applicants must meet the following criteria.
Eligible Grade: High School Graduate
Maximum Age: Any
Required GPA: 3
Geographic Eligibility: Kansas, Missouri
Gender: Any
Race/Ethnicity: Any
Application Requirements
Here's what you need to submits besides your application.
Grade transcript
Standardized Test Scores
How to ace the UMKC Provost Award
1
Start the application process right away
You should start the application process as soon as possible. This will allow you enough time to acquire all necessary documents and complete all forms. Have everything organized and planned to avoid any last-minute complications.
2
Keep your grades up
To qualify for this scholarship, you need to meet UMKC's 17 core requirements. Only those with a GPA of 3.0 or higher have better chances of winning. So work hard on keeping your grades up and maintaining your GPA. Grades will be an indicator of how dedicated and serious you are.
3
Be honest
Don't present any falsified or exaggerated information in your application. Being found guilty of such will result in instant disqualification.
4
Review your application
Take the time to go through your entire application thoroughly. There's not much to the application process, so silly mistakes could easily reduce your chances.
How the UMKC Provost Award is Judged
All admission applications are assessed based on their academic performance, residency status, and credit enrollments.
Why We Love the UMKC Provost Award
It applies to almost any discipline
The scholarship can be won by first-time college students in whatever field of study except for the fields of medicine, pharmacy, dentistry, and law.
It's renewable
Scholars can receive the scholarship again for the rest of their studies as long as they remain full-time students and meet certain GPA and credit requirements.
The application process is easy
There are no essays, recommendation letters, and only a little supplementary information required for the application. All you have to do is do a general admission application and hope for the best.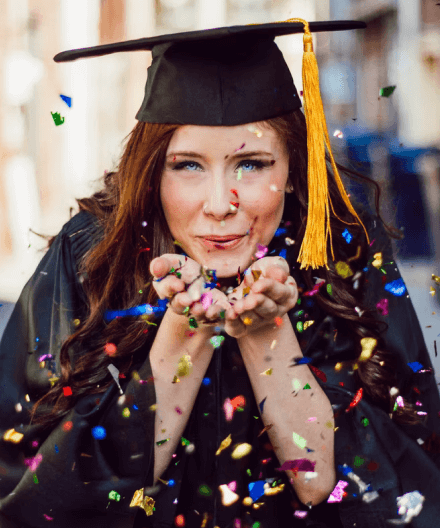 5 Facts About UMKC Provost's Award
Winners may not receive another UMKC scholarship
The recipients of this scholarship cannot win any other automatic scholarship from the university, however, they are free to apply for other scholarship programs.
There is a $45 application fee
Students are required to pay a non-refundable $45 application fee at the time of application.
U.S. citizenship is required
Applicants must be US citizens or permanent residents, alongside other qualifications, to receive the scholarship.
Submission of official documents must be made first
The scholarship offer is only given to students after they have submitted official transcripts and SAT/ACT scores that tally with their self-reported data.
UMKC is an NCAA Division 1 University
As the only D-1 school in Kansas City, the university is committed to promoting sports and athletics.