UArk Chancellor's Scholarship
11/15/2022
Submission Deadline
Explore Similar Scholarships
Location:
Grade Level:
The University of Arkansas was established over 150 years ago and has now joined the top 2% of research schools in the United States. The university is also the only institution in Arkansas to be ranked in the first tier of national universities in America's Best Colleges. Located in Fayetteville, Arkansas, UArk is the largest university in Arkansas and is home to proud Razorbacks. The university stands out for its strong architecture, agriculture, law, history, creative writing, communication disorders, and Middle Eastern studies programs, as well as its business school.
The University of Arkansas offers the Chancellor's Scholarship to residents of Arkansas who are pursuing undergraduate studies. UArk is dedicated to making higher education more affordable and accessible for the residents of Arkansas.
The UArk Chancellor's Scholarship is one of the most competitive scholarships in the United States. The program awards one student $2,000 to cater to their educational expenses in the specified university. The award can be renewed and is granted to the top 2% of the students in the nation. Applicants must demonstrate academic excellence
Key Information of UArk Chancellor's Scholarship
Study Details
Country of Study
United States
Specific Schools
University of Arkansas
Scholarship Details
Intended Level of Study
Undergraduate
UArk Chancellor's Scholarship Timeline
August 15, 2022
Scholarship application open date
Applications open in mid-August.
November 1, 2022
College admission deadline
Students must apply for admission to the university and submit their grade transcripts and test scores by November 1, before they submit their scholarship application.
November 15, 2022
Scholarship application priority deadline
Students who submit their complete scholarship applications by November 15 will be prioritized for scholarships.
January 2023
Priority award announcement
Students who submitted their scholarship applications on or before November 15 will be notified of the scholarship decisions in mid-January.
February 2023
Final deadline
Students who miss the November 15 deadline may submit their applications by February 1 to be considered for scholarships from leftover funds after the early applicants have been awarded scholarships.
March 2023
Consideration award announcement
Students who applied after November 15 will be notified of scholarship decisions in early March.
Scholarship Eligibility
To be eligible to apply, applicants must meet the following criteria.
Eligible Grade: Undergraduate
Maximum Age: Any
Required GPA: 3
Geographic Eligibility: Arkansas
Gender: Any
Race/Ethnicity:
Application Requirements
Here's what you need to submits besides your application.
Short Answers
Essay
Grade transcript
Standardized Test Scores
How to ace the UArk Chancellor's Scholarship
1
Demonstrate your leadership qualities
The UArk Leadership Scholarship encourages students with leadership qualities and student leaders to apply. Ensure to impress the selection committee by outlining your involvement in leadership both at school and at the community level.
2
Apply for admission
Applicants for this scholarship need to apply for admission to the UArk since this is the designated institution of study. Do not wait to be admitted before beginning the scholarship application process.
3
Demonstrate your talents
Students need to demonstrate their talents to have an upper hand in the highly competitive scholarship. If you are good in sports or arts, ensure to list this in your application.
4
Highlight your involvement in community service
Involvement in community service and volunteer work helps a candidate stand out from the crowd. Make sure that you do have community service hours that you can list in your application and have a recommendation letter for the community work done.
How the UArk Chancellor's Scholarship is Judged
Applicants are judged based on academic excellence and how they answer the short questions asked in the application process.
Why We Love the UArk Chancellor's Scholarship
The scholarship is renewable
The scholarship will renew for up to five years provided the recipient completes 30 credit hours a year and maintains a minimum GPA of 3.0.
Recipients may study any course
Recipients of the scholarship can enroll in any undergraduate program of their choice at the university.
Applicants will be considered for other scholarships
The scholarship application is a general one. Students, who complete the application, will be considered for several scholarships offered by the university.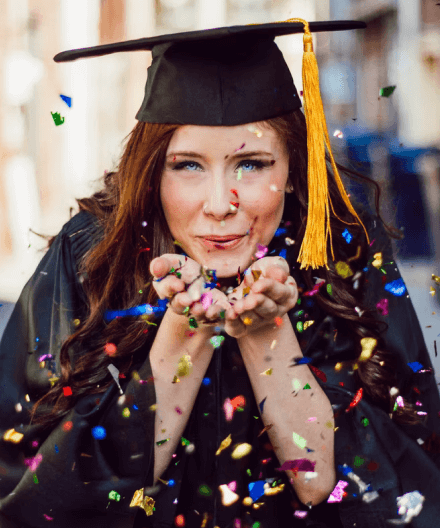 5 Facts About UArk Chancellor's Scholarship
One of the top three universities
According to the Carnegie Foundation, UArk is among the top three research universities in the U.S.
Arkansas residents only
This program is for residents of Arkansas only.
It is a renewable award
This scholarship award can be renewed for up to four years and five years for architecture students.
FAFSA form is not required
Applicants need not submit a FAFSA form to qualify for financial aid.
Provides more than $180 million
The institution has provided more than $180 million in financial assistance and scholarships every year.