Liberty University Academic Scholarship
$1,750–$10,000
Award Amount
11/30/2022
Submission Deadline
Explore Similar Scholarships
Location:
Grade Level:
As part of its mission to allow more access to higher education, Liberty University offers its Liberty Academic Scholarship to financially support those in need to complete their undergraduate degrees and reach their career goals.
The Liberty University Academic Scholarship, ranging from $1,750 to $10,000, annually is offered to deserving students. Applicants must demonstrate financial need and present their financial information correctly. They also need to submit their grade transcripts and school verification.
The program is open to all eligible students of all majors at Liberty University as long as requirements are met. Winners get to be part of a great alumni with various career opportunities.
Key Information of Liberty University Academic Scholarship
Study Details
Country of Study
United States
Specific Schools
Liberty University
Scholarship Details
Intended Level of Study
Undergraduate
Award Amount
$1,750–$10,000
Liberty University Academic Scholarship Timeline
April 2022
Application Opening Date
Applications open on April 20.
November 2022
Submission Deadline
The submission deadline is on November 30.
Scholarship Eligibility
To be eligible to apply, applicants must meet the following criteria.
Eligible Grade: High School Senior – High School Graduate
Maximum Age: Any
Required GPA: 3
Geographic Eligibility: Virginia
Gender: Any
Race/Ethnicity:
Application Requirements
Here's what you need to submits besides your application.
Financial Information
Grade transcript
Standardized Test Scores
School Verification
How to ace the Liberty University Academic Scholarship
1
Start the application process right away
You should start the application process as soon as possible. This will allow you enough time to acquire all necessary documents and complete all forms. Have everything organized and planned to avoid any last-minute complications.
2
Study hard for your SATs
Standardized test scores, whether the SATs or ACTs are required to apply for this scholarship. Impressive scores in the tests increase your chances of winning. Grades will be an indicator of how dedicated and serious you are.
3
Maintain a good grade
A GPA of 3.0 is required. Study hard and maintain a higher GPA if possible.
4
Review your application
Make sure all information in your application form is complete. Incomplete applications will not be considered for the scholarship. Get a second or third eye review from your mentor or instructor.
How the Liberty University Academic Scholarship is Judged
Applicants are judged based on academic excellence, financial information, scores from their SATs, and school verification.
Why We Love the Liberty University Academic Scholarship
No discrimination
The program is open to all students as long as they meet the scholarship requirements. It supports equality and has no discrimination against gender, race, ethnicity, religion, etc.
Eligibility of any course of study
No specific program is required to apply for this scholarship. All courses of study are acceptable.
Access to education to those in need
The program is specifically designed to promote equality by allowing access to higher education to unprivileged students. It appreciates the value of higher education and helps recipients reach their academic and career goals.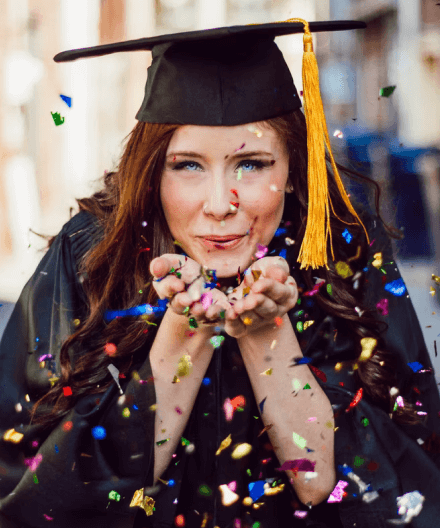 5 Facts About Liberty University Academic Scholarship
Over 700 programs of study
Liberty University has over 700 unique programs. Some of which are available residentially and online.
Established in 1971
Founded in 1971, Liberty University has made a difference in the lives of its students and staff as a whole.
Over 177 buildings and structures
With over 7 million sq. feet of building space, the university is packed with 177 buildings and structures for various purposes.
Total enrollment exceeds 130,000
Every year, thousands of students apply to Liberty University and over 30,000 military students and 700 international students apply too.
Founded by Jerry Falwell Sr.
Jerry Falwell envisioned a university filled with men and women who would change the world for Christ and came about Liberty University.