TeacherCertification.com Early Childhood Education Scholarship
6/1/2023
Submission Deadline
Explore Similar Scholarships
College Major:
Location:
Grade Level:
TeacherCertification.com helps aspiring teachers by organizing practice tests, uploading study materials for teacher certifications, and offering scholarships. The certification requirements differ from state to state and the organization provides all details like the test dates, fees required, and testing certificate submission deadlines.
The organization's mission and vision is to educate the future teachers of our country. It offers this scholarship of $500 to help the teachers with funds to apply for the testing certificates which is quite costly.
This scholarship aims at creating teachers to teach elementary grade children in the age group 0—4 years and 4—12 years of age. Teaching young children requires specialized training and skills. There is a gap in the demand-supply of child education teachers which can be fulfilled by this initiative. The program also encourages graduating high school senior students to apply for the scholarship award provided that they intend on enrolling in an undergraduate degree program in education. Applicants must meet all eligibility requirements available on the application form and be U.S residents or citizens.
Key Information of TeacherCertification.com Early Childhood Education Scholarship
Study Details
Country of Study
United States
Scholarship Details
Intended Level of Study
Undergraduate
Postgraduate
TeacherCertification.com Early Childhood Education Scholarship Timeline
October 2022
Application Opening Date
Applications open on October 30.
June 2023
Submission Deadline
The submission deadline is on June 1.
Scholarship Eligibility
To be eligible to apply, applicants must meet the following criteria.
Eligible Grade: Undergraduate – Graduate
Maximum Age: Any
Required GPA: Any
Geographic Eligibility: United States
Gender: Any
Race/Ethnicity: Any
Application Requirements
Here's what you need to submits besides your application.
How to ace the TeacherCertification.com Early Childhood Education Scholarship
1
Start the application process right away
You should start the application process as soon as possible. This will allow you enough time to acquire all necessary documents and complete all forms and requirements. Have everything organized and planned to avoid any last-minute complications.
2
Get involved in your community
Equally important is your community service and involvement. Make careful to choose the experiences for your application that best demonstrate your leadership and volunteerism. If you still have a few years until you want to apply for the scholarship, think about looking for honors and leadership positions in extracurricular activities that show your capacity for initiative and leadership.
3
Highlight your academic achievements
The scholarship is merit-based and applicants are advised to mention the academic projects they have been involved in. Previous awards, honors, certificates, or any other academic achievement must be included in your application.
4
Reach out to past winners
It is always advisable to reach out to past scholarship winners for advice and guidance if possible. They will give you insights into how they won the award. Also, get your materials checked and reviewed by your mentors, instructors, and advisors to avoid any unforeseen mistakes.
How the TeacherCertification.com Early Childhood Education Scholarship is Judged
The applicants are judged on their academic credentials, community involvement, extracurricular activities, and leadership skills.
Why We Love the TeacherCertification.com Early Childhood Education Scholarship
Funds can be used at winner's discretion
The winner of the scholarship can prioritize their spending budget. They get to determine where and how this award prize will be spent.
TeacherCertification.com is resourceful to advance your career
The study materials and practice tests provided by the organization will help the would-be teachers to qualify and clear their licensing examinations. The organization makes teaching careers easily developed.
The process is easy with minimal requirements
The applicant does not require to be a member of any organization or pay any fees for the application. The program aims to boost teaching careers with minimal requirements. Also, there is no minimum GPA required like in most other scholarship programs.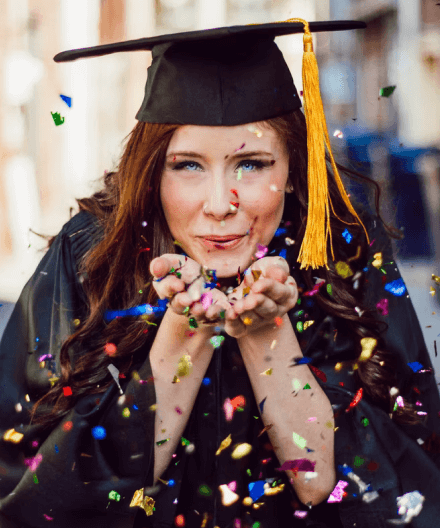 5 Facts About TeacherCertification.com Scholarship for Graduate Students in Education
There are some conditions
Applicants must have a minimum of 30 semesters or 45 quarter hours still to be completed in their degree.
Scholarship check is sent directly to the winner
The check for $500 is sent directly to the winner's permanent residential address.
A photograph and quote are published
The organizers have the right to publish the applicant's photograph and quote on the website if need be.
TeacherCertification.com has 92% pass rates
Aspiring teachers, who have used the resources of this organization, have a pass rate of 92% in their teaching certification exams.
A reliable source of information
The organization provides state-by-state requirements to those interested in joining the teaching profession in a particular state.