Stuck at Prom
6/8/2023
Submission Deadline
Explore Similar Scholarships
Location:
Grade Level:
The scholarship contest is organized by Shurtape Technologies' Consumer & Craftsman Group, previously known as ShurTech Brands, under their brand product Duck Brand Duct Tape.
Each year, ten high school students get awarded cash prizes. The winners in each contest category, Dress Category and Tux Category, receive $10,000 each. The four runners up from each category get $500 and a Duck Brand Prize Pack worth $100.
The scholarship is open to students from Canada, excluding the Province of Quebec, and the U.S., except the states of Maryland, Tennessee, Colorado, Vermont, Nebraska, and North Dakota. Applicants have to be at least 14 years old to be eligible. For winners who are under the age of 18, the prize will be presented in the name of their parents or legal guardian.
Key Information of Stuck at Prom
Scholarship Details
Intended Level of Study
Undergraduate
Award Amount
$500–$10,000
Key moments in
March 30, 2023
Application Opens
The application is usually open by the end of March. Check the website for updated dates closer to the time.
June 8, 2023
Submission Deadline
Application ends around June. Check the website for updates on a date closer to the time. It marks the end of the entry period.
June 9-17, 2023
Judging Phase
Judges begin to go through the applications immediately after the deadline. After about two weeks the finalists are announced for voting. Check the website for updates on dates closer to the time.
June 29, 2023
Voting Starts
Finalists are posted on the voting website by the online community, finalists, and entrants. Check the website for updates on dates closer to the time.
July 13, 2023
Voting Ends
Voting comes to an end. Check the website for updates on dates closer to the time.
July 20, 2023
Stuck at Prom Winners Announced
Stuck at Prom Scholarship Contest winners are announced. Check the website for updates on dates closer to the time.
Scholarship Eligibility
To be eligible to apply, applicants must meet the following criteria.
Eligible Grade: High School Freshman – High School Senior
Minimum Age: 14
Required GPA: Any
Geographic Eligibility: Canada, United States
Gender: Any
Race/Ethnicity: Any
Application Requirements
Here's what you need to submits besides your application.
How to ace the Stuck at Prom
1
Go through the official rules page
We advise you go through the official rules page and jot some essential things down to avoid mistakes or disqualification. It gives you the upper hand over those who focus on design and perhaps ignore spoke crucial rules.
2
Be mindful of colors
Colors are friendly and make someone's presence felt but be mindful not to overdo it. Classy and straightforward should get it done.
3
Browse through fashion collections
Before sketching your design, which we advise you to do, it will be nice to go through popular clothing collections for inspiration. Also, go through past winners' outfits for additional inspiration.
4
Be patient
Patience is a virtue, and this scholarship is no exception. Most winners spend close to160 hours on their design, so you have to be patient to pull it off.
How the Stuck at Prom is Judged
Contestant's entry is judged based on specific criteria mapped out by the scholarship sponsors. The criteria include Workmanship (20%), Originality (20%), Use of colours (20%), Accessories (20%), Use of Duck Brand Duct Tape (20%). In case of a tie, an additional judge will serve as a tie-breaker. They judge entries based on the criteria above. Voters vote according to their preferences. In case of a tie break for community voting, the winner is determined using a tie-breaker question. The contestants answer the question, "How do you plan on using Duck Brand Duct Tape in College?". The answer should be no more than 150 words and is judged based on Originality and Creativity.
Why We Love the Stuck at Prom
It is fun as it is challenging
You hardly see the word fun in any scholarship applications, but Stuck at Prom is an exception. The winners get rewarded for having fun and being creative with it.
The more, the merrier
The scholarship has two categories, dress category, and tux category. It allows more winners to emerge.
Easy to apply
The scholarship sponsor has made Stuck at Prom very easy to apply. The contestant is not mandated to go to prom to join the contest following the pandemic. Pictures can be taken anywhere and submitted as an entry.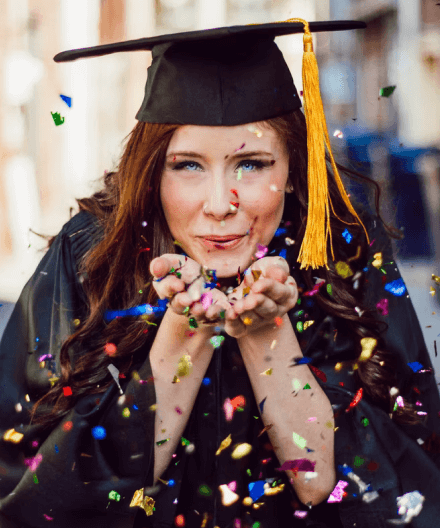 5 Facts About the Stuck at Prom Scholarship
The scholarship does not judge academic performance
Academic performance does not come into play for this scholarship, which means anyone can be a winner.
More than half a million awarded
Since the scholarship's inception in 2001, more than half a million dollars have been awarded to high schoolers by Duck Brand Duct Tape.
Some states and provinces are ineligible
States in the United States and Canada are excluded from applying due to state laws on sweepstakes, see the rules to find the list of excluded states.
Everyone is eligible to vote
Voters during the community voting can be anyone from contestants' friends to family to their community, they just have to register on the website and be eligible to vote.
Winners can be disqualified
At the scholarship sponsor's discretion, a winner can be disqualified if suspected of fraud, which can be committed by amassing votes through dummy emails or paying for votes.