Straight A Scholarship
$2,000–$5,000
Award Amount
2/28/2023
Submission Deadline
Explore Similar Scholarships
Location:
Grade Level:
The Anthony Muñoz Foundation was founded in April 2002 as a nonprofit organization designed to serve the youth of the Tri-State region through various charitable initiatives. Over the last two decades, the nonprofit has touched the lives of thousands of passionate young individuals.
The Straight 'A' Scholarship is one such initiative under the umbrella of life-changing college scholarship programs being offered by the foundation. The grant is made possible by the generous support extended by the donors/partners. It awards nine male and nine female high school students $2,000 each to pursue undergraduate degrees. Winners need to be nominated to be awarded.
Overall those 18 winners of the scholarship program will be awarded an extra $3,000 for a total of a $5,000 scholarship each. The foundation strives to ensure a lasting impact on the youth by developing their mental, physical and spiritual capacities – and aids them in overcoming obstacles in life.
Key Information of Straight A Scholarship
Study Details
Country of Study
United States
Scholarship Details
Intended Level of Study
Undergraduate
Award Amount
$2,000–$5,000
Straight A Scholarship Timeline
January 2023
Application Opening Date
Applications open in early Janaury.
February 2023
Submission Deadline
The submission deadline is on February 28.
April 2023
Awards Announcement Date
Winners are announced in April.
Scholarship Eligibility
To be eligible to apply, applicants must meet the following criteria.
Eligible Grade: High School Junior – High School Senior
Maximum Age: Any
Required GPA: 3
Geographic Eligibility: United States
Gender: Any
Race/Ethnicity: Any
Application Requirements
Here's what you need to submits besides your application.
How to ace the Straight A Scholarship
1
Reveal a well-rounded personality
The scholarship awarding body desires students who perform well not just in the classroom but on the sports field too. Your application should include achievements on both fronts.
2
Connect with alumni
Past scholarship winners can provide you with the best guidance on how to draft your application. A list of the winners for each year is published on the website. Reach out to them for assistance.
3
Research and analyze the trends
What is common between the previous year's scholarship winners? Is there a specific sport they all play? The research will help you answer these questions. You will be able to gauge better what part of your personality you need to focus more on.
4
Demonstrate ambition through extensive community service
Ambitious individuals, with a strong background in community service/ volunteer work, are preferred by the selection committee. Dedication and commitment to such activities will surely reveal a winning mindset.
How the Straight A Scholarship is Judged
The selection committee desires candidates with an optimistic mindset of winning despite the challenges. If you have overcome adversity at some point in your life, you're well placed to get selected. A student having a good academic record and a history of athletic achievements will be prioritized.
Why We Love the Straight A Scholarship
An award exclusively for Tri-State students
The scholarship is available to only Tri-State students. This means greater chances for selection since the number of eligible applicants is low.
The scholarship ensures gender parity
Each year, nine male and nine female students receive a scholarship toward their college education. This ensures equal representation of both genders.
An award for Student of the Year
While the standard award amount is $2000, one female and one male from amongst the group of 18 students is accorded the title of Straight 'A' student of the year (male and female respectively) and awarded an additional $3,000.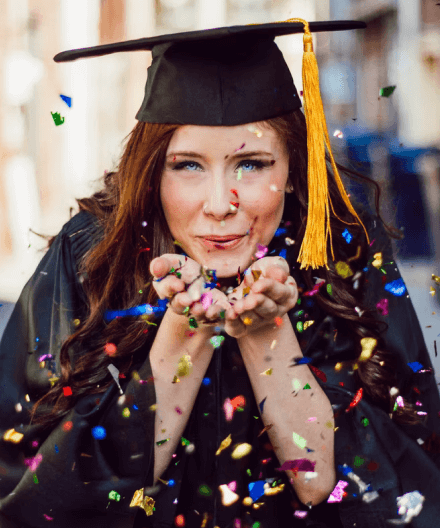 5 Facts About Straight 'A' Scholarship
It has impacted 50,000 lives
Over the last two decades, the Muñoz Foundation has touched the lives of 50,000 individuals through its various scholarship funds.
A football academy for school kids
A two-day football camp designed to train primary and secondary school girls and boys through coaching sessions is offered each year.
Hispanic Camp for character development
Anthony Muñoz's particular focus has been to equip the youth with the skill set to tackle the challenges of the future. In this camp, men of character are produced, as per Muñoz.
Muñoz Foundation's emphasis on leadership
The foundation hosts a seminar for young leaders where mentor talks are held for inspiring them to achieve big things.
An exclusive program for children
The foundation arranges sessions for kids up to 5th grade, providing them with one-on-one foundational mentoring and reading instruction.