South Dakota Opportunity Scholarship
$1,300–$2,600
Award Amount
1/15/2023
Submission Deadline
Explore Similar Scholarships
Location:
Grade Level:
The South Dakota Opportunity Scholarship is awarded to South Dakota's most academically accomplished high school graduate students. It enables them to receive an affordable education at any accredited university, college, or technical school in South Dakota.
Established in 2004 by the South Dakota Legislature, the program is funded through the state of South Dakota's Education Enhancement Trust Fund. Starting in the fall of 2015, the scholarship provides between $1,300 – $2,600 per year to qualifying students attending an eligible higher education institute in South Dakota.
There is a list of eligible institutions on the scholarship website. The funding is now provided in installments over the course of four years.
Key Information of South Dakota Opportunity Scholarship
Study Details
Country of Study
United States
Specific Schools
Augustana University
Black Hills State University
Dakota Wesleyan University
Dakota State University
Lake Area Technical College
Mount Marty University
Mitchell Technical College
National American University
Northern State University
Presentation College
South Dakota School of Mines & Technology
South Dakota State University
Southeast Technical College
University of South Dakota
University of Sioux Falls
Western Dakota Technical College
Scholarship Details
Intended Level of Study
Undergraduate
Vocational/Technical School
Award Amount
$1,300–$2,600
South Dakota Opportunity Scholarship Timeline
November 2022
Application Opening Date
Applications open on November 1.
January 2023
Submission Deadline
The submission deadline is on January 15.
Scholarship Eligibility
To be eligible to apply, applicants must meet the following criteria.
Eligible Grade: High School Graduate
Maximum Age: Any
Required GPA: 2
Geographic Eligibility: South Dakota
Gender: Any
Race/Ethnicity: Any
Application Requirements
Here's what you need to submits besides your application.
Essay
Standardized Test Scores
How to ace the South Dakota Opportunity Scholarship
1
Get the right score
Whether you are applying based on ACT scores or SAT scores, ensure that you have the required scores.
2
Go through the list of approved courses
Applicants must meet the curriculum requirements. Before taking on a course in high school, they should ensure it is a listed approved course.
3
Go through the list of participating institutions
Every participating institution must be accredited by the Higher Learning Commission of the North Central Association of Colleges and Schools. Make sure the school you are interested in is listed on the website.
4
Apply as early as possible
Although it is alright to submit your application by the due date, applicants are encouraged to submit their applications at the earliest so the financial aid office can begin work and package the scholarship in a timelier manner.
How the South Dakota Opportunity Scholarship is Judged
Applications will be judged on the basis of a high school transcript. However, through the course of the scholarship, applicants must continue to meet certain requirements. Failure to meet these requirements will result in the candidate being declared permanently ineligible for further funding.
Why We Love the South Dakota Opportunity Scholarship
Everyone wins
Every student, who meets the eligibility requirements, can expect to receive a scholarship award. If there are more students than budgeted for the scholarship may be prorated and distributed to each recipient proportionately.
It continuously assesses students
Half the scholarship for a year is distributed at the beginning of the fall semester and the other half, at the beginning of the spring semester. In between, if a student fails to maintain their scores, they are ineligible to receive next year's funding.
It allows for second chances
If a student loses eligibility because they failed to maintain their GPA, they can re-establish and improve their GPA and apply to be reinstated in the program.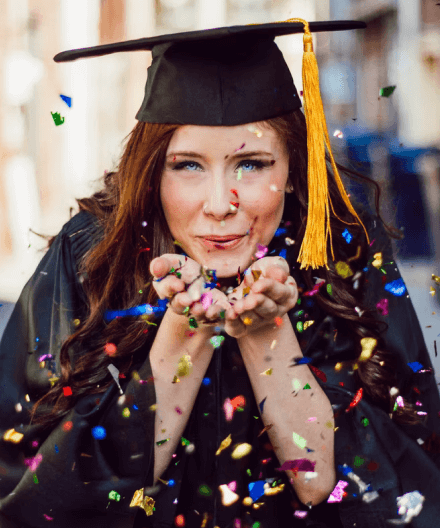 5 Facts About South Dakota Opportunity Scholarship
It takes into account vocational studies
Students, pursuing vocational courses that have been approved by the Department of Education, can apply.
It allows students to transfer schools
If for some reason a student wishes to transfer to another school during the scholarship, they can do so as long as they meet all the initial requirements.
You can take a break after graduation
The scholarship program requires students to enter it within five years of high school graduation.
It requires a wide range of knowledge
As part of the curriculum requirements, students must have completed courses in English, Math, Social Studies, Science, Fine Arts, Technical Education or Language, Personal Finance or Economics, Physical Education & Health, or Health Integration.
Schools are the decision makers
All applications are to be submitted directly to the school where the candidate is applying. The school decides on initial eligibility.