Rollin M. Gerstacker Foundation Scholarship
1/31/2023
Submission Deadline
Explore Similar Scholarships
Location:
Grade Level:
In collaboration with the United Negro College Fund, the Rollin M. Gerstacker Foundation created a scholarship to honor the late Rollin M. Gerstacker. The scholarship is open to students from the state of Michigan with a minimum GPA of 2.5 who are enrolled in a four-year course at a not-for-profit college. Students must also show a financial need to be eligible.
Every year, the United Negro College Fund (UNCF) provides the Rollin M. Gerstacker Foundation Scholars Program of $5,000 to a college student enrolled in an undergraduate program. Applicants are assessed on their academics, career interest and goals, and leadership. The award amount is used to help pay for their college education.
Scholars get to enjoy all the many perks that come with being a UNCF scholar. Among the perks is first-hand information on opportunities for marginalized communities in the country. Scholars also get to be mentored by industry professionals and get many internship and employment opportunities through the collaborations UNCF has with companies.
Key Information of Rollin M. Gerstacker Foundation Scholarship
Study Details
Country of Study
United States
Scholarship Details
Intended Level of Study
Undergraduate
Rollin M. Gerstacker Foundation Scholarship Timeline
December 2022
Application Opening Date
Applications open on December 1.
January 2023
Submission Deadline
The submission deadline is on January 31.
Scholarship Eligibility
To be eligible to apply, applicants must meet the following criteria.
Eligible Grade: Undergraduate
Maximum Age: Any
Required GPA: 2.5
Geographic Eligibility: Michigan
Gender: Any
Race/Ethnicity: Any
Application Requirements
Here's what you need to submits besides your application.
Essay
Recommendation letters
Grade transcript
How to ace the Rollin M. Gerstacker Foundation Scholarship
1
Include your letter of recommendation
Applicants are to submit one letter of recommendation. The recommendation letter is used to assess their character, leadership, and unique skills and abilities.
2
Submit your most recent academic transcripts
Submitting your academic transcripts is crucial. Before applying for the scholarship, ensure that you work on your grades to have an edge over the other applicants.
3
Tell your captivating story
The scholarship is need-based, which means that applicants must show financial need. The best way to do this is to tell a captivating story of your background and why given the award your life and career will be transformed.
4
Demonstrate your commitment to community development
Most recipients of the scholarship award are great leaders and have had a huge impact on the community and school. It is very crucial that you spotlight your commitment to your community or school.
How the Rollin M. Gerstacker Foundation Scholarship is Judged
Applicants are assessed on their academics, community service, financial need, and leadership. Applicants have to have an exemplary report in all these areas to be awarded the scholarship.
Why We Love the Rollin M. Gerstacker Foundation Scholarship
You join the UNCF scholars' community
The UNCF scholars' community is one of the most sought-after scholars communities in the country. It has a great and wide network of alumni spanning decades since its inception.
Funds used for more college bills
The scholarship funds can be used for any college billed apart from just tuition. This gives the students a chance to decide what priorities to handle with the money.
No specific field of study
The scholarship is open to students pursuing any field of study. Most scholarships are only open to students pursuing specific majors.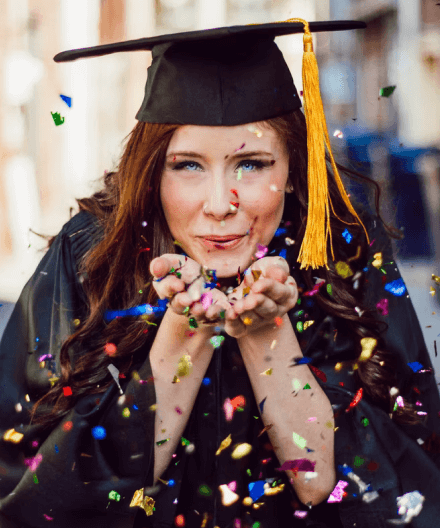 5 Facts About Rollin M. Gerstacker Foundation Scholarship
The scholarship is only for undergraduate students
The scholarship is just for undergraduate students which makes it very unique.
Career development services offered to scholars
Scholars have the privilege to access great scholastic materials that help them grow their careers faster.
The UNCF Alumni are leaders of many fields
The alumni of the UNCF scholars program get on to build very great careers, most of them being leaders in many fields in the country.
Decades of resounding impact
The UNCF Scholars Program has had decades of resounding impact on many students since its inception.
Collaborations with organizations to fund scholarships
Through many collaborations with organizations within the U.S., UNCF has been able to build a legacy of providing reliable scholarships for college students.