NCAA Postgraduate Scholarship
6/3/2023
Submission Deadline
Explore Similar Scholarships
Location:
Grade Level:
NCAA is an organization that regulates student athletes and organizes athletics programs for colleges and universities in the United States and Canada. The postgraduate scholarship is part of its efforts to promote the postgraduate education of student-athletes. The scholarship is awarded to qualifying students with outstanding academic and athletic records.
The scholarship program is nomination-based, meaning all candidates must first be nominated by their schools to qualify. Additionally, it is only open to students in their final year of undergraduate studies or those who already possess an undergraduate degree. These candidates must be student-athletes at an institution that is presently an active member of the NCAA.
Each year, the program awards 126 recipients with scholarships of $10,000 each. This non-renewable prize can only be used for graduate school and within one year after it is awarded. The scholarship is highly prestigious and awardees join a long list of high-achieving student-athletes with outstanding academic records as well.
Key Information of NCAA Postgraduate Scholarship
Study Details
Country of Study
United States
Scholarship Details
Intended Level of Study
Postgraduate
NCAA Postgraduate Scholarship Timeline
March 2023
Application Opening Date
Applications are usually open on March 15.
June 2023
Submission Deadline
The submission deadline is on June 3.
Scholarship Eligibility
To be eligible to apply, applicants must meet the following criteria.
Eligible Grade: College Senior – Postgraduate
Maximum Age: Any
Required GPA: 3.2
Geographic Eligibility: United States
Gender: Any
Race/Ethnicity: Any
Application Requirements
Here's what you need to submits besides your application.
Faculty endorsement
Essay
Grade transcript
Recommendation letters
How to ace the NCAA Postgraduate Scholarship
1
Double-check all the requirements
The scholarship application process has various requirements that should be met for your application to be considered. For example, the transcripts you provide must reflect all your undergraduate coursework and you should apply under the right scholarship cycle, whether fall, winter, or spring.
2
Select your recommenders carefully
You will need four letters of recommendation as part of your application. Only ask people with whom you have worked before and who know you and your capabilities best.
3
Write a powerful personal statement
Your personal statement should sell you to the selection committee. As such, it should tell a moving story, be well structured, and communicate why you are the best candidate for the Scholarship.
4
Review your application before submitting
Do not submit your application before reviewing it. We highly recommend that you enlist the help of a trusted advisor or friend to ensure that your application is complete and well put together.
How the NCAA Postgraduate Scholarship is Judged
Applicants are judged based on several factors, including their athletics and academic accomplishments, their level of involvement in their campus and communities, whether they have a history of volunteering and their leadership abilities. Ensure that your application demonstrates that you meet these criteria.
Why We Love the NCAA Postgraduate Scholarship
Scholarship can be used at international institutions
Unlike other scholarships that restrict awardees to study at particular institutions, the NCAA Postgraduate Scholarship can be used even outside the U.S.
50-50 representation in awardees
The scholarship maintains a gender balance in the number of awardees, with an equal number of men and women being awarded scholarships each sports season.
Scholarship can be transferred
An awardee who transfers to a different school at any time within their study can also transfer the scholarship award to the new institution.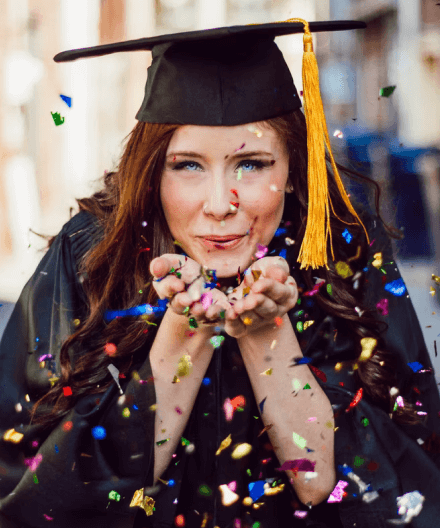 5 Facts About the NCAA Postgraduate Scholarship
Scholarship was established in 1964
The NCAA Postgraduate Scholarship was founded in 1964 by the NCAA to encourage accomplished student-athletes to advance their higher education studies.
Scholarship cannot be deferred
Once awarded, the scholarship cannot be deferred and the award must be used within one academic year.
Scholarship is awarded three times a year
The scholarship is awarded three times a year corresponding to the sports season at the time: Fall, Winter, and Spring.
Scholarship is for graduate studies only
The scholarship is intended to promote graduate studies among student-athletes and cannot be used to fund an undergraduate program.
Schools can nominate only five students
The NCAA restricts the number of nominations that each member institution can make to five student-athletes per gender in a given sports season.