MUFG Union Bank Scholarship Program
1/13/2023
Submission Deadline
Explore Similar Scholarships
In partnership with the Union Bank Foundation, UNCF established the MUFG Union Bank Scholarship Program to help students reduce the financial pressure on deserving students by making education affordable to them. Over the years, Union Bank has offered scholarships to celebrate and highlight students who have consistently shown excellence in their education and community.
Every year, the organization offers scholarships valued at $5,280 per recipient to college sophomores undertaking undergraduate study in any college across the united states, including students enrolled in any accredited UNCF or Historically Black College or University (HBCU) member institution.
UNCF manages various scholarship programs and awards more than $100 million a year in scholarships to more than 10,000 students at more than 1,100 institutions across the United States. Since its inception, the organization has helped over 500,000 students overcome financial obstacles to getting a university education and earning college degrees.
Key Information of MUFG Union Bank Scholarship Program
Study Details
Area of Study
Accounting
Business
Computer Science
Economics
Finance
Human Resources
Information Systems
Information Technology
Software Engineering
Country of Study
United States
Scholarship Details
Intended Level of Study
Undergraduate
MUFG Union Bank Scholarship Program Timeline
November 3, 2022
Application Opening Date
Applications usually open in early November at 12:00 AM EST — commence compiling scholarship application materials — scholarship application form and referee letter.
January 13, 2023
Submission Deadline
Submit scholarship application and supporting material by 11:59 PM EST — check the website for further details as the submission period approaches.
Scholarship Eligibility
To be eligible to apply, applicants must meet the following criteria.
Eligible Grade: College Sophomore
Maximum Age: Any
Required GPA: 3.3
Geographic Eligibility: United States
Gender: Any
Race/Ethnicity: Black
Application Requirements
Here's what you need to submits besides your application.
Recommendation letters
Grade transcript
Essay
How to ace the MUFG Union Bank Scholarship Program
1
Maintain an outstanding academic record
You need to demonstrate outstanding intellect and top-notch academic excellence in your application. Achieving and maintaining a minimum cumulative weighted grade point average of 3.3 or higher out of a 4.0 scale should suffice.
2
Demonstrate community service and employability
Optimize your chances of success by highlighting time points where you demonstrated commitment to community service and employability by giving a personalized, detailed account of activities you successfully executed in a defined institution.
3
Clearly explain your plans for the future
In a one-page essay of about 300 words in a personal statement format, clearly express your future career aspirations by highlighting why you chose your current course of study as a college major by referencing personalized experiences and sentiments to buttress your belief that you are on the right trajectory in terms of career path.
4
Secure strong letter of recommendation
As early as possible, you should identify one potential recommender and ask them if they would be willing and able to write a strong letter of reference on your behalf. You can source good recommendation letters from an administrator or faculty member who taught you at a fully accredited institution.
How the MUFG Union Bank Scholarship Program is Judged
Candidates are assessed based on merit and demonstrable achievements in character, academics, leadership, and involvement in community service, with the final scholarship decision made by a diverse board of directors. Applicants who submit complete applications are notified of the scholarship decisions through email or regular mail.
Why We Love the MUFG Union Bank Scholarship Program
Multiple scholarship options in a year
The UNCF organization manages multiple scholarship options yearly, allowing successful candidates who receive one award to apply and get a chance to win many other UNCF scholarships variants.
Exposure to positive publicity
Scholars can share their stories about how UNCF has helped them get ahead and achieve significant success in life and get a chance to feature on the UNCF website and its social media platforms.
Straightforward application process
To apply, Sign Up, and create an account or log in with an existing account to access the online scholarship portal provided on the official UNCF website. After that, fill out all required sections of the online application form and submit all concerned materials.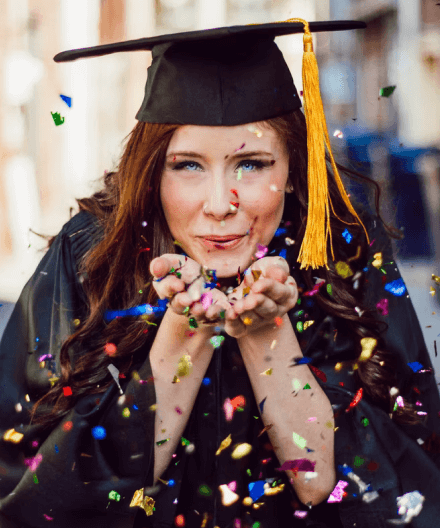 5 Facts About MUFG Union Bank Scholarship Program
Education classification level
You must be a full-time student enrolled in an accredited four-year university or college in the United States, including UNCF member institutions and other Historically Black colleges or universities, and on track to becoming a sophomore in the Fall 2022 semester.
Restricted to United States applicants only
To be eligible, you must be an applicant who is a U.S. Citizen or a permanent resident in the United States of African American ethnic origin, with preference given to applicants from institutions located in New Jersey, New York, Arizona, California, and North Carolina.
Restricted to specific career fields
The scholarship applies to only candidates majoring in Accounting, Business, Computer Science, Information Systems, Information Technology, Finance, Human Resources, Economics, or Software Engineering.
Fill out all application form sections
Ensure that you respond to and complete all sections of the application form by typing your answers if you intend to be considered — Failure to fill out all required fields leads to outright disqualification.
Initiating the referral process
It is the responsibility of the applicant to input the name and email address of a potential referee in the online applicant system to initiate an automated instruction inviting them to commence and submit a reference form on your behalf.