John and Abigail Adams Scholarship
$1,417–$1,714
Award Amount
5/1/2023
Submission Deadline
Explore Similar Scholarships
Location:
Grade Level:
The Massachusetts Department of Elementary and Secondary Education is granting high school graduates the John and Abigail Adams Scholarship. Citizens of the United States or non-citizens permitted to work and live in the United States who are currently enrolled full-time in a certificate, associate's degree, or bachelor's degree program at an accredited institution are eligible to apply.
Every year, the Massachusetts Department of Education offers qualified students pursuing full-time degrees in any field of study tuition credits ranging from $1,417 to $1,714. It's a merit-based scholarship program that pays for up to eight semesters of undergraduate study at a Massachusetts state college or university. Exam results from the Massachusetts Comprehensive Assessment System (MCAS) are utilized to determine who is eligible for this grant.
Recipients of this award are acknowledged for their exceptional test scores and encouraged to pursue public higher education in Massachusetts, giving financial aid to families of college-bound children.
Key Information of John and Abigail Adams Scholarship
Study Details
Country of Study
United States
Scholarship Details
Intended Level of Study
Undergraduate
Award Amount
$1,417–$1,714
John and Abigail Adams Scholarship Timeline
January 2023
Application Opening Date
Applications open on January 1.
May 2023
Submission Deadline
The submission deadline is on May 1.
Scholarship Eligibility
To be eligible to apply, applicants must meet the following criteria.
Eligible Grade: High School Freshman – High School Graduate
Age: 17 – 23
Required GPA: Any
Geographic Eligibility: Massachusetts
Gender: Any
Race/Ethnicity: Any
Application Requirements
Here's what you need to submits besides your application.
Financial Information
Standardized Test Scores
How to ace the John and Abigail Adams Scholarship
1
Organize your surroundings
The first thing you should do before studying for your exam is to prepare your room in such a way that it will drive you to study diligently. Make sure to add a couple of extra lights to your room, especially if it is dark. You should also make sure that your study environment is comfy. Finally, while studying in your room, eliminate all distractions.
2
Manage your time
Students must learn how to manage their time effectively and incorporate this into their preparation. It is a quality that will benefit them for the rest of their lives. To get the most out of the time spent, it's also vital to design a systematic approach, primarily a timetable, and keep to it.
3
Practice previous tests
One of the most effective strategies to prepare for your exam is to review the previous year's tests. You can get a fair idea of what your scholarship exam will entail by looking at previous papers and practice tests. When studying for the scholarship exam, it's a good idea to use those as the backbone of your preparation.
4
Focus on areas that you are lacking
You should concentrate on areas where you need to improve and turn them into your strengths. Concentrate on your studies and refrain from worrying about the exam results. Dismiss any worries from your thoughts so that you may be fully focused and deliver your best on exam day.
How the John and Abigail Adams Scholarship is Judged
Scholarships will be awarded to students who have a combined score that ranks them in the top 25% of their district's students and who also meet the MCAS score requirements. Applicants must be enrolled full-time in a certificate, associate's, or bachelor's degree program at an accredited institution, and they must not have previously received a bachelor's degree or its equivalent.
Why We Love the John and Abigail Adams Scholarship
You don't even need to apply
The scholarship program does not have an application process. Students who meet the Scholarship's qualifying criteria will be contacted in the fall of their final year of high school.
Students with disabilities can appeal for a waiver
Students with disabilities, or their parents, can appeal to have the MCAS examinations waived on their behalf. Eligible high school students who have been unable to pass the required MCAS assessments can use the appeal procedure to show that their course work meets or exceeds the state's Competency Determination (CD) level to receive a diploma.
Covers maximum duration needed for college courses
It essentially gives you tuition credit for up to eight semesters of undergraduate study at a Massachusetts state college or university. The scholarship must, however, be used within six years of a student's graduation from high school.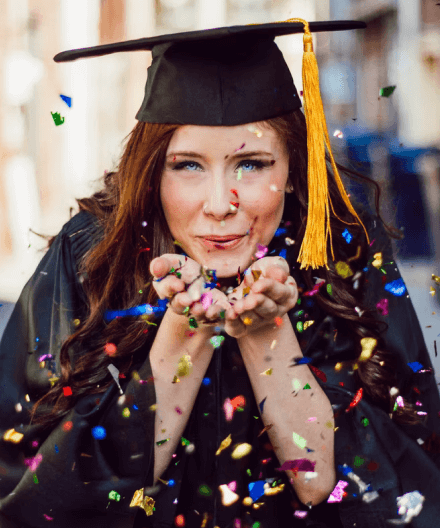 5 facts about The John and Abigail Adams Scholarship
Massachusetts State-wide testing enhances learning standards
Following its education reform and statewide testing, which began in 1990, Massachusetts students today rank top in the United States in reading and math.
Scholarship provides a tuition waiver across Massachusetts
This scholarship covers undergraduate tuition at any of the 29 UMass universities, MA state universities, MA community schools, and online colleges for up to eight semesters.
The tuition waiver varies among institutions
Individual student awards range from $1,417 to $1,714 at Massachusetts universities, with $1,714 at Amherst, $1,714 at Boston, $1,417 at Dartmouth, and $1,454 at Lowell.
Students from other states can be eligible
Students who transfer from a public university in another state or who are enrolled in a private college can apply for the John and Abigail Adams Scholarship if they maintain a cumulative 3.0 GPA.
FAFSA form required
Applicants must also complete the Free Application for Federal Student Aid (FAFSA) and not be in default with any federal or state student education loans or owe a refund for any past financial aid received, according to applicable legislation.