Jim Dunn Memorial Scholarship
3/4/2023
Submission Deadline
Explore Similar Scholarships
Location:
Grade Level:
Athletic scholarships are a common way to get into universities nowadays. Among the many available out there is the Jim Dunn Memorial Scholarship, which awards two high school students $1,000, each.
This scholarship was created to help students who participate in cross country or track and field in high school and who want to continue doing so at the collegiate level. Applications are only accepted through their scholarship portal.
Applicants must be residents of West Virginia, demonstrate academic achievement, demonstrate leadership and involvement in community service, and on top of all plan to participate in cross country and/or track.
Key Information of Jim Dunn Memorial Scholarship
Study Details
Country of Study
United States
Scholarship Details
Intended Level of Study
Undergraduate
Jim Dunn Memorial Scholarship Timeline
January 2023
Application Opening Date
Applications open on January 1.
March 2023
Submission Deadline
The submission deadline is on March 4.
June 2023
Awards Announcement Date
Winners are announced in June.
Scholarship Eligibility
To be eligible to apply, applicants must meet the following criteria.
Eligible Grade: High School Senior
Maximum Age: Any
Required GPA: Any
Geographic Eligibility: West Virginia
Gender: Any
Race/Ethnicity: Any
Application Requirements
Here's what you need to submits besides your application.
How to ace the Jim Dunn Memorial Scholarship
1
Be involved
You need to show commitment and leadership by being involved in organizations and community service.
2
Demonstrate your future plans
It's no use to have the talent if you don't intend to continue using it in the future. So demonstrate your career goals where your talent comes to use.
3
Keep your grades up
Applicants must have high academic promise, which means having good grades, among other things. It is also necessary to maintain a high academic record. The higher it is, the better chances of winning.
4
Study at an accredited institution
Applicants must enroll in accredited post-secondary institutions only to be eligible for the scholarship program.
How the Jim Dunn Memorial Scholarship is Judged
Winners of this scholarship must have athletic talent, leadership skills, and plans to pursue the dream of being a professional. They also must have a high academic promise.
Why We Love the Jim Dunn Memorial Scholarship
Two awards available
This program, despite being competitive, still awards two scholarships and not one like in most available programs.
Prioritizes local talents
By giving this scholarship to students from West Virginia, they are valuing local talents.
Awarded annually
It is an annual award, so you can continue to apply each year if you are not selected.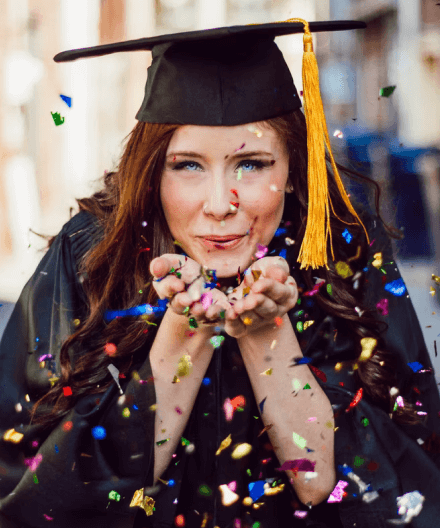 5 Facts About Jim Dunn Memorial Scholarship
Scholarship made possible through donations
This scholarship is funded by generous donations each year.
In memory of Jim Dunn
Jim Dunn was on the track and field team at West Virginia University and was a loving member of the community.
Non-renewable
There is no automatic renewal for this scholarship. If you wish to continue with it, you must apply again.
Created to support the community
This scholarship and the foundation itself were made to help the community.
Other scholarships available
The foundation is full of scholarship opportunities for all kinds of study areas.