Jack Kent Cooke Young Scholars Program
5/9/2023
Submission Deadline
Explore Similar Scholarships
Location:
Grade Level:
Before he acquired millions and owned iconic sports teams such as the Washington Redskins and L.A. Lakers, Canadian entrepreneur Jack Kent Cooke knew severe economic hardship. He was forced to leave high school to help his parents make ends meet during the Great Depression, and he always regretted being unable to attend college. But Jack Kent Cooke didn't let that stand in the way of astounding success — and he strongly believed it shouldn't hold anyone back from willing their dreams into reality.
In 2000, shortly after his death, the Jack Kent Cooke Foundation was established to provide opportunities to promising but financially disadvantaged students much like himself. One of the Foundation's scholarships — the Jack Kent Cooke Young Scholars Program — seeks to award financial support, enrichment, and guidance to outstanding 7th graders throughout their entire high school career.
Students are given education support by being placed in schools designed to challenge them. They are given college support, mentored, and encouraged to participate in sports or extracurricular activities. They also participate in community service.
Key Information of Jack Kent Cooke Young Scholars Program
Study Details
Country of Study
United States
Scholarship Details
Intended Level of Study
High School
Jack Kent Cooke Young Scholars Program Timeline
January 2023
Applications open
Applications open early in the year.
May 20223
Submission deadline
Applications and all supporting documents must be submitted.
September 2023
Winners notified
Winners will be notified by this date.
Scholarship Eligibility
To be eligible to apply, applicants must meet the following criteria.
Eligible Grade: 7th Grade
Maximum Age: Any
Required GPA: Any
Geographic Eligibility: United States
Gender: Any
Race/Ethnicity: Any
Application Requirements
Here's what you need to submits besides your application.
Financial Information
Grade transcript
Recommendation letters
Short Answers
Essay
How to ace the Jack Kent Cooke Young Scholars Program
1
Show, don't tell
Show — don't tell — your achievements and abilities. Rather than writing "I'm active in my church," tell a personal story that brings your church activity to life and makes the judges remember you long after they've read your essays.
2
Speak up in class
You'll need two teacher recommendations (one math and one English/language arts), so a glowing letter from Mom won't cut it. Don't be afraid to speak up in class — it'll help you cultivate a rapport with teachers who will be able to bring your abilities to life when the time comes.
3
Treat all activities as an opportunity to sell yourself
The selection committee places emphasis on initiative and involvement. Spend some time evaluating where you spend your time, and weave as many of those activities into your essays as possible. Are you involved in church? Do you take a leadership role in your family? Don't be afraid to brag a little.
4
Show commitment to improving
Applicants who show a commitment to improving themselves in any facet and who display a determination to overcome hardships will stand out.
How the Jack Kent Cooke Young Scholars Program is Judged
Applicants are evaluated on a number of factors, namely high academic ability and achievement, demonstrated financial need, drive, and persistence, leadership, and service to others. Financial need is also considered as the scholarship program is designed to uplift and support students from low-income families.
Why We Love the Jack Kent Cooke Young Scholars Program
It lasts for five years
While most scholarships provide you with a year's worth of financial assistance, the Jack Kent Cooke Young Scholars Program has you covered for five years: from the summer before 9th grade through to your senior year.
You get more than just financial support
When you're an ambitious 7th grader with big dreams, it can be hard to know where to start on the path to making those dreams come true. This program takes care of it all, from your own educational advisor to summer enrichment programs, and career exploration to college advising. You can even get a computer!
Improves chances of getting into great college
78% of Jack Kent Cooke Young Scholars attend a most competitive or highly selective college or university — proving that with the right support, anyone with talent and grit can go far.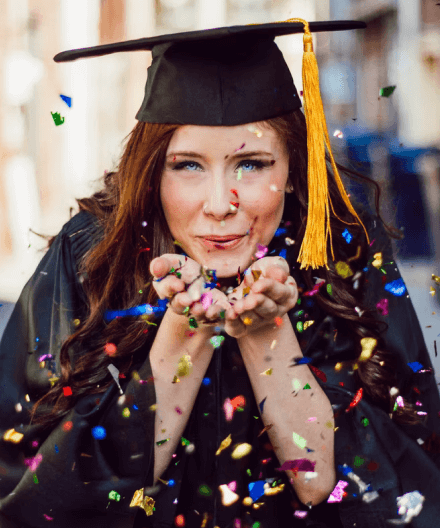 5 Facts About Jack Kent Cooke
He once sold soap and encyclopedias
His first job, at age 14, was selling encyclopedias door to door.
He was born in 1912
Jack Kent Cooke was born on October 25 in Hamilton, Ontario, Canada.
The Foundation was established in 2000
When Jack Kent Cooke passed away in 1997, his one wish was to help students in financial need so the foundation was established.
Eventually became a U.S. citizen
He became a citizen in 1960 after spending most of his life in Canada.
He owned the Los Angeles Lakers
Jack Kent Cooke bought the Lakers in September 1965 for $5 million.