Horace M. Thayer Scholarship Program
3/15/2023
Submission Deadline
Explore Similar Scholarships
College Major:
Location:
Grade Level:
Created by the TREE Fund and currently administered by the Pennsylvania-Delaware Chapter of the International Society of Arboriculture (Penn-Del ISA), the Horace M. Thayer Scholarship Program is designed to provide financial support to those pursuing careers in arboriculture in Pennsylvania and Delaware.
The scholarship is worth $3,000 and is limited to applicants enrolled in a major, minor, option, or program in the field of arboriculture and urban forestry. The program is to foster a greater appreciation of shade trees and promote the science and practice of professional arboriculture
Penn-Del ISA is an organization that provides resources to those who work or are interested in the field. They have a membership and provide access to their board of directors, whom you can get in contact with about any relevant subject.
Key Information of Horace M. Thayer Scholarship Program
Study Details
Country of Study
United States
Scholarship Details
Intended Level of Study
Undergraduate
Horace M. Thayer Scholarship Program Timeline
January 2023
Applications Opening Date
Applications open on January 15.
March 2023
Submission Deadline
The submission deadline is on March 15.
May 2023
Awards Announcement Date
The winner is announced in May.
Scholarship Eligibility
To be eligible to apply, applicants must meet the following criteria.
Eligible Grade: Undergraduate
Maximum Age: Any
Required GPA: 2.5
Geographic Eligibility: Delaware, Pennsylvania
Gender: Any
Race/Ethnicity: Any
Application Requirements
Here's what you need to submits besides your application.
Essay
Grade transcript
Recommendation letters
School Verification
How to ace the Horace M. Thayer Scholarship Program
1
Plan ahead
In your essay, you'll be asked to talk about your future plans in the field and how this program will help you achieve your goals and be an impact on the field.
2
Keep your grades high
Only submissions from students from accredited universities will be accepted. Your GPA must also be 2.50 and preferably higher as this scholarship is merit-based.
3
Have all the necessary documents
To apply, you need to submit proof of enrollment, residency, and grade transcripts.
4
Get two recommendation letters
Seek recommendations from those who know you best and can convey your skills, work, and achievements. One of them has to be from advisors or teachers.
How the Horace M. Thayer Scholarship Program is Judged
Applications will be evaluated in different categories that will amount to your total score. The category that is worth more points is the essay, followed by letters of recommendation and GPA.
Why We Love the Horace M. Thayer Scholarship Program
Transparency
They show how the scholarship is judged on their website.
You may apply again
The scholarship is not renewable but you may apply again the following year.
Appreciation of local knowledge
This scholarship is made only for those within the Pennsylvania-Delaware area, which values local knowledge and helps build up the community.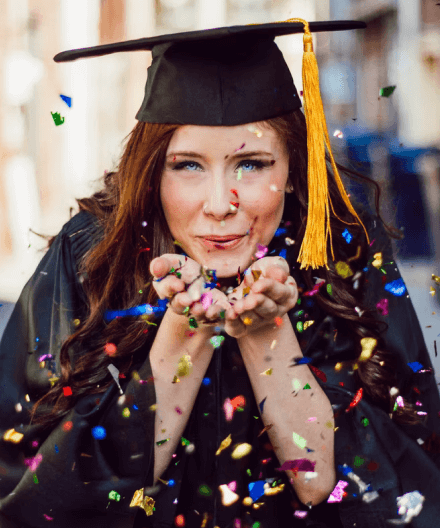 5 Facts About Horace M. Thayer Scholarship Program
Only one scholarship
Though you may apply for more than one scholarship from this fund, you can only receive one.
Two payments
50% of the prize will be paid in the first semester and the other 50% in the second.
Minimum GPA
You need to hold a GPA of at least 2.5 to be eligible to apply.
GPA verification
Before paying the second installment, the fund verifies if your GPA is still within the required score.
Scholarship history
If you have received a scholarship previously, you need to submit proof.