Herbert Hoover Uncommon Student Award
$1,500–$11,500
Award Amount
3/15/2023
Submission Deadline
Explore Similar Scholarships
Location:
Grade Level:
The program began in 1997 based on Herbert Hoover's Uncommon Man speech. The Herbert Hoover Uncommon Student Award is an Iowa high school junior scholarship program. Students, who are driven and concerned about the community, are targeted by the program. Students who develop and complete projects of their own design are recognized with the Herbert Hoover Award, named after the 31st President of the United States and native of Iowa.
The initiatives that the students suggest ought to show how Herbert Hoover lived his life as a public servant while also exhibiting the principles he advocated. Four students will each earn a $10,000 scholarship, to be used in an authorized two- or four-year college or university after all presentations are heard by an esteemed Iowan selection committee.
A total of $5,000 for the freshman year and $5,000 for the sophomore year is paid directly to the university. There must be two recommendations. At the end of the program, each of the 15 finalists will be given a $1,500- cash prize. Each of those four might receive a further $10,000 scholarship, for a total of $11,500. Typically, projects focus on entrepreneurship, community/humanitarian service, conservation, and technology.
Key Information of Herbert Hoover Uncommon Student Award
Study Details
Country of Study
United States
Scholarship Details
Intended Level of Study
High School
Award Amount
$1,500–$11,500
Herbert Hoover Uncommon Student Award Timeline
January 2023
Application Opening Date
Applications open on January 15.
March 2023
Submission Deadline
The submission deadline is on March 15.
October 2023
Presentation Date
Students must deliver a presentation at the library and museum on October 22.
May 2024
Awards Announcement Date
Winners are announced on May 12.
Scholarship Eligibility
To be eligible to apply, applicants must meet the following criteria.
Eligible Grade: High School Junior
Maximum Age: Any
Required GPA: Any
Geographic Eligibility: Iowa
Gender: Any
Race/Ethnicity: Any
Application Requirements
Here's what you need to submits besides your application.
Short Answers
Special Project
How to ace the Herbert Hoover Uncommon Student Award
1
Hit the brief
Applicants are encouraged to take on this project to develop their education. Make sure you understand the brief correctly and conduct much research until you develop the idea and start implementing it.
2
Seek guidance
Consult your teacher mentor and seek guidance to help you excel in the project. They would be of great help as the project requires a lot of time and effort to perfect it.
3
Have a creative Project Proposal
How you tackle this is entirely up to you creatively. Your suggestion could be in the areas of technology, entrepreneurship, or community/humanitarian service. as long as it is real and tasteful.
4
Be realistic
Clarify the project aim and the strategy you will use to achieve it in your project proposal. Make a thoughtful suggestion to share with your examiners. The project must be unique, attainable by you, and reasonable.
How the Herbert Hoover Uncommon Student Award is Judged
The best project proposal presentation is used to evaluate the award.
Why We Love the Herbert Hoover Uncommon Student Award
This award is not financial- or merit-based
Grades, test scores, essays, and financial need are not evaluated. It encourages creativity and helps students engage more about what they do.
Funds don't have to be used immediately
Scholarship recipients can use their award within two years of receiving it. Students may defer the use of their awards until they graduate high school.
You join a robust alumni
The foundation provides not only monetary awards but also intellectual opportunities by hosting frequent meetups and inviting scholars to Summits every year.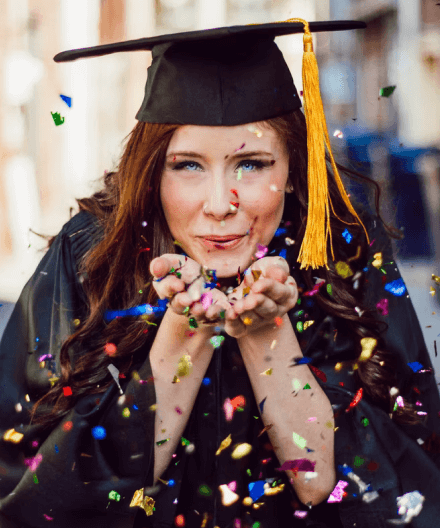 5 Facts About Herbert Hoover Uncommon Student Award
Award is in honor of Herbert Hoover
The Herbert Hoover Award recognizes students who suggest and then complete projects of their own invention.
The award is an educational legacy
Young Iowans are encouraged by the award to devote their talents and efforts to their schools, communities, and beyond, helping to foster personal development, adulthood, and self-confidence while enhancing the lives of others.
Geographically restrictive
Only applicants within Iowa can receive the award.
Foundation is nonprofit and tax exempted
The Hoover Presidential Foundation was granted tax-exempt status as a nonprofit organization.
The award is dependent on donations
The prize has been supported for the past 18 years by kind benefactors.