Greenhouse Scholars Scholarship
$5,000–$20,000
Award Amount
11/9/2023
Submission Deadline
Explore Similar Scholarships
Grade Level:
The Greenhouse Scholars Scholarship is an award that supports low-income students who have shown the values of leadership, accountability, and relentlessness in high school.
Greenhouse Scholars is an organization whose mission is to transform underserved communities all around the world through education. They empower promising young students with the resources they need to fulfill their dreams in their various lives and communities.
Approximately 34 applicants will be awarded financial aid of $5,000 a year. The scholarship also comes with automatic enrollment in a group of programs that promotes growth and development in students.
Key Information of Greenhouse Scholars Scholarship
Study Details
Country of Study
United States
Scholarship Details
Intended Level of Study
Undergraduate
Award Amount
$5,000–$20,000
Greenhouse Scholars Scholarship Timeline
September 1, 2023
Application Opening Date
You may have to check the website in case of a date change but applications for this scholarship usually open in early September.
November 9, 2023
First Submission Deadline
The first deadline for submissions is usually at the beginning of November. This is when eligibility and demographic information is provided, and short answer responses are submitted.
November 19, 2023
Second Submission Deadline
The second deadline for submissions is usually in mid-November. Information such as test scores, transcripts, recommendation letters, your FAFSA report, essay, and more short answer responses are due.
April 19, 2023
Award Announcement Date
Winners of the Greenhouse Scholars Scholarship will be announced sometime in April the following year.
Scholarship Eligibility
To be eligible to apply, applicants must meet the following criteria.
Eligible Grade: High School Senior
Maximum Age: Any
Required GPA: 3.5
Geographic Eligibility: Colorado, Georgia, Illinois, New York, North Carolina
Gender: Any
Race/Ethnicity: Any
Application Requirements
Here's what you need to submits besides your application.
Short Answers
Grade transcript
Recommendation letters
Financial Information
Video Submission
Essay
School Verification
How to ace the Greenhouse Scholars Scholarship
1
Gather all your documents early
At the second stage of the application, you will be required to send the following documents: your transcript, recommendation letters, official standardized test scores (SAT or ACT), and a FAFSA student aid report. Start to gather the documents needed now so that they'll not slow your application when it becomes available.
2
Be creative in your essay
You will be given an essay prompt during your application. Follow the required number of words if specified and try to be creative with your words
3
Prepare a script for your video submission
At the third stage of your application, you will be required to make a short video submission based on a given prompt. There are various resources for scholarship video submissions online. Get familiar with the strategies that work, prepare a script, and practice as many times as possible before making your submission.
4
Submit a quality video
Ensure that you are in a well-lit area with soft light. Make sure that background noise is menial so that the audio is clear. Record a few takes and submit the best ones. You may need to edit your video a little so that it flows well.
How the Greenhouse Scholars Scholarship is Judged
The application process has a stage of four rounds with each round carrying its own set of criteria and rules. Apart from the fourth round, all other stages are strictly submission-based. The fourth round ends with an in-person interview after which winners are contacted by phone and email.
Why We Love the Greenhouse Scholars Scholarship
Impact on low-income students
Based on current statistics, 97% of Greenhouse Scholars graduate from college as opposed to the 15% completion rate set by other students who are from low–income families.
Additional programs are attached to the scholarship
Financial aid isn't the only perk you'll be getting if you emerge a winner. The scholarship comes with the Whole Person Program which provides personal, professional, and financial advice during your undergraduate years.
The award is renewable
Unlike a host of other scholarships out there, winners of this award will be eligible for financial aid for up to four years.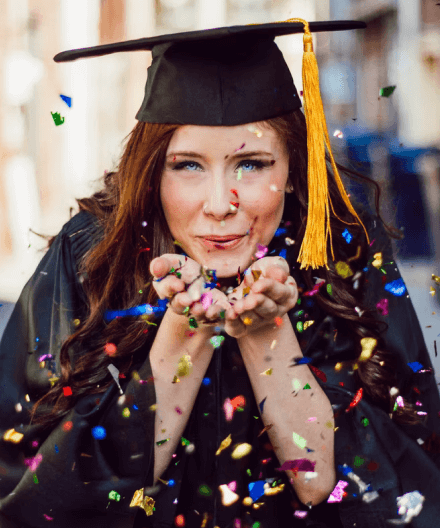 5 Facts about the Greenhouse Scholars Scholarship
Sources of funding
The educational organization gets its funding from two main sources. The first is from individual donors while the second is via hosted events such as the Venus de Miles, a women's bike ride held in Colorado and Illinois.
The scholarship is need-based
The Greenhouse Scholars Scholarship is only open to students who have a household income of $70, 000 a year or less.
Academic brilliance is encouraged
Students who have a CGPA of 3.5 and above are the only ones encouraged to take part in the scholarship application. This encourages students with academic brilliance to keep up their grades.
Brief history of the scholarship
The initiative for the Greenhouse Scholars Scholarship started way back in 2004 but it was launched officially in 2005. The initiative was formed to help young students achieve their full potential without being pulled back by a lack of funds.
The foundation has contributed positively to society
Through mentoring, volunteering, community leadership, entrepreneurship, and other activities, the organization makes changes to the lives of up to 50, 000 people every year.