GCI Scholarship
3/17/2023
Submission Deadline
Explore Similar Scholarships
College Major:
Location:
Grade Level:
The Alaska Community Foundation offers the GCI Scholarship sponsored by GCI Foundation. Since the GCI Foundation's doors first opened for business in 1979, it has provided long-distance TV, internet, and wireless service to Alaskans. The organization was formed and is run by Alaskans who are dedicated to being good neighbors and supporting their local communities.
The foundation's proposal includes the GCI Scholarship, an $80,000 investment in Alaska's future leaders that would provide a $2,000 scholarship to 40 deserving students, each. All Alaskan high school senior and graduate students enrolled or plan to enroll in authorized universities and vocational/trade schools are eligible for the scholarship. The children of GCI workers and contractors, however, are not permitted to apply for this scholarship grant.
The application requirements for the program were purposefully designed to reach students who would not be eligible for other scholarships. Students must be interested in fields related to science, technology, engineering, or mathematics (STEM) to pursue undergraduate degrees, a trade, or vocational training. The foundation greatly encourages more individuals to apply, especially those who reside in rural Alaska or declare a desire to begin their careers there.
Key Information of GCI Scholarship
Study Details
Area of Study
Engineering
Mathematics
Science
Technology
Country of Study
United States
Scholarship Details
Intended Level of Study
Undergraduate
GCI Scholarship Timeline
February 2023
Application Opening Date
Applications open on February 3.
March 2023
Submission Deadline
The submission deadline is on March 17.
June 2023
Awards Announcement Date
Winners are announced on June 30.
Scholarship Eligibility
To be eligible to apply, applicants must meet the following criteria.
Eligible Grade: High School Senior
Maximum Age: Any
Required GPA: 2.8
Geographic Eligibility: Alaska
Gender: Any
Race/Ethnicity: Any
Application Requirements
Here's what you need to submits besides your application.
School Verification
Grade transcript
How to ace the GCI Scholarship
1
Prep well ahead of the deadline
Start early by gathering the necessary materials for your scholarship application, such as transcripts and proof of enrollment. This will spare you the last-minute scramble and give you time to learn about the organization that awards the scholarships so that you can understand its mission and distinguishing characteristics and use that knowledge to help your application reflect those.
2
Review your application documents
Although you're probably sick of hearing this, a weak application will almost certainly disqualify you. Making sure that all of the application papers are submitted per their standards and that your application is free of careless mistakes like typos, spelling mistakes, or grammatical problems is in your best benefit.
3
Make application a reflection of who you are
It speaks well of you if you can submit a well-organized, timely, and thorough application. Make sure you introduce yourself to the company in this way and put your best foot forward while submitting your application.
4
Make a note of your academic achievements
To be eligible for the award, applicants must have a strong academic record. Therefore, if you are contemplating applying for a scholarship, it is crucial to pursue academic success. Additionally, mention your academic accomplishments in your application to help you stand out.
How the GCI Scholarship is Judged
Applicants are evaluated on their academic achievement with a GPA of 2.8 or higher. Candidates must also be enrolled in or plan to enroll in an approved college, university, or trade school to pursue a STEM-related degree or certification.
Why We Love the GCI Scholarship
The scholarship has a preference
The award favors candidates living in rural areas and those who state a desire to return to Alaska to begin professions. Rural is located outside of Juneau City, Fairbanks North Star Borough, and the Municipality of Anchorage. This encourages everyone to take part and present themselves in the best possible light.
The program welcomes everyone
The application requirements for the program were purposefully designed to reach students who would not be eligible for other scholarships. Students, who desire to major in, pursue a trade, or receive vocational training in fields related to science, technology, engineering, or mathematics are also given special attention (STEM).
It's easy to apply
You don't have to submit a superb essay or a ton of information in order to apply. Anyone, who satisfies the requirements, may apply and be chosen because only the school's verification and grade transcript are considered.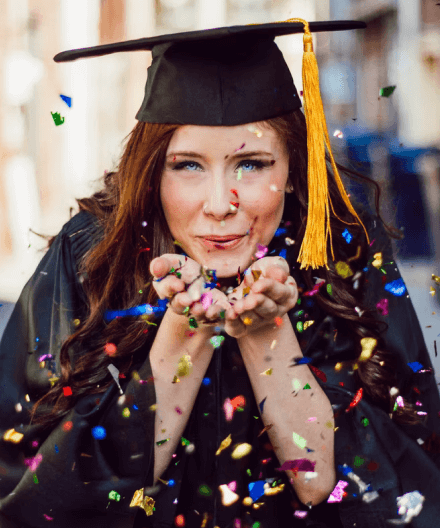 5 Facts About GCI Scholarship
The awarding body was founded in 1979
GCI was founded in 1979, and it has endeavored to provide technology and communication services to Alaska's most isolated towns.
The foundation has donated over $10 million
The foundation has donated more than $10 million to Alaskan groups over the last five years in the form of cash, goods, scholarships, and awards.
GCI has awarded $6 million in scholarship
GCI has awarded $6 million in scholarship funds to hundreds of Alaskan students enrolled in authorized institutions and trade/technical schools during the past 20 years.
GCI employees and their children are ineligible
The children of GCI employees and contractual workers are not eligible to apply for the scholarship award.
Recipients to return to Alaska after graduation
If recipients receive their degrees outside of Alaska, they must return to the state after graduation to live and work.