Frank O'Bannon Grant
5/20/2023
Submission Deadline
Explore Similar Scholarships
Location:
Grade Level:
The Indiana Commission for Higher Education designed this grant program to provide financial support for Indiana students to attend tertiary institutions. The grant is Indiana's primary need-based financial aid program. It includes the Higher Education Award and the Freedom of Choice Award.
The only application required for the grant is the FAFSA. Applicants will be considered based on financial need, without consideration of academic performance. The grant may be used to cover tuition costs and regularly assessed fees.
High school graduates and GED holders are eligible to apply. Every year, recipients will be awarded between $650 to $9,200.
Key Information of Frank O'Bannon Grant
Study Details
Country of Study
United States
Scholarship Details
Intended Level of Study
Undergraduate
Frank O'Bannon Grant Timeline
February 2023
Application Opening Date
Applications open on February 15.
May 2023
Submission Deadline
The submission deadline is on May 15.
Scholarship Eligibility
To be eligible to apply, applicants must meet the following criteria.
Eligible Grade: High School Graduate – Undergraduate
Maximum Age: Any
Required GPA: Any
Geographic Eligibility: Indiana
Gender: Any
Race/Ethnicity: Any
Application Requirements
Here's what you need to submits besides your application.
How to ace the Frank O'Bannon Grant
1
Complete the FAFSA with a mentor
Have a mentor assist you with filling out the FAFSA. This could be a student who has submitted one previously or someone who has experience with grading such applications.
2
Apply early
Complete your application and submit it early before the deadline. If there is any change in your financial situation, you can make updates to the application after submission.
3
Browse the FAQ section
Visit the grant website and go through the frequently asked questions. You'll find useful information to help with your application.
4
Earn extra credits
Students, who perform above the requirements, will be rewarded with student performance incentives in addition to the grant. Students can earn at least $900 extra and up to 100% of their grant if they complete extra credits.
How the Frank O'Bannon Grant is Judged
Applicants will be selected for scholarships based on their financial need as shown on their FAFSA and the amount of financial support they expect to receive from their families.
Why We Love the Frank O'Bannon Grant
Scholarships are renewable
The scholarship will be renewed for another academic session if the recipient completes a minimum of 24 credit hours during the first year of receiving the scholarship.
Students may attend any institution
Students may apply if they attend a public, private, proprietary, or Ivy Tech school. While the institution type affects the scholarship amount awarded, students from any of these institutions will be considered for scholarships.
Students may study any course
Recipients of the grant may study any course of their choice at the university. Students may be enrolled for either an associate degree or a first bachelor's degree.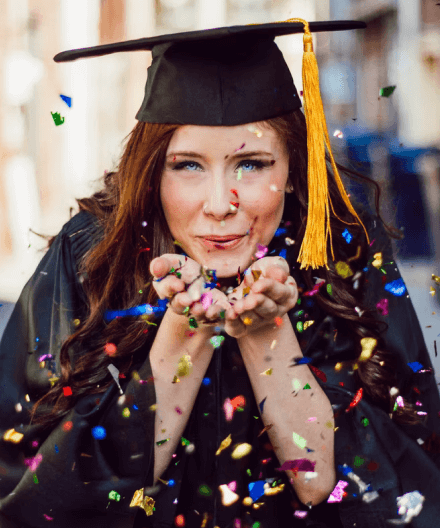 5 Facts About Frank O'Bannon Grant
Applicants must be Indiana residents
Applicants must be legal residents of Indiana by December 31 of the year before their application.
Applicants must be full-time students
Recipients of this scholarship are required to be enrolled for full-time study at the university throughout the duration of their scholarship.
The grant covers summer study
In select cases, students may be allowed to use the grant to cover the cost of part-time study during the summer.
Recipients must meet SAP requirements
Each year, recipients of this grant must meet the Satisfactory Academic Progress (SAP) requirements at their school to have their scholarship renewed.
Students who miss the deadline may appeal
Students, who miss the FAFSA submission deadline, may submit an appeal to the Indiana Commission for Higher Education's Appeal Committee to waive the deadline, providing their reasons.