Farah & Farah Empowering Greatness Scholarship
10/5/2022
Submission Deadline
Explore Similar Scholarships
Location:
Grade Level:
Farah & Farah's Empowering Greatness Scholarship awards $5,000 to five deserving high school seniors and undergraduate students. The winners are chosen based on their outstanding community service and academic achievements.
Farah & Farah is currently collaborating with the Florida Prepaid College Foundation and Goodwill Industries of North Florida to provide full tuition to five rising high school seniors attending a two-year Florida college. This plan covers tuition and fees for 60 lower-division semester credit hours at any of Florida's 28 community colleges, as well as tuition and fees for a four-year Florida university or technical degree.
A scholarship committee composed of Farah & Farah employees will rank all completed applications using a rubric. The top ten applicants will be reviewed and chosen by a panel of judges. Students must attend a public or charter school in Florida to be eligible.
Key Information of Farah & Farah Empowering Greatness Scholarship
Study Details
Country of Study
United States
Scholarship Details
Intended Level of Study
Undergraduate
Farah & Farah Empowering Greatness Scholarship Timeline
July-August 2022
Submissions open
The application process opens between late July and early August when a new essay prompt is provided.
October 8, 2022
Submission Deadline
The deadline for applications is in early October.
November 2022
Semi-Finalists are Selected
Scholarship recipients will be notified on November 5.
Scholarship Eligibility
To be eligible to apply, applicants must meet the following criteria.
Eligible Grade: High School Senior – Undergraduate
Maximum Age: 21
Required GPA: 2.7
Geographic Eligibility: Florida
Gender: Any
Race/Ethnicity: Any
Application Requirements
Here's what you need to submits besides your application.
Essay
Video Submission
Financial Information
Recommendation letters
Grade transcript
How to ace the Farah & Farah Empowering Greatness Scholarship
1
Meet or exceed the minimum GPA requirement
If you want to be considered for this scholarship, you must have a minimum GPA of 2.7, which you must meet or exceed. Though meeting the minimum GPA is desirable, if you want to stand out and impress the scholarship selection committee, we recommend exceeding it.
2
Display the outcomes of your community service
It is not enough to simply document and describe your community service; you must also demonstrate your accomplishments and the significant contribution you made to your community. Showing your accomplishments demonstrates the effectiveness of your community service, which increases the value of your contribution.
3
Deeply comprehend the essay prompt
Understand the essay prompt and write your paper to meet its requirements. You only have 500 words, so be creative and detailed, ensuring that your essay is both enjoyable to read and substantive in content.
4
Write out your video content and practice it
If you choose to do a 1- or 2- minute video instead of a 500-word essay, make sure you write a script of what you want to say, practice it, record multiple takes, and pick the best one. Because the video prompt is similar to the essay prompt, make sure you fully understand it and present your video content in a lively, creative, and enjoyable manner.
How the Farah & Farah Empowering Greatness Scholarship is Judged
To be eligible, applicants must attend a Florida public charter high school, and have lived in the state for at least 12 months. They must be under the age of 21, and have a 2.7 GPA. In addition to eligibility, applicants are judged based on their academic performance, community service, and the essay or video they submit as part of their application.
Why We Love the Farah & Farah Empowering Greatness Scholarship
Scholarship pays for more than tuition
Scholarship funds prepay tuition, registration fees, and local fees in Florida.
Good opportunity for Florida residents
The scholarship may be paid into any of the 28 Florida colleges so it is a good opportunity for students in the state.
You get a mentor
Scholarship recipients agree to have meetings with a mentor, which is great because having someone more experienced giving you advice will help you in your pursuit of success.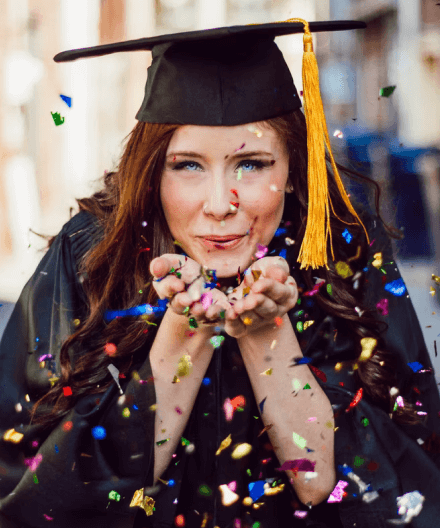 5 Facts About the Farah & Farah Empowering Greatness Scholarship
Scholars must agree to remain drug-free
Scholarship recipients must agree to stay drug-free, which means they cannot be convicted of possessing illegal drugs.
Scholars must agree to remain crime-free
Scholarship recipients must agree to not commit any crimes, which means they must not have been convicted of a felony or a first-degree misdemeanor.
Scholars must agree to public school lunch program
To be eligible, applicants must qualify for the free or reduced public school lunch program.
Students are required to do community service
Applicants must commit to performing 10 hours of community service every semester.
Email submission of an application
Applications are submitted via email before or on the submission deadline. The email address for submission is provided on the scholarship application form.