Doreen Dew Kauffman Scholarship
2/1/2023
Submission Deadline
Explore Similar Scholarships
Location:
Grade Level:
Every year, the Garden Club Federation of Pennsylvania awards scholarships to deserving students who want to major in agriculture education, agronomy, floral design, horticulture, landscape architecture, botany, biology (other than medical), conservation, environmental issues (management: environmental engineering, conservation, etc.), forestry, plant pathology, city (rural/urban) planning, wildlife science, land management, and/or related fields.
A deserving student majoring in horticulture may apply for the Doreen Dew Kauffman Scholarship, which is offered by the GCFP and provides a $1,000 scholarship each year for ten years. The recipient's institution or university's financial assistance office is responsible for disbursing the scholarship. The recipient may choose the college, university, or Audubon Camp, and all winners are revealed during the Annual April Meeting.
The foundation is a nonprofit, volunteer-run group of women, men, and young people who, through local clubs, share interests in gardening, civic beautification, floral design, resource conservation, the environment, and political problems. No matter your age, gender, race, ethnicity, religion, or sexual orientation, you are welcome to join any of the garden clubs run by the GCFP.
Key Information of Doreen Dew Kauffman Scholarship
Study Details
Area of Study
Agriculture
Botany
Floriculture
Horticulture
Landscape Architecture
Country of Study
United States
Scholarship Details
Intended Level of Study
Undergraduate
Postgraduate
Doreen Dew Kauffman Scholarship Timeline
December 2022
Application Opening Date
Applications open on December 1.
February 2023
Submission Deadline
The submission deadline is on February 1.
April 2023
Awards Announcement Date
The winner is announced in April.
Scholarship Eligibility
To be eligible to apply, applicants must meet the following criteria.
Eligible Grade: High School Senior – Graduate
Maximum Age: Any
Required GPA: Any
Geographic Eligibility: Pennsylvania
Gender: Any
Race/Ethnicity: Any
Application Requirements
Here's what you need to submits besides your application.
Grade transcript
Recommendation letters
Essay
Short Answers
Financial Information
How to ace the Doreen Dew Kauffman Scholarship
1
Stress your financial need
Given it's part of the scholarship requirements, it's best to use it to your advantage by telling a story. You can discuss any gaps in a financial aid package, family income, and personal needs (personal needs can also refer to specific situations, including personal hardship or financial trouble that contributes to the applicant's financial need).
2
Make your application personal
Introduce yourself, outline your course of study, and then briefly discuss your academic, professional, and community accomplishments to date throughout your time in college in your application letter. In addition to academic accomplishment, emphasize extracurricular and community involvement. Moreover, keep in mind that your ability to submit a well-organized application, is on time and fully speaks well of you.
3
Have your application reviewed before submission
The GCFP scholarships are competitive, so make sure your application doesn't get dismissed because of careless mistakes such as typos, spelling mistakes, or grammatical errors. Before submitting your application, take the time to have it reviewed by a friend, teacher, or mentor you can trust.
4
Take advantage of your recommendation letters
You should carefully consider who to ask to write your letters of reference and ask them to modify each one to match the scholarship's specific requirements. Make sure the letter provides the scholarship sponsor with more details about your abilities, traits, and mental prowess. It should also demonstrate your interest in or enthusiasm for a career in horticulture.
How the Doreen Dew Kauffman Scholarship is Judged
The NCG methodology is used by the scholarship committee to evaluate applications: Academics account for 40% of the score, Application Letter, 25%, List of Honors, 10%, Financial Need, 20%, and Recommendations, 5%.
Why We Love the Doreen Dew Kauffman Scholarship
The grant caters for more than tuition
Scholarship recipients can use the money they receive to pay for expenses other than tuition. Unlike most scholarships In contrast to most awards, the financial aid officer and the scholarship recipient decide how the money is to be used: for tuition, food, lodging, books, etc.
The program accepts reapplications
According to the organization responsible for distributing scholarships, students are entitled to apply or reapply for the scholarship as long as they maintain a high academic standing and can demonstrate need. A single application is all that is necessary to apply.
Participating gives you a leg up
A scholarship is a tremendous honor since it demonstrates your hard work and commitment to your future and education. If you win, you can include this on your résumé, which will catch the attention of employers.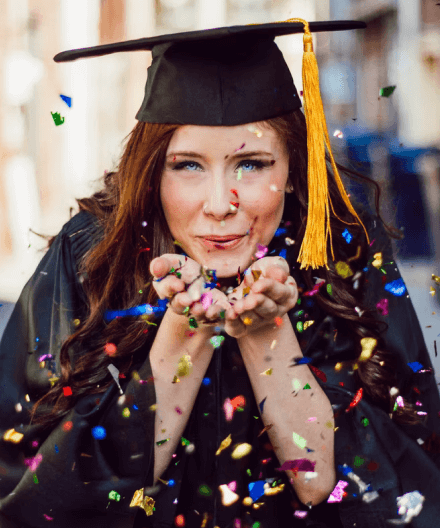 5 Facts about the Doreen Dew Kauffman Scholarship
Applicants must demonstrate dedication to the field
Applicants must also be exemplary students who intend to pursue horticulture as an area of study.
Only Pennsylvania residents are eligible
All GCFP scholarship candidates must be Pennsylvania residents and sponsored by a Federation Garden Club to be considered.
Additional points are awarded
All offspring, grandkids, or other legal dependents of federated garden club members receive an additional 5 points.
GCFP is a National Garden Clubs member
The GCFP is a member of the National Garden Clubs, the biggest volunteer gardening organization in the world.
The foundation offers a variety of scholarships
A variety of scholarships are available from the (GCF) of Pennsylvania, including the Louise W. Dimmick, Jane Layman, and Mariam A. Steel Scholarships, to name a few.