District High School Award
12/31/2022
Submission Deadline
Explore Similar Scholarships
Location:
Grade Level:
The University of Missouri-Kansas City (UMKC) is the largest, fully accredited university in the Kansas City area. The university is dedicated to empowering the Kansas City community through various outreach programs and initiatives. The District High School Award Award is just one way the university seeks to financially support some of its local high school graduates.
The scholarship award amount is $1,500 and will be given to incoming freshman students who completed high school at Kansas City Public School District or North Kansas City Schools.
The scholarship is only open to such students who are enrolled full-time — that's at least 12 credits per semester. Additionally, students will be required to complete and earn 24 credits per year. There is no separate application process for the scholarship, meaning all first-time college students who fall into the earlier-mentioned category will be awarded.
Key Information of District High School Award
Study Details
Country of Study
United States
Specific Schools
University of Missouri-Kansas City
Scholarship Details
Intended Level of Study
Undergraduate
District High School Award Timeline
January 2023
Application Opening Date
Applications open on January 1.
June 2023
Fall Semester Application Deadline
The submission deadline for the fall semester is on June 15.
November 2023
Spring Semester Application Deadline
The submission deadline for the spring semester is on November 15.
Scholarship Eligibility
To be eligible to apply, applicants must meet the following criteria.
Eligible Grade: High School Graduate
Maximum Age: Any
Required GPA: Any
Geographic Eligibility: Kansas
Gender: Any
Race/Ethnicity:
Application Requirements
Here's what you need to submits besides your application.
Grade transcript
School Verification
How to ace the District High School Award
1
Start early
To be considered for this scholarship, you have to submit much earlier than the general application deadlines, so make sure you start as early as possible. Gather all the necessary information and documentation before the scholarship deadline.
2
Be honest
Don't present any falsified or exaggerated information in your application. Being found guilty of such will result in instant disqualification.
3
Get your units up
To qualify for this scholarship, you need to meet UMKC's 17 core requirements. If you still have time before the application, work on taking on more units to meet up.
4
Review your application
Take the time to go through your entire application thoroughly. There's not much to the application process, so silly mistakes could easily reduce your chances.
How the District High School Award is Judged
Applications are assessed based on academic standing and the answers provided.
Why We Love the District High School Award
It's renewable
Scholars can receive the scholarship again for the rest of their studies at the university, as long as they remain full-time students and meet certain GPA and credit requirements.
It applies to almost any discipline
The scholarship can be won by first-time college students in whatever field of study except medicine, pharmacy, dentistry, and law.
Winners may receive another UMKC scholarship
The recipients of this scholarship can win another UMKC automatic scholarship for which they are qualified.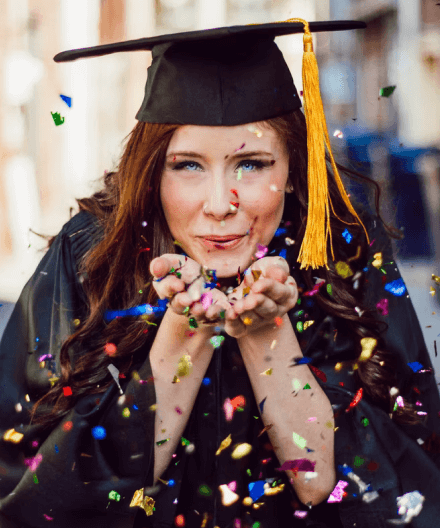 5 Facts About UMKC District High School Award
U.S. Citizenship is required
Applicants must be US citizens or permanent residents, alongside earlier mentioned qualifications, to receive the scholarship.
There is a $45 application fee
Students are required to pay a non-refundable $45 application fee at the time of application.
Submit official documents first
The scholarship offer is only given to students after they have submitted official transcripts and SAT/ACT scores that tally with their self-reported data.
Not applicable for some majors
First-time college students, who will major in Medicine, Pharmacy, Dentistry and Law, are ineligible for this award.
UMKC has over 300 student organizations
The university offers a rich student experience with the numerous clubs and organizations that have been set up by students for students.