Black Philanthropy Bannister Scholarship
$20,000–$40,000
Award Amount
4/9/2023
Submission Deadline
Explore Similar Scholarships
College Major:
Location:
Demographic:
The Black Philanthropy Bannister Scholarship is available to Black/African American high school graduates and adult students in Rhode Island. Applicants must be pursuing or advancing a career in healthcare at a post-secondary institution (college or technical school).
Nearly $260,000 in scholarships have been offered to Black students through the initiative, with awards ranging from $20,000 to $40,000 for the best outstanding applicant. Applicants need to be Black/African American high school graduates who are Rhode Island residents and have given official documentation of enrollment in a recognized institution. The program has no age, gender, or minimum GPA requirements, and it does not require proof of financial need.
The program aims to promote economic stability, job training, and financial literacy among Rhode Island's traditionally underprivileged African-American communities, as well as recent African immigrants and refugees.
Key Information of Black Philanthropy Bannister Scholarship
Study Details
Country of Study
United States
Scholarship Details
Intended Level of Study
Undergraduate
Award Amount
$20,000–$40,000
Black Philanthropy Bannister Scholarship Timeline
January 2023
Application Open Date
Applications usually open in January.
April 9, 2023
Submission Deadline
The application and supporting documentation must be completed and submitted by this date.
Scholarship Eligibility
To be eligible to apply, applicants must meet the following criteria.
Eligible Grade: All
Maximum Age: Any
Required GPA: Any
Geographic Eligibility: Rhode Island
Gender: Any
Race/Ethnicity: Black
Application Requirements
Here's what you need to submits besides your application.
How to ace the Black Philanthropy Bannister Scholarship
1
Make a checklist of the eligibility requirements
Preparing and reviewing a list of the scholarship's eligibility requirements is a great idea. Read each essential information page for the most up-to-date program facts.
2
Double-check what information is needed
If you're looking for private student loans or scholarships sponsored by private groups rather than your college or university, you'll typically need to submit formal verification confirming you're enrolled in college. Check to see what information is required so that the procedure may be completed quickly.
3
Verify your prospective school's accreditation
A school accreditation certificate serves as the foundation for establishing whether or not the institute adheres to the state's educational standards, as well as the criterion used to provide scholarship funding to candidates. Check out the school's website to see whether it's legitimate. A legal accreditation agency, on the other hand, will have a list of schools available for you to review. Simply ensure that you have the exact name of the institution as well as any other pertinent or general information so that you can verify it.
4
Ensure your enrollment documentation is duly signed
Even though the Verification of Enrollment form can be filled out by the student's counselor or a member of the Admissions or Registrar departments, only the principal can sign it. It confirms legitimacy, therefore there's no danger in double-checking.
How the Black Philanthropy Bannister Scholarship is Judged
Applicants must be African American/Black high school graduates or adult students in Rhode Island who are pursuing or advancing a career in healthcare at a post-secondary institution (college or technical school).
Why We Love the Black Philanthropy Bannister Scholarship
It's less competitive as a niche scholarship
Niche scholarships, like this one, are targeted at certain groups of people and have a smaller candidate pool. Members of such demographics have fewer concerns when looking for scholarship opportunities, and evidence of their demographic identity is frequently the most important criterion.
The scholarships may be renewed
The scholarship program makes it clear that it can be renewed for up to four years. This effectively gives you a way to cover the costs of a full undergraduate program.
It motivates students to achieve academic goals
The scholarship program enables students who meet the program's requirements to pursue their academic goals while simultaneously easing the financial burden of paying for college.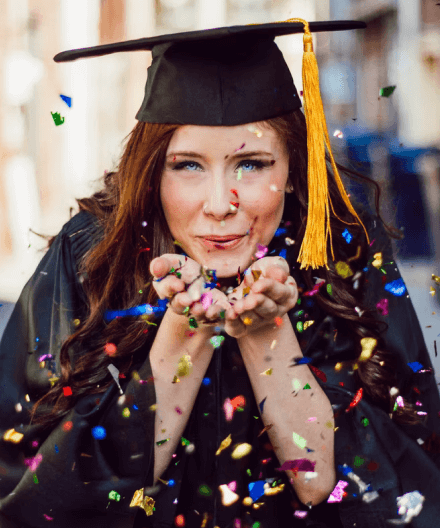 5 Facts About the Black Philanthropy Bannister Scholarship
The foundation supports other initiatives too
The Refugee Development Center, Boys & Girls Clubs of Providence, Rhode Island Black Storytellers, and The Everett Company, Stage & School have all received donations from the charity, totaling $620,000.
It has provided financial assistance since 2007
The Black Philanthropy Initiative was founded in 2007 to promote equality and social justice for Rhode Island's Black and African-American communities by raising funding for scholarships and non-profit organizations that provide youth development and mentoring.
Scholarship funds are raised through donors and fundraising
The Black Philanthropy Bannister Fund is supported by the Edward C. and Audrey A. Clifton, Dennis M. and Miriam C. Coleman, and Jason and Patricia Fowler Funds for Black Philanthropy, to name a few.
The foundation facilitates financial and health empowerment
The Capital Good Fund was awarded $5,000 to assist its Financial Empowerment for Families program, which will provide one-on-one financial and health counseling on issues such as budgeting, health care, and banking.
Named after a domestic workers nursing home
After the 'Bannister House,' nursing home for retired African American domestic workers in Providence, the Fund was renamed the Black Philanthropy Bannister Fund in 2016.