Alumni Completion Scholarship
2/28/2023
Submission Deadline
Explore Similar Scholarships
Location:
Grade Level:
The Alumni Completion Scholarship offers financial support to undergraduate and graduate students at the University of Utah to complete their higher education with less financial burden. The Alumni Completion Scholarship was put in place to enable women to successfully complete their junior and senior years at the University of Utah by reducing loans and unmet financial needs.
Every year, the University of Utah – Women's Resource Center provides one undergraduate female student with a $1,000- scholarship per semester to help ease educational expenses. The center awards the scholarship based on academic abilities and financial need.
Applicants must be female undergraduate students enrolled full-time in their junior or senior year at the University of Utah. They must also have a minimum GPA of 2.5 and demonstrate financial need. The organization's goal is to break down barriers to education for women and enable them to create a better future for themselves and their families.
Key Information of Alumni Completion Scholarship
Study Details
Country of Study
United States
Specific Schools
University of Utah
Scholarship Details
Intended Level of Study
Undergraduate
Alumni Completion Scholarship Timeline
January 2023
Application Opening Date
Applications open on January 1.
February 2023
Submission Deadline
Submission deadline is on February 28.
Scholarship Eligibility
To be eligible to apply, applicants must meet the following criteria.
Eligible Grade: College Junior – College Senior
Maximum Age: Any
Required GPA: 2.5
Geographic Eligibility: Utah
Gender: Women
Race/Ethnicity: Any
Application Requirements
Here's what you need to submits besides your application.
Grade transcript
Recommendation letters
Essay
Financial Information
How to ace the Alumni Completion Scholarship
1
Start the application process right away
You should start the application process as soon as possible. This will allow you enough time to acquire all necessary documents, contact your referees or recommenders, complete all forms and work on your personal statement. Have everything organized and planned to avoid any last-minute complications.
2
Choice of references and early notifications
Your references or recommenders must be those who know you well enough to be willing to speak to your abilities and demonstrate why you make the perfect candidate for this scholarship. So, choose them wisely. Also, contact them and send them the required forms very early on to allow them enough time to complete them.
3
Emphasize academic achievements
You will be judged mainly on your academic abilities. Draw attention to your GPA and mention any award you have received. So work hard on keeping your grades up and maintaining your GPA. Grades will be an indicator of how dedicated and serious you are.
4
Review your application
Read through your application and essay multiple times before submission. Avoid using informal language and make sure all information and requested materials are provided. Once submitted, the application can not be retrieved.
How the Alumni Completion Scholarship is Judged
Applications are judged based on academic abilities despite financial constraints. Essays and recommendation letters along with demonstrated financial need will be considered.
Why We Love the Alumni Completion Scholarship
It is inclusive
The program is open to eligible female students of Utah as long as they meet the scholarship requirements. It supports women and allows them access to higher education and career development.
The scholarship is renewable
The award is renewable every semester as long as recipients continue to meet the eligible requirements.
The scholarship offers more than just money
The University of Utah - Women's Resource Center offers women a large alumni network, mentorship programs, and a job board.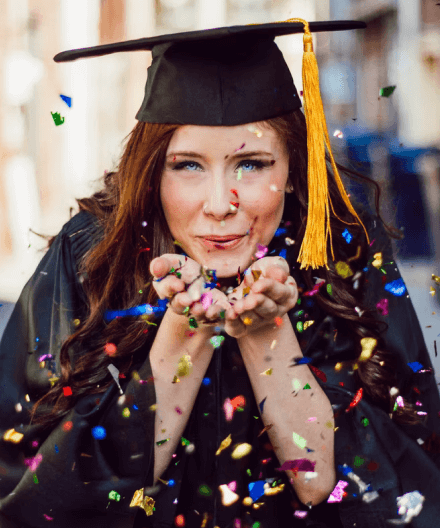 5 Facts About Alumni Completion Scholarship
Financial need is required
Applicants must show proof of financial need. Federal Student Aid (FAFSA) forms must be provided.
A reference letter is required
Applications will not be considered without recommendation letters.
Proof of residency is required
Applicants must be residents of Utah to be eligible.
For full-time female undergraduates
This program is for full-time female undergraduate students enrolled in their junior or senior years.
The center offers other scholarships
The University of Utah - Women's Resource Center has more than 15 other scholarships.