How To Get A Student Loan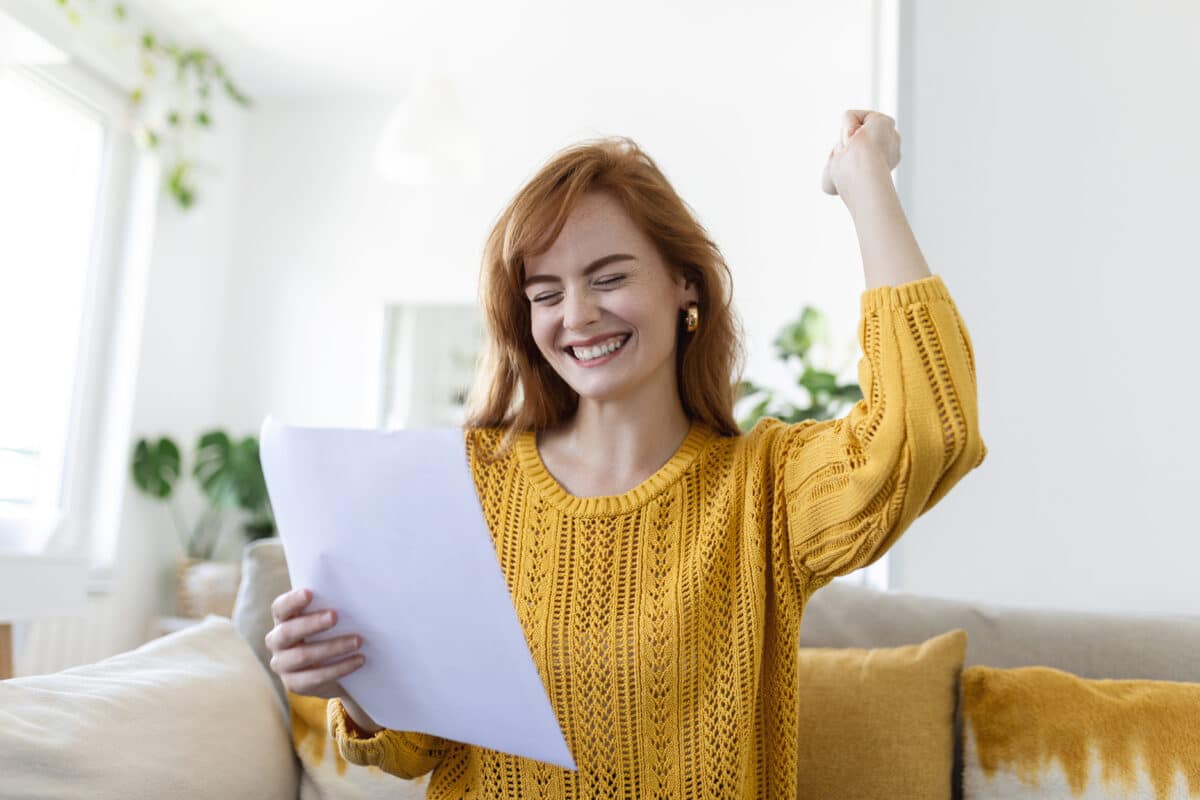 If you are planning on going to college then you will need to organize some form of funding or financial aid to cover all the related costs as it can be expensive. If you don't have a college fund set up for you, you can fund your studies by applying for scholarships, grants, or getting a student loan.
Arranging funds for college can be tricky and a drawn-out process. This Scholaroo blog explains how to get a student loan to make the process easier to understand and help you cover the cost of your college education.
What Is a Student Loan?
A student loan is money that is borrowed from a private lender or government to finance your college education. You can use the money to pay your college tuition and any other college expenses you have. Understanding how student loans work is crucial in helping you get the most out of this form of funding. Getting a student loan is different from getting a scholarship or grant for your studies. With a student loan, you will need to pay back the borrowed loan amount, plus the interest on the loan at a later stage. Whereas with scholarships and grants, you usually do not need to pay back the amount.
How to Get a Student Loan in 2023
There are two main types of student loans you can apply for to cover your college costs: these are federal student loans and private student loans. A federal student loan is administered by the U.S Department of Education, whereas a private student loan is from a bank, credit provider and the like.
To get a federal student loan, there are a few steps you need to follow, but it all begins with a Free Application for Federal Student Aid (FAFSA) submission. FAFSA is used to help students qualify for need-based financial aid using specific eligibility criteria. Note that there are no FAFSA income limits required to apply for a federal loan.
For a private student loan, you need to apply to different banks and credit providers and submit the necessary documentation. For those not attending a brick-and-mortar institution, however, there are also student loans for online colleges available.
How to Get a Federal Student Loan?
To apply for a federal student loan you must complete a Free Application for Federal Student Aid (FAFSA). The application is available from October 1 for the upcoming academic year. You can apply at any time throughout the year, but be sure to check your state and school deadlines first.
You can fill out the form online by creating a Federal Student Aid (FSA) ID and password. Filing out the FAFSA application will qualify you for student loans and other federal financial aid.
What you need to apply for the FAFSA: 
Your Social Security Number or Alien Registration Number (for non-citizens).
Your parents' social security number. Your driver's license number if you have one.
Your (or your spouse's or parent's) federal tax information, tax documents, and tax return information from the previous tax year.
Records of untaxed income.
Bank statements and information on your (or your parent's) cash, savings, and checking account balance. Information on investments and assets.
List of colleges and/or career schools you are interested in and applying to.
What happens when you apply for FAFSA and it is approved?
After you submit your FAFSA, your information will be sent to the colleges and/or career schools you listed on the form.
Once you have submitted your FAFSA, you will get a Student Aid Report (SAR). The SAR will contain information on your Expected Family Contribution (EFC) which your school uses to calculate your eligibility for certain types of federal student aid.
As a first-time applicant, you will receive an aid offer from the colleges or career schools you listed on your FAFSA. The aid offer will give the type and amount of aid you could receive at that school. You could receive aid in the form of a student loan, grant, and sometimes a scholarship. You should review and compare your offers, and decide which school to attend based on how much your aid could meet your college costs at that school.
If you are an aid renewal applicant, you will receive an aid offer from your school stating how much aid you could receive at that school.
You will have to formally accept the school's aid offer, and your school will handle your aid. You should ask your financial aid office for the details on how your aid will be paid out, what it will cover and how much money you may receive directly.
Pros and Cons of a Federal Student Loan
| | |
| --- | --- |
| Pros of Federal Student Loan | Cons of Federal Student Loan |
| 1. You don't need to have a credit history or a co-signer to apply. | 1. You may have to supplement your federal loan with a private student loan. |
| 2. Fixed interest rate on your student loan. | 2. Federal student loans are not available for all schools. |
| 3. Interest rates on your student loan are lower. | 3. You have to repay your loans even if you do not graduate. |
| 4. Federal student loans can be subsidized based on financial need. | 4. Failing to pay your student loan can have negative consequences. |
| 5. There are forbearance or deferment options on your repayments. | 5. Can take from 10 to 25 years to repay the loan. |
How to Get a Private Student Loan
Applying for a private student loan is another viable option for funding your college costs. If you have exhausted your free money options such as financial aid, grants, scholarships, tuition waivers, and gifts from family, then you should consider applying for a private student loan. You may also need to apply for a private loan to fill the gaps that your financial aid does not meet.
With a private student loan, you approach a bank, financial institution, credit union, or online lender. There is typically no deadline or opening period that you need to worry about, just apply in time for you to start school with your funding sorted. You can apply online, or go physically to a bank or lender.
What you need to apply for a private student loan:
Your social security number or alien registration number(for non-citizens).
Your residential address(permanent or temporary).
Your school information, proof of enrollment, or acceptance.
Your employment information
Your financial information, including income and expenses
Information about the loan amount request, as well as information about the financial aid you have been approved of. If you have a co-signer, whether it is a parent, family member, or friend. You may need to submit all their information too.
What you need to know about applying for a private student loan:
If you do not have good credit, getting a private student loan may be tricky. There are very few lenders that will approve a loan application without a creditworthy co-signer. Without good credit of your own, you will need a credit co-signer for your loan application.
Each lender will have a different application and different application requirements, but also different conditions for the loan.
Once you have applied for your private student loan, compare your offers from your lenders to find the lowest interest rate. A fixed interest rate will remain the same for the lifetime of the loan, and a variable interest rate will change depending on changes in the economy.
The repayment options on a private student loan are different from those of a federal loan. You will forfeit benefits such as an income-driven repayment plan, and the opportunity to defer or forbear your loan if you cannot pay it. You also forfeit any student loan forgiveness. Pay attention to the information on repayments for your student loan.
Take time out to find out about your hardship options. Some lenders offer forbearance options if you lose your job or have a medical emergency. Check the policy on your loan.
Consider getting a co-signer release condition for your loan, so that your co-signer may be removed from your loan after you have made a certain number of payments.
Find out about any discounts or perks you may be offered by your lenders, such as career counseling or loyalty discounts.
After finding the best loan option for you, you will need to formally accept the best offer, and arrange for the loan to be paid out.
Where to Get a Private Student Loan
You can get a private student loan from a bank, credit union or any other private lender. There are many private lenders who offer good options to college students. Some examples are, College Ave Student Loans, Sallie Mae and Discover student loans, among others. Alternatively, you can approach your bank or credit union to see their loan options.
Pros and Cons of a Private Student Loan
| | |
| --- | --- |
| Pros of a Private Student Loan | Cons of a Private Student Loan |
| 1. You get to borrow just what you need. | 1. No income driven repayment plans or loan forgiveness options |
| 2. You can use a private loan to cover the gap in your funding. | 2. Interest rates are determined by your/co-signer's creditworthiness. |
| 3. You can compare between different student loan options from lenders. | 3. There are no federal subsidies on private student loans. |
| 4. Benefit from the Student Loan Interest Deduction, that makes you interest tax deductible | 4.Forbearance and deferment is usually limited to one year. |
| 5. Great option for international students, who will not qualify for federal student loans. | 5.Less available to low-income students/financial need students. |
How Long Does it Take to Get a Student Loan?
You can get a student loan in a matter of weeks. Typically, 1-3 weeks for a federal student loan, to be approved and receive your financial aid package(offer).
It takes about 2 to 10 weeks for a private student loan, to be approved and for the funds to be made available.
So start your application for FAFSA or your private student loan application early. You may also need to re-apply annually for your student loan, so be aware of the dates relevant to your student loan.
How easy is it to Get a Student Loan?
When you meet the requirements for your student loan application, it becomes relatively easy to get a student loan. With private lenders, if you have a good credit score or a reliable co-signer, then it is easy to be approved for a loan. With a federal student loan, if you fill the form correctly and qualify, you will get the offer that you are eligible for.
Alternatives to Student Loans
There are a few options you could look into if you are unable to qualify for a student loan or need extra money to fill the gap between the loan amount received and the actual cost of your education.
Scholarships
There is a plethora of scholarships that can help contribute toward your educational costs. Some scholarships are even limited to certain subjects like engineering, etc. Different scholarships have different eligibility criteria and requirements that may include academic achievement/minimum GPA, extra-curricular activities, writing an essay, getting recommendations, etc.
Grants
Grants are like scholarships too as their a type of financial aid that does need to be paid back. However, unlike scholarships, grants are usually need-based and are distributed mostly by states.
Part-time work
You can take up an online job or other part-time jobs to help contribute to the cost of your education. There are many options available now for part-time opportunities that anyone can do alongside their education.
Work-study
This is a federal program that provides part-time jobs to college students. These opportunities are also need-based and can be accessed by filling out FAFSA. Work-study does have other eligibility requirements too which might make them hard to get. Nevertheless, it is a good option for those who are able to get it.
FAQs
Can I apply for FAFSA without my parent's information?
Yes, to apply for FAFSA without your parent's information you just need to apply as an independent student. If you are independent then you do not need your parental information to apply. The loan limits on your federal direct loan (or Stafford Loan) are also higher as an independent student. This is because it means that you will likely not get any assistance with your college costs or living expenses from a parent or guardian. If you are a graduate student or a medical student you are automatically regarded as an independent student.
You still need to complete the FAFSA application and include your parent's information in your application. But this does not impact your application process or obligate your parents to you or co-sign on your federal loan.
How to get a student loan without a cosigner?
You can apply for a federal student loan, that does not require a co-signer. If you want to apply for a private student loan without a co-signer, you must have a good credit score.
How can parents get student loans?
Parents can apply for FAFSA and receive a Direct PLUS Loan( also known as a Parent PLUS loan). This loan is made out to a parent borrower.
How do I arrange a tuition installment plan?
Most U.S colleges and universities offer a tuition installment plan that can help you pay for your college little by little. This may help you avoid a student loan overall. To arrange one, you can approach your school financial aid/bursar's offices and ask for assistance.
Are there loans that do not consider credit?
Besides federal student loans, you can also get loans from a few private lenders such as Ascent's Non-Cosigned Outcomes Based, which uses criteria other than credit or income.
Are my parents obligated to pay for my student loan, if I can't?
Federal student loans offer income-driven repayment plans, which means you will pay based on the income you get. If you are not getting an income from a job, you can arrange to begin payments once you work. If you have a private student loan that your parent(s) have co-signed, then they may have to cover your repayments until you can start repayments again.
Why should I take out a federal student loan?
There are a few benefits to this federal student loan. Firstly, they offer lower interest rates than private loans, and the interest rate is usually fixed. Secondly, you will not need a credit check or co-signer. You do not need to start repaying the loan until you leave college or change your college status to below half-time.
Why should I apply for a private student loan?
Sometimes your financial aid offer or your 529 college savings account may not meet all your college costs, so you will need extra money to cover everything. A private student loan is a great option in such cases, so you can cover the extra that you will need.
How can I avoid applying for a student loan completely?
In the event that student loans are not your preferred route of funding, there are various student loan alternatives to consider:
Get scholarships and awards for college.
Apply for grants if you are in a graduate program or medical school.
Ask friends and family for college gifts to help with your tuition.
Get a college job.
Apply for sports-related scholarships.
Find federal-work study opportunities.
Research the best-earning college degree.