How Do Student Loans Work – A Complete Guide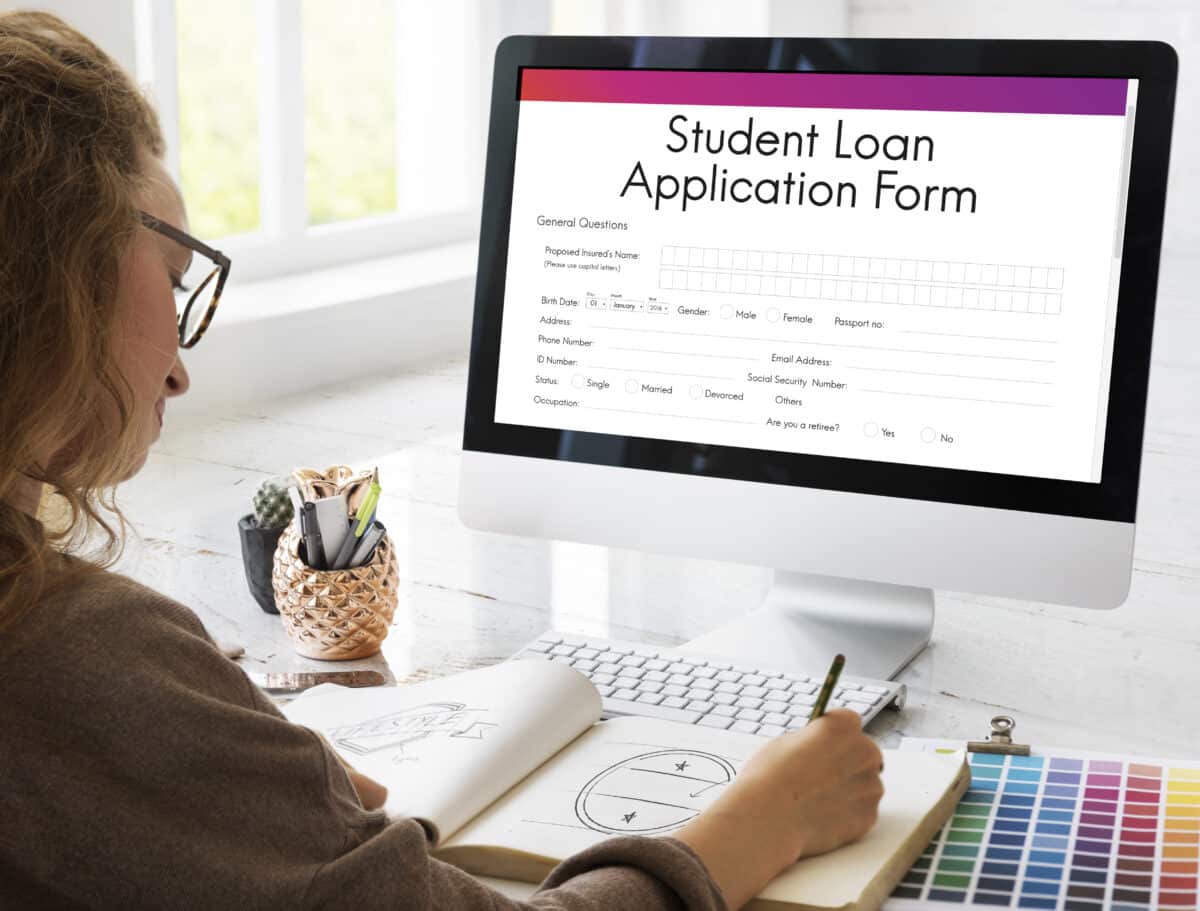 The average cost of college in the United States is over $35,000 annually per student. This includes tuition, books, supplies, and daily living expenses. This cost increases depending on the college you attend, the state you live in, and the classes you decide to take. One of the best ways to prepare for college is to figure out how you can finance your two to four years there.
There are a few ways in which you can finance your college education including applying for a student loan, applying for scholarships and grants, using a college fund from your parents, or getting a student loan. Student loans are usually the only type of funding that you have to pay back at a later date. 
Finding the right funding for your education can be difficult, but getting a student loan is a viable option. This Scholaroo blog explains how do student loans work – both federal and private.
What is a Student Loan?
Whether you're attending a brick-and-mortar institution or an online college, student loans are a type of financing for your college education. With a student loan, you could pay for your tuition fees, books, living expenses, and other related costs for the duration of your studies. When you get a student loan, you basically borrow money from a lender and pay that money back with interest at a later date.
If you plan on applying for student loans, here is everything you need to know and understand about your options and responsibilities for each.
Types of Student Loans
There are two types of student loans available. These are federal student loans and private student loans.
What is a Federal Student Loan?
Federal student loans are made through a loan program offered by the U.S Department of Education. It offers more assistance than most loans from banks and private lenders.
What is a Private Student Loan?
A private student loan is any loan offer from a lender other than the federal government. This includes, private lenders such as banks, universities and other financial institutions.
How Do Student Loans Work?
The different types of loans, federal and private, work differently and have different benefits. It's best to opt for a federal loan first before you move on to considering taking a private loan. This is due to the long-term benefits associated with federal loans and the way these student loans work as compared to private student loans.
How Does a Federal Student Loan Work?
When you apply for financial aid, you will be offered loans. This is a financial aid offer, that is prepared by your school. A financial aid offer sometimes referred to as a 'package' is the total amount of financial aid (federal and private) that a student is offered by a college towards their education cost.
There are four types of federal student loans available, these are known as Direct Loans:
A Direct Subsidized loan is offered to undergraduate students who demonstrate financial need, and need assistance with covering the cost of their higher education. If you are offered this loan, you won't have to pay interest on the amount you borrowed.
A Direct Unsubsidized Loan is for eligible undergraduate, graduate, and professional students without any consideration of their financial needs. With this loan you will need to pay the interest that has accrued on your loan while you are in college, otherwise, the interest is added to your loan balance.
A Direct PLUS Loan is made out to a graduate or professional student (Grad PLUS loan), or a parent of a dependent undergraduate student (Parent PLUS loan). The amount of this loan can be used to cover any education expense that is not covered by any other financial aid. The eligibility for this loan is based on credit checks. To qualify, the borrower must not have an adverse credit history. If they do, they will have to meet additional requirements to qualify. The PLUS loan interest rate accrues once the loan is fully disbursed. The repayment can be deferred while the student is in college and for six months after graduation.
A Direct Consolidation Loan permits you to combine all your federal student loans into a single one, with a single loan service. A loan servicer is basically a company that collects payments and maintains your federal student loan on behalf of a lender.

Federal Student Loan Benefits

There are a few benefits with each of your direct loan options that you should take note of.

Your interest rates are typically lower and fixed.
You can borrow money without a co-signer.
You can arrange a repayment plan that would start six months after you leave college and is flexible.
Your loan can be forgiven if you work in a profession such as teaching or another public service profession.
Flexible repayment plans options available like extended repayment or income-driven repayment plan
How Does a Private Student Loan Work?
Private student loans are typically available to students through banks, financial institutions, credit unions, and online lenders. Lenders will use their own standards for borrower requirements. If you are planning to finance your college education with a private student loan then having a good credit score of 670 or higher, will get you the most competitive rates and terms. It is usually better to take up a federal student loan first for your studies, but if you need more money to cover the total cost of your education then this is a great option to fill the gap.
As an undergraduate student, you may not be able to borrow from a private lender independently, you will require some sort of co-signer to qualify. This is because you will most likely have a shorter credit history. Some private lenders will approve a loan without a co-signer, but here are a few things you should be aware of.
Private Student Loans Limitations
There is little flexibility in the repayment options. With such loans, you may not have loan terms to choose from, just one standard one that you must accept when you accept the loan.
There are stricter limits on how much you can borrow. You will only be able to take out a smaller amount.
Interest rates tend to be higher for non-cosigned loans. When you have good credit, you may qualify for a private loan at an interest rate that is quite low, but without it will most likely be higher.
There are typically added fees that add to your loan cost, that you should be aware of.
Reasons For Getting a Private Student Loan
There are a few main reasons why a private loan may be a good option for you.
FAFSA not required – Private student loans do not require FAFSA. Therefore, they are a great option to fund your education if your FAFSA application was rejected and you did not qualify for federal aid.
You need more financial help – Sometimes, one type of loan or federal aid is not enough to fulfill all your education-related expenses. Private loans can help you fill that gap and get extra money to pay for your education.
You need money fast – Federal loans require a lot of information and financial documents and may take longer to process. Private loans can be faster to get and can fulfill your last-minute financial needs.
You are an international student – If you are an international student, getting a federal student loan is not an option. You can have a look at various private student loan options that lend to international students too as long as they have a cosigner who is a US citizen or permanent resident.
How to get a private student loan?
Compare lenders – Always compare the different options available to you and their rates to get the best option suited to your needs.
Good credit – The chances of getting a private loan approved are improved with a good credit score. Moreover, the higher the credit score you will have, the lower the interest rates and the more the benefits. Those with poor credit scores can get a loan if they have a cosigner with a good score and a credit history.
Get a Cosigner – Adding a co-signer to your loan will improve your chances of qualifying with a lender and securing lower interest rates. Friends, relatives, and parents are typically skeptical of being someone's co-signer because any missed payments on your end will affect their credit. You can make them more comfortable by signing a co-signer release program if you are eligible, this is a program that allows you to remove the co-signer from your loan after you have made a certain number of payments.
Get a soft credit check – Unlike a hard check, soft credit checks do not hurt your scores. Quotes from different lenders can give you a better idea of which one is best for you.
Apply and wait for approval – Collect all the documentation required by your chosen lender and apply. They might ask for additional information if needed. In such a case, make sure to be responsive and reply as soon as possible for the loan to be approved fast.
Private Student Loan Options
If you are looking for the best private student loans, the table below can help you find the best pick for you.
Lender
Scholaroo rating
Fixed rates starting (APR)
Variable rates starting (APR)

SoFi

Best Private Lender

Visit website
4.49%
5.09%

Sallie Mae

Best for Loan Availability

Visit website
4.50%
5.37%

College Ave

Best for Low-Interest Rates

Visit website
4.49%
4.49%

Funding U

Best For No Cosigner Loan

Visit website
7.49%
N/A

Ascent

The Best Repayment Terms

Visit website
4.62%
5.74%

Citizens Bank

One of the Most Established Lenders

Visit website
4.43%
5.57%

Earnest

Great for Fair Credit

Visit website
4.47%
4.14%

Custom Choice

Best for Discount in Principal After Graduation

Visit website
4.43%
5.13%

Discover

Best for Undergraduate Students

Visit website
5.49%
4.74%

RISLA

Best for Student Nurses

Visit website
4.45%
N/A

ISL Education Lending

Multiple Private Loan Options

Visit website
3.85%
6.10%

MPOWER

Best for International Students

Visit website
12.99%
N/A

Edly

Best for Career Training Loans

Visit website
9.40%
N/A

Education Loan Finance

Great Customer Relations

Visit website
3.20%
1.20%

LendKey

Best for Customer Service

Visit website
4.89%
4.89%

A.M. Money

Good for Merit Based Loans

Visit website
7.95%
N/A
How Does Student Loan Interest Work?
When you borrow from a lender it is important to understand how the interest on the amount you borrow works. Because you will not just pay back the money you borrowed but the interest too. The interest is added to the total loan amount that you must pay, and is known as the cost of your loan.
Your monthly loan payments will include 1) a payment to reduce the balance on the amount you borrow and, 2) a payment to reduce the balance on your interest.
Here is an example: Let's say you graduate with a student loan of $28,400 with a 4,66% interest rate and a 10-year loan term. The total lifetime cost of your student loan would be $35,583 paid over 10 years, and not $28,400. You will pay back the total student loan + the interest accrued on the loan over the years. Your monthly loan payment will include both payments towards reducing the principal balance of the loan amount you borrowed, and the interest payments too. However, don't be alarmed because the repayments are worked out to be a manageable amount for you, and you can always try to pay extra in your monthly payments to finish paying off your loan sooner. Below is a simple student loan calculator that you can use to estimate your monthly payments.
Enter your loan information
Information you should know about the interest rates on your student loan:
The higher the interest rate the more interest you will pay every month.
A higher interest rate increases the overall cost of your loan.
Choosing a longer repayment term will likely give you a higher interest rate.
Your interest rate largely depends on your credit score.
Interest on a student loan generally compounds monthly, meaning that the amount you will pay in a given month is based on the remaining loan amount.
You can get either a fixed or variable interest rate on your student loan.
You can also refinance a student loan to a fixed or variable interest later on.
Interest rates from private lenders are often not fixed.
A good interest rate depends on the interest rate market at the time you apply, try comparing any interest rate offered by a private lender to the federal student loan rate. This will help you see if it is a good interest rate, that is similar to or better for a private loan.
As the principal balance goes down, the amount you pay in interest will also go down.
How Fixed and Variable Interest Rate Work
With a fixed interest rate the rate remains the same for the lifetime cost of your loan, regardless of changes in interest rates, repo rates, etc. in the economy. This means that your monthly payments will remain the same for the duration of your repayment period.
Variable interest rates mean that the interest rate can change over time as market rates go up and down. So for the lifetime cost of your loan, the amount of your monthly repayments will fluctuate according to the interest rates too. If you have a long-term loan, say 10 years, this kind of interest rate may be unideal. They can become more expensive in the long run, because of unpredictable changes in the market rates. If you have a short-term repayment period on your loan then this type of interest rate could be beneficial, instead of fixing the interest rate at a rate that is quite high, which you are obligated to pay. You can instead, benefit from the changes in the market rates and save money.
One last thing to understand about interest rates on your student loan is that you can reduce the amount you pay in interest in two ways.
First, you can either make extra payments towards your loan to pay it off sooner, by reducing the amount on the loan you will end up paying less monthly.
Second, you can refinance your student loan to a loan with a lower interest rate. This is mostly beneficial with a private student loan. With a federal student loan, you miss out on so many of the benefits such as loan forgiveness, income-driven repayment options, deferment solutions, or even discharge from your loan due to death or disability.
How to Apply for Student Loans?
Below is information that can help you understand how to apply for federal and private student loans.
How to Apply for a Federal Student Loan?
To apply for a federal student loan you must complete a Free Application for Federal Student Aid (FAFSA). The application is available from October 1 for the upcoming academic year. You can apply at any time throughout the year, but be sure to check your state and school deadlines first. You can fill out the form online by creating a Federal Student Aid (FSA) ID and password. Filing out the FAFSA application will qualify you for student loans and other federal financial aid. There are no FAFSA income limits required to access these funds.
How to Apply for a Private Student Loan?
Applying for a private student loan is another viable option for funding your college costs. If you have exhausted your free money options such as financial aid, grants, scholarships, tuition waivers, and gifts from family, then you should consider applying for a private student loan. You may also need to apply for a private loan to fill the gaps that your financial aid does not meet.
With a private student loan, you approach a bank, financial institution, credit union, or online lender. There is typically no deadline or opening period that you need to worry about, just apply in time for you to start school with your funding sorted. You can apply online, or go physically to a bank or lender.
What are Student Loans Used for?
Student loans are used to finance all the cost to your college studies. This includes but is not limited to:
tuition and fees – this is the primary function of your loan, to cover your college tuition and the fees of enrolling to programs.
transportation – you can use a portion of your loan to pay for your bus/train pass, car gas or car insurance. And some, car payments plans too.
college room and board – whether it is on-campus/off-campus housing, your school meal plans and other living expenses.
any institutional fees – things like parking fees, or lab fees to use lab equipment. These are all costs to your education too.
books and supplies – any pens, textbooks, post-stick notes and other supplies you need.
equipment – things like a laptop, tablet, drafting boards or financial calculator.
Student Loan Repayment Options
Since the two types of loans, federal and private, work differently, the repayment options for the two may differ.
Repayment options for Federal Student Loans
There are a few repayment options made available to you with federal student loans. These include:
Student repayment
This is a student loan repayment option that has a total of 120 payments, of the same amount each month over 10 years. It is the best student repayment option for you if you want to finish your repayment the fastest.
Income-driven repayment
There are four different types of income-drive repayments offered, namely:
Income-based repayment – has a 25-year repayment length. The repayment amount is limited to about 15% of your discretionary income.
Pay As You Earn – has a shorter repayment length of 20 years. The repayment amount is limited to 10% of your discretionary income.
Revised Pay As You Earn – the repayment length can be between 20 and 25 years. The repayment amount is 10% of your discretionary income.
Income Contingent Repayment – the repayment length is 25 years. The repayment amount is limited to 20% of your discretionary income. Alternatively, you can arrange for payments based on a 12-year loan term.
This option makes monthly payments towards your loan more affordable. Because the payment on the loan is limited to 10% to 20% of your income. Moreover, your loan balance may be forgiven after 20 to 25 years of payments.
Graduated repayment
This student loan repayment option also has a total of 120 payments over 10 years. However, with this option, the amount increases every two years. The payments cannot be more than triple any former payment amount. It is a great option for someone who does not qualify for any income-driven options and wants to pay smaller amounts.
Extended repayment
This student loan repayment also increases every two years. You pay a total of 300 payments, over 25 years. It is a great option for someone who will not earn a lot of money after graduation. Because you pay the least amount of money, and then that amount increases every year.
Repayment options for Private Student Loans
The repayment options for private student loans are more limited and vary by lender. Private lenders typically do not have to offer the same range of flexible and affordable repayment plans as federal student loans. You can pay your loan over 5 to 20 years, depending on your repayment each month. The repayment amount is calculated from the total cost of your loan and the duration over which you will pay it.
Many private lenders also offer loans with a flexible interest rate, so your monthly payments will be affected by interest rates.
Some private lenders may also offer a loan deferment for when you cannot pay off your loan, due to loss of income or illness. Read your loan contract carefully to understand your agreement with your lender. The interest on your loan still accrues when your repayment is deferred.
Preparing for your future means that you should be extra cautious when making decisions about borrowing money. Using a student loan is a great option for financing your college education but you should seek out advice on different student loans before committing yourself. This should not be a stressful process for you at all. Try to enjoy this step of preparing for your future. This Scholaroo blog has explained to you how student loans work and provides an understanding of the different types of loans you can get, how interest rates on your student loans work, and how to apply for loans.
What To Do if You Are Unable to Make Your Monthly Payments?
There are a few options if you are unable to make monthly payments on your loan.
Forbearance: Opting for forbearance, if you have the option to do so, puts your payments on hold for a while. However, keep in mind that the interest continues to accumulate.
Refinance: You can refinance your loans by taking out another loan at lower interest rates and better terms to pay off the original loan.
 Deferment: This is similar to forbearance, as you can put your payments on hold temporarily. However, in deferment,  interest does not accrue to your loan balance, unlike forbearance.
Student loan forgiveness: If you have the option to get your loan forgiven then it can be very helpful to do so However, it's hard to qualify for forgiveness, and usually federal loans can be forgiven only after you meet certain requirements.
Alternates to Student Loans
Student loans can provide you with a reasonable amount of funds that can cover mostly all of your educational expenses. However, if you do not need much then there are other ways to fill the financial gap and get the aid that you won't have to pay back.
Scholarships
There are many scholarships that can contribute towards your educational costs. They all have varying requirements and everyone can find a scholarship that they are eligible to apply for. Many of them do not have strict requirements and anyone can apply regardless of their GPA, financial need, etc.
Grants
Grants are financial awards too, like scholarships, that do not require repayments. However, these are usually federal or state-based
Work part-time
You can try and balance your studies with part-time work. There are many options for students to earn money now including those that can be done from home or online.
Choose affordable institution
Community colleges offer much more affordable education than other institutions. This may make life easier for you as covering the monthly educational expenses would be much easier and more manageable than otherwise.
FAQs
How do student loans work?
How do student loans work depends on the type of loan in consideration. Federal student loans work differently than privates ones as they are based on FAFSA and they assess the financial need of the applicant to determine eligibility.
Private student loans on the other hand are mostly given out based on a good credit score. In case the student does not have a credit record or a good score, a cosigner is required to become eligible for private loans.
Do student loans have interest?
Yes, student loans can have either fixed or variable interest rates.
Are student loans hard to get?
No, student loans are not hard to get. However, federal student loans and private student loans, do have specific requirements for you to qualify for a loan.
Which type of loan is easier to get? (federal or private?)
Federal student loans are easier to qualify for. But if you can't apply for financial aid, then a private loan is still easy to get.
How long does it take to pay off student loans on average?
10 to 30 years, based on the type of loan you choose and the repayment option you go for.
What happens if you don't pay your student loans?
Defaulting on your student loan can affect your credit and borrowing ability. In addition to that, the interest on your loan accrues and will take you longer to pay back your loan.
You can go for other options to fund your education too but they might not be able to cover your full cost of education. Student loan alternatives such as grants, scholarships, or money from your college fund won't need to be paid back.
What happens to student loan debt when you die?
Varies according to the lender.