Michigan First Scholarship Competition – College
$1,000–$10,000
Award Amount
2/1/2023
Submission Deadline
Explore Similar Scholarships
Location:
Grade Level:
The Michigan First Scholarship Competition is open to any undergraduate or graduate student currently attending or planning to attend full-time in the upcoming semester at a college, university, two- to four-year community vocational or technical college accredited by the U.S. Department of Education.
If you meet all the eligibility requirements and win, you will receive up to $10,000 in scholarship funds. However, the amount you receive depends on the number of eligible entrants and according to the sponsor's wishes or decision.
The Michigan First Credit Union (MCFU) sponsors the scholarship with funds channeled through the Michigan First Foundation, a nonprofit it founded in 2012 to support youth and education.
Key Information of Michigan First Scholarship Competition – College
Study Details
Country of Study
United States
Scholarship Details
Intended Level of Study
Undergraduate
Postgraduate
Vocational/Technical School
Award Amount
$1,000–$10,000
Michigan First Scholarship Competition – College Timeline
January 2023
Application Opening Date
Applications open on January 1.
February 2023
Submission Deadline
The submission deadline is on February 1.
Scholarship Eligibility
To be eligible to apply, applicants must meet the following criteria.
Eligible Grade: Undergraduate – Graduate
Age: 17 – 25
Required GPA: 2.8
Geographic Eligibility: Michigan
Gender: Any
Race/Ethnicity: Any
Application Requirements
Here's what you need to submits besides your application.
Grade transcript
Essay
Video Submission
How to ace the Michigan First Scholarship Competition – College
1
Submit your grade transcript
To ace this scholarship, you must have a minimum cumulative GPA of 2.8 and prove it by submitting your grade transcripts. Graduates should submit diplomas and veterans their honorable discharge papers.
2
Submit a video or essay
The scholarship requires you to submit a 60-sec video or 200 - 500 word essay on a select topic they'll share once applications open in early January. Ensure you master the basics of creating outstanding videos or writing compelling content for your essay beforehand.
3
Prove you're a Michigan school graduate or MFCU member
Before you can even contemplate applying for this scholarship, you must first be the primary owner of a Members First Credit Union account in good standing.
4
Prove enrollment at an accredited institution
Your application should include details of your current enrollment as evident from the class schedule and the applicable education expenses payable to your chosen institution.
How the Michigan First Scholarship Competition – College is Judged
The selection committee will review your application based on the following: quality and creative content, exhaustive detail in response to the question asked, and general quality of applications.
Why We Love the Michigan First Scholarship Competition – College
Sufficient funds to cover your education costs
This scholarship sufficiently defrays your education costs to give you the confidence and peace of mind to pursue your dreams.
Flexible eligibility requirements
As long as you're 17, a U.S. resident, and a member of MFCU, you can apply for this scholarship. There is no limitation on race, gender, or geo-location within the U.S.
Sponsor has a history of supporting education
We love that this scholarship has consistently funded youth and education for the past ten years. Proving that you can trust them to help you realize your academic dreams once they commit.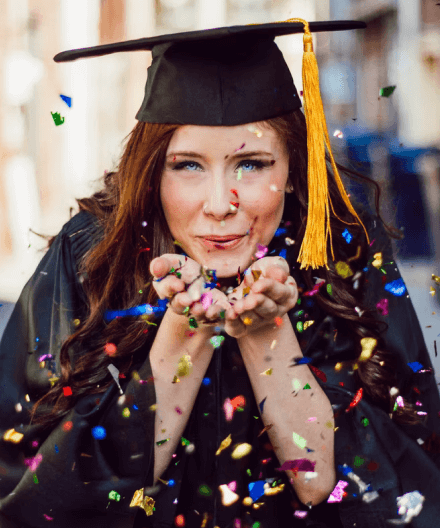 5 Facts About Michigan First Scholarship Competition
It's an annual scholarship
Since 2012 MFCU has supported this scholarship, with $85, 000 being disbursed each year to deserving students.
Scholarship notifications have a seven-day window
If selected, applicants are notified via email. If no response, applicants can be disqualified
Funding made possible by Michigan First Foundation
The Michigan First Foundation, a nonprofit founded by MCFU, funds the scholarship as part of its annual charitable contributions to local organizations and students.
Some people are ineligible applicants
Certain persons can't participate in this scholarship: anyone currently employed at MFCU and its affiliates or anyone connected to it, including their family relations.
Scholarship funds have some restrictions
It's important to note that funds disbursed depend on the number of applicants and the sponsor's sole discretion.