Gravelin Nursing Scholarship
3/13/2023
Submission Deadline
Explore Similar Scholarships
College Major:
Location:
Grade Level:
The Community Foundation of the Ozarks (CFO) administers the Gravelin Nursing Scholarship, a financial aid program for nursing students in Missouri. The size and eligibility criteria for scholarships like the Gravelin Nursing Scholarship are set by donors, and CFO administers the scholarship application process on their behalf.
Students must demonstrate financial need to be eligible for the $450 scholarship grant. To confirm their eligibility, applicants must complete the Free Application for Federal Student Aid (FAFSA) and supply their Expected Family Contribution (EFC) index number.
Candidates must be actively enrolled in a nursing program at a Missouri college, university, or technical training facility that is accredited. Additionally, candidates must have a minimum GPA of 3.3 and be able to show documentation of their work experience and community service.
Key Information of Gravelin Nursing Scholarship
Study Details
Country of Study
United States
Scholarship Details
Intended Level of Study
Undergraduate
Gravelin Nursing Scholarship Timeline
February 2023
Application Opening Date
Applications open on February 1.
March 2023
Submission Deadline
The submission deadline is on March 13.
Scholarship Eligibility
To be eligible to apply, applicants must meet the following criteria.
Eligible Grade: Undergraduate
Maximum Age: Any
Required GPA: 3.3
Geographic Eligibility: Missouri
Gender: Any
Race/Ethnicity: Any
Application Requirements
Here's what you need to submits besides your application.
Grade transcript
Short Answers
Essay
Financial Information
Present Work Experiences
How to ace the Gravelin Nursing Scholarship
1
Keep your grades up
This scholarship program is need-based as well as merit. Therefore only those with a GPA of 3.3 or higher have better chances of winning. So work hard on keeping your grades up and maintaining your GPA. Grades will be an indicator of how dedicated and serious you are.
2
Emphasize your work experience and community service
In the application, you must describe and provide details about your work experience and community service. Emphasize your work experience and community service by showing the influence you had in your workplace or community because your accomplishments outside of the classroom will help you make a good impression on the scholarship judges.
3
Demonstrate your unique abilities
You will have the opportunity to talk about yourself, your hobbies, your ambitions, and why you picked nursing as a profession in the essay. Discuss how your life experiences, employment, and community service have shaped you. Describe how you became interested in medicine, specifically nursing. This will give them a feel of who you are beyond what is shown on your application.
4
Have your application reviewed
Competition for this scholarship will be fierce, and the application process will require you to write extensively in your own words. Asking someone else to proofread your application before submitting it will help to ensure that your application is not rejected because of avoidable mistakes such as typos, grammatical errors, or misspelled words.
How the Gravelin Nursing Scholarship is Judged
Applicants are judged based on their grades, work experience, community service involvement, financial information, essay, and the overall completeness of their application.
Why We Love the Gravelin Nursing Scholarship
A great opportunity for Missouri residents
This scholarship is an excellent chance for Missouri nursing students to get financial assistance for their studies, easing the financial burden.
Supports aspiring nurses
The Gravelin Nursing Scholarship is intended to encourage students' hopes and aspirations of entering the nursing profession.
Open to all Missouri residents
This scholarship does not have any limitations on age, gender, or ethnicity and any resident of Missouri State may apply to win it.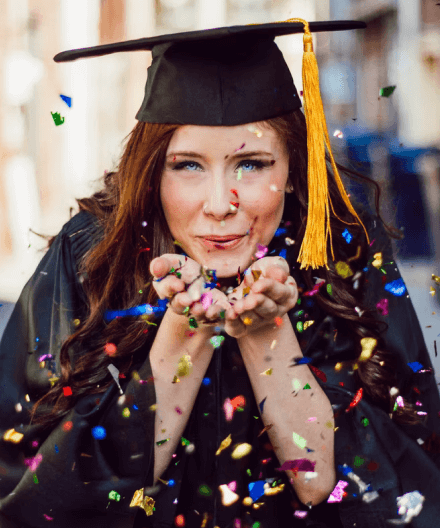 5 Facts About Gravelin Nursing Scholarship
CFO manages more than 450 scholarships
CFO administers over 450 private scholarship funds established by individuals, families, and businesses who desire to provide a path to higher education for future generations.
Over $1.75 million awarded in scholarships
Every year, CFO grants more than $1.75 million in scholarships to nearly 1,000 students.
Applicants must demonstrate financial need
Applicants must demonstrate financial need by submitting their FAFSA and EFC information to be eligible for this scholarship.
Applicants must demonstrate extracurricular activities
When submitting their application, candidates must provide a thorough description of their community service involvement and their work experience.
Applicants must meet the minimum GPA
Applicants must meet the minimum GPA of 3.3 to be eligible for this scholarship.