Community Service Scholarships
5/10/2023
Submission Deadline
Explore Similar Scholarships
Grade Level:
Every year, the Zakat Foundation of America awards the Community Service Scholarship to high school graduates. Residents of California, Delaware, Maryland, Virginia, Illinois, New Jersey, New York, North Carolina, Texas, Florida, and Pennsylvania, who are graduating high school seniors, are eligible to apply.
The non-profit group will award $20,000 in scholarships to high school seniors who participate in community service initiatives. The 50 best students who will be entering a two- or four-year college and have been heavily involved in community service throughout high school will each get $500. Candidates must provide all required information on their online applications, as well as supporting documentation such as letters of recommendation, current work experiences, and an essay, to be considered eligible.
The recipients of this award are recognized for their commitment to community service and volunteerism. As a result, the foundation is using this project to reward students who have continuously given their time to serve others and to inspire community-oriented selflessness and volunteerism.
Key Information of Community Service Scholarships
Study Details
Country of Study
United States
Scholarship Details
Intended Level of Study
Undergraduate
Community Service Scholarships Timeline
April 1, 2023
Application Open Date
Applications usually open in April; check the website for more accurate dates closer to the time.
May 10, 2023
Submission Deadline
The application and supporting documentation must be completed and submitted by this date.
July 2023
Award Announcement Date
The selected awardees will be notified in July.
Scholarship Eligibility
To be eligible to apply, applicants must meet the following criteria.
Eligible Grade: High School Senior – High School Graduate
Maximum Age: Any
Required GPA: Any
Geographic Eligibility: California, Delaware, Florida, Illinois, Maryland, New Jersey, New York, North Carolina, Pennsylvania, Texas, Virginia
Gender: Any
Race/Ethnicity: Any
Application Requirements
Here's what you need to submits besides your application.
Essay
Recommendation letters
Present Work Experiences
How to ace the Community Service Scholarships
1
Make a checklist of your eligibility requirements
Making and evaluating a list of the scholarship's qualifying criteria is a smart idea. For the most up-to-date program details, make sure you read each essential information page.
2
Stand out from the crowd
To make your typed essay stand out, you might speak more about yourself, your professional goals, and your most important traits and passions. This will give them a better understanding of who you are outside of your application/résumé.
3
Emphasize your engagement in your school community
In your application, make sure to include experiences that reflect your leadership and volunteer activities. Look for extracurricular leadership roles and honors that demonstrate your ability to take initiative and leadership talents if you have a few years before applying for the Scholarship.
4
Proofread and edit multiple times
It's a good idea to reread your essay, read it aloud, or get the help of a family member or friend to offer you a fresh perspective on your work. This will assist you in identifying any errors you may have overlooked.
How the Community Service Scholarships is Judged
The Zakat Foundation Volunteer category and the Zakat Foundation Community Service Volunteer category would be used to sort applicants for the scholarship. Applicants must be residents of California, Delaware, Maryland, Virginia, Illinois, New Jersey, New York, North Carolina, Texas, Florida, or Pennsylvania for both categories, have completed high school in their respective states, and will be attending a two- or four-year college, and have been heavily involved in community service throughout high school. They must also include a reference, a summary of their community service, and the college or university to which they were accepted. In the latter category, the applicant must have volunteered with Zakat Foundation for at least 20 hours in the previous 12 months.
Why We Love the Community Service Scholarships
Scholarship funds will be used right away
The scholarship funds will be sent directly to the educational institution where you are enrolled to cover tuition and other expenses.
It encourages life-changing habits and experiences
Volunteering is a fantastic opportunity to learn and develop values and principles, regardless of whether you win the accolades. It allows students to become active members of their communities, which has been shown to move society ahead, bring communities together, and put people's hope in humanity into action.
The program expands its reach
For both applicant categories, the Foundation will award scholarships in six locations, and the Foundation will also award students in foster care.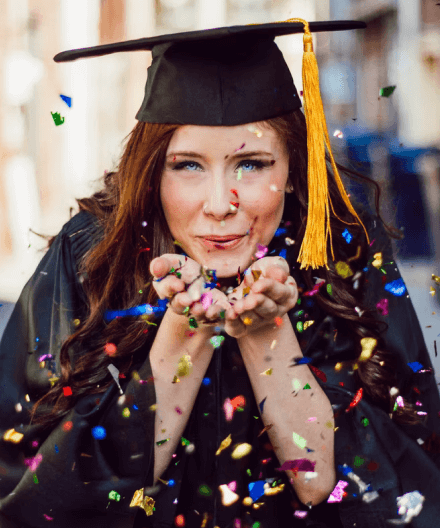 5 Facts About The Community Service Scholarships
Program supports outstanding students irrespective of background
Eric Osaro, a traditional Nigerian-American family member, is one of the numerous award recipients who come from a variety of backgrounds, low-income families, and immigrant groups.
The foundation supports other initiatives too
Annual backpack giveaways, assistance for STEM (science, technology, engineering, and math) facilities, and scholarship opportunities for Chicago Public School (CPS) students are among the foundation's previous projects.
Total number of awards may vary
The total number of scholarships varies per state, designed to motivate other states to expand their volunteer base to obtain additional opportunities the next year.
It has provided financial assistance since 2001
The Foundation, which was founded in 2001, runs humanitarian assistance initiatives and assists generous and compassionate people in more than 50 countries in reaching out to those in need.
Named after the third pillar of Islam
The third pillar of the Islamic religion is 'Zakat,' which refers to the mandatory giving away of specified parts of various forms of wealth in alms to the needy and deserving each year.