Arts for Life! Scholarship
2/1/2023
Submission Deadline
Explore Similar Scholarships
College Major:
Location:
Grade Level:
The Arts For Life! Scholarship was established by Columba Bush in 1999, who noticed the vital role the arts have on the youth. Twenty-five Florida high school seniors who exhibit excellence academically and within a creative field of writing, dance, drama, or visual arts are awarded $1,000. Applicants must be graduating in the year of their application, and all granted funds will go towards the winner's undergraduate fees.
Applicants have to submit a complete application which includes their most recent academic transcript. A brief essay must be submitted that explains "How the arts have positively influenced my life" with a strong representation of the applicant's goals within the arts. Applicants must also submit a portfolio of work in writing, dance, drama, or visual arts.
Applying for the scholarship presents applicants with an excellent opportunity to develop their skills within the arts and receive the necessary financial assistance to continue with their studies. Winners become eligible for a similar $1,000- scholarship if they attend one of the participating Florida institutions: Broward College, College of Central Florida, Flagler College, Florida College, Florida Atlantic University, Florida Institute of Technology, Jacksonville University, Nova Southeastern University, Stetson University, or the University of Florida. The scholarship is designed to allow students to continue the development of their artistic ability.
Key Information of Arts for Life! Scholarship
Scholarship Details
Intended Level of Study
Undergraduate
Arts for Life! Scholarship Timeline
January 2023
Application Opening Date
Applications open in January.
February 2023
Submission Deadline
The Submission deadline is on February 1.
May 2023
Award Announcement Date
Winners are announced in May.
Scholarship Eligibility
To be eligible to apply, applicants must meet the following criteria.
Eligible Grade: High School Senior
Maximum Age: Any
Required GPA: Any
Geographic Eligibility: Florida
Gender: Any
Race/Ethnicity: Any
Application Requirements
Here's what you need to submits besides your application.
Essay
Grade transcript
Portfolio
How to ace the Arts for Life! Scholarship
1
Curate a well-rounded portfolio of work
You must present a well-rounded portfolio of work that best shows your work. Curate your portfolio down to at least five of your best pieces. The portfolio should demonstrate a variety within your work and showcase excellence in your creative ability.
2
Brainstorm the essay prompt
The essay prompt requires a personal response towards art and its impact on your life. We suggest that you brainstorm this question to unpack the past, present, and future contributions art affects you. The essay is an essential part of your application, ensuring you produce the best essay possible.
3
Receive peer reviews from teachers
We suggest you communicate with the teachers you are closest to during your application process. Ask your teachers to review your essay and portfolio of work as they can propose essential suggestions on how to better each document.
4
Exhibit excellence in your artistic field
It is best to showcase recognition of your work to the scholarship board; we suggest you include any awards or achievements you have received for your work. Representing excellence in your respective art field will provide the judges with critical information about your dedication to the arts.
How the Arts for Life! Scholarship is Judged
The scholarship award is based on the student's application form, portfolio of work, and submitted essays. Submissions must showcase excellence in academic studies and a dedication and commitment to the arts. Essays represent the students' place within the field, and the portfolio of work shows their dedication and excellence.
Why We Love the Arts for Life! Scholarship
Applicants are judged on their category
Each category is judged on its own for a fair assessment among applicants based on their artistic ability and academic excellence among others competing within the same category. Applicants are given different application forms based on their artistic categorization.
Winners are given an artist biography
Winners are given an artist biography within the scholarship website for global exposure, which is crucial for students looking for job opportunities.
Winners are provided with internet exposure
The Foundation for Excellence in Education will acknowledge all winners when exhibiting their works.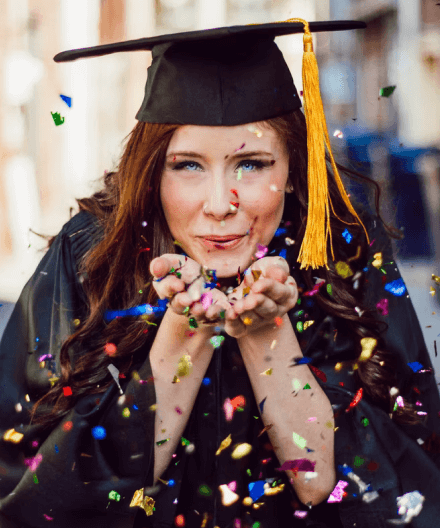 5 Facts About Arts For Life! Scholarship
The scholarship has supported over 550 students
Since its establishment by Columba Bush in 1999, the Arts For Life! Scholarship has helped over 550 talented artists that originated from Florida.
The scholarship has awarded over $550,000
Since the scholarship was formed, it has granted over $550,000 to dedicated and talented students within Florida.
Anyone can donate to the scholarship
The scholarship is run by the nonprofit organization The Foundation for Excellence in Education; it appreciates any donations to support the scholarship.
A total of $50,000 is granted annually
The scholarship grants the total amount of $50,000 to deserving students across the U.S.
The scholarship is sponsored by Truist Wealth
The scholarship wants to make the distribution of funds as hassle-free as possible; therefore, it has partnered with Truist Wealth to sponsor all awarded students.