Maximum Student Loan Amounts – Latest Student Loan Limits
Here is what you need to know about federal and private student loan limits, their maximum amounts, and how to avoid large debts.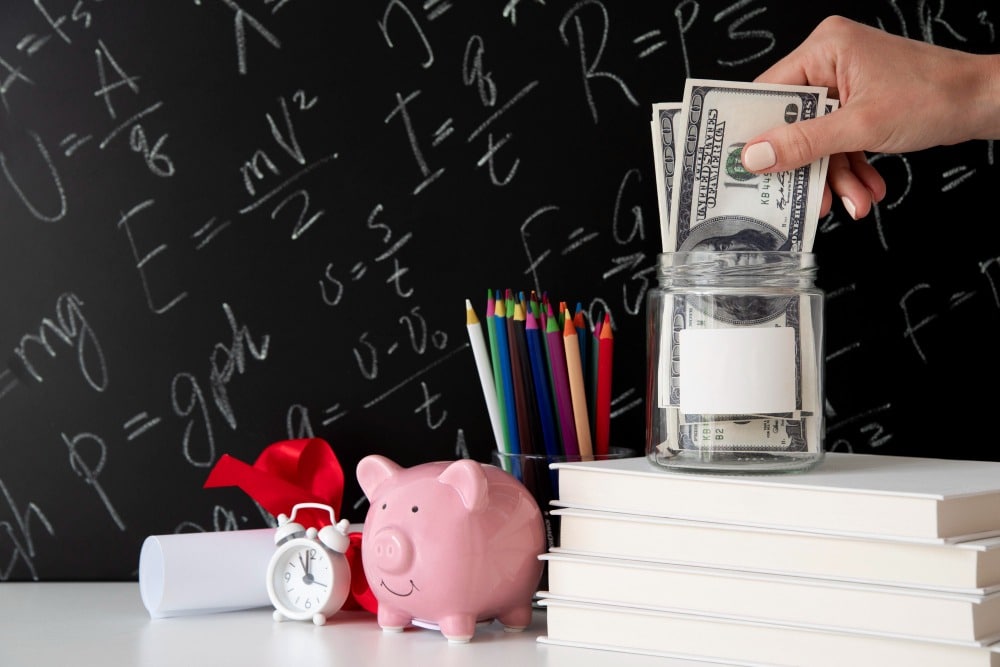 Student loans are a common resource used to help pay for college but there is a limit to how much you can borrow – this is because the amount of money available through avenues such as Student Aid is limited. In light of this, it helps to explore options such as federal PLUS loans and private student loans, which can help you bridge that gap. Whether you have federal or private loans, this guide will shed some insight on student loans and their maximum student loan amounts so you can finance your education in the most ideal way possible.
Types of Loan Limits
To start, there are two types of loan limits: the annual loan limit and the lifetime loan limit.
Your annual loan limit is the most money you can borrow in a year, whereas the total amount of student debt you can have in your lifetime, including all loans received throughout your life, is referred to as your lifetime loan limit.
The limits also vary according to the type of student you are. The maximum loan borrowing amounts may differ for dependent undergraduates, independent undergraduates, and graduate students.
Maximum Student Loan Amounts for Undergraduates and Graduates
The following are the types of students, the corresponding loans they can get, and how the maximum student loan limits apply to each one.
Maximum Student Loan Limits for Undergraduates
In general, if you rely on your parents or guardian for financial support (housing, groceries), you are considered a dependent student and must report their income on the FAFSA form. More often than not, there are no FAFSA income limits in order to get funding. Undergraduate students under the age of 24 are considered dependents for federal student aid purposes unless they are married, have dependents other than a spouse for whom they provide more than half of their support, are an orphan or ward of the court, are a veteran or active duty member of the United States Armed Forces, or meet other extremely stringent criteria.
Annual Loan Limits for Dependent Undergraduate Students
Here are the student loan limits linked to dependent undergraduates.
| | | |
| --- | --- | --- |
| School Year | Annual Borrowing Limit | Annual Subsidized Borrowing Limit |
| First Year | $5,500 | $3,500 |
| Second Year | $6,500 | $4,500 |
| Third Year or more | $7,500 | $5,500 |
| Maximum limit for loans | $31,000 | $23,000 |
Subsidized loans are loans for undergraduate students who have financial need – this is determined by your cost of attendance minus your expected family contribution and other financial aid (such as grants or scholarships). Subsidized loans do not accrue interest as long as you are enrolled at least half-time or during deferment periods.
Annual Loan Limits for Independent Undergraduate Students
Below are the student loan limits linked to independent undergraduates.
| | | |
| --- | --- | --- |
| School Year | Annual Borrowing Limit | Annual Subsidized Borrowing Limit |
| First Year | $9,500 | $3,500 |
| Second Year | $10,500 | $4,500 |
| Third Year or more | $12,500 | $5,500 |
| Maximum limit for loans | $57,500 | $23,000 |
Independent students do not receive financial assistance from their parents or guardians for their education. To be regarded as an independent student, the student should satisfy the following requirements: 
– pursuing a graduate degree
– a veteran or serving on active military duty 
– be legally separated from their parents or guardians 
– considered homeless or at risk of becoming homeless 
– responsible for a child or a dependent who receives more than half of the student's support
– will reach the age of 24 before the start of the school year for which they are applying.
Maximum Student Loan Limits for Graduate Students
A graduate, also known as a "grad student," is a student who has completed a bachelor's degree and is now pursuing a master's or "graduate degree" in a one- to six-year graduate school program, which is typically completed in two to three years. A graduate student may pursue a two- to three-year master's degree program, after which they may pursue a PhD program that can last up to five years or more.

Annual Loan Limits for Graduate Students
Here follows the student loan limits as they pertain to graduate students.
School Year
Annual 

Borrowing Limit

Annual Subsidized 

Borrowing Limit

First Year
$23,000
$23,000
Maximum limit for loans
$138,500
$65,500
PLUS Loan Limits
PLUS Loans are federal direct loans that help pay for college or vocational school of graduate students, as well as parents of dependent undergraduate students. They can be used to cover educational expenses that are not covered by other types of financial aid. These loans have a fixed interest rate and are unsubsidized; and therefore, interest accumulates while you are enrolled in school. PLUS Loans have no borrowing limit but you can't borrow more than the cost of attendance at the specific school you — or your child, if you're the parent — attend. 
PLUS Loans are classified into two types: Parent PLUS Loans and Grad (graduate) PLUS Loans:
Parent PLUS Loans
Parent PLUS is used by the parent of a dependent student to pay for their child's undergraduate education. It is the parent's responsibility and cannot be transferred to the student after graduation, so it's important to be aware of aspects such as the Parent PLUS loan interest rates.
To qualify for Parent PLUS, you must be the biological or adoptive parent of a student enrolled at least part-time in school, pass a credit check or use an endorser, and satisfy the general criteria for receiving federal student aid. You must be a citizen or an eligible non-citizen. You must also provide your employer's information, your child's school name, personal information (name, address, email address, phone number), and student information (name, address, social security number, date of birth).
Grad PLUS Loans
Grad PLUS loans, on the other hand, are taken by students pursuing graduate or professional school and are specifically targeted at students considering education beyond the undergraduate level. These loans are the responsibility of the student who obtains them.
To access this loan, you must be enrolled at least part-time in graduate or professional school, pass a credit check, and meet the same eligibility for federal student loan requirements.
Maximum Student Loan Amounts Determining Factors for Federal Loans
It's important to consider the following aspects that help decide whether a student is eligible for a federal student loan.
Dependency Status
Your dependency status determines who you must report your information to when completing the Free Application for Federal Student Aid (FAFSA) form. Dependent students must provide information about themselves and their parents, whereas students who meet the requirements to be considered FAFSA independent students need to report their own information (as well as that of their spouse if married). 
School Year
Your loan limit increases with each year of attendance, regardless of whether you're a dependent or independent student. The annual restrictions for graduate students do not change though (apart from Grad PLUS Loans).
Marital Status
Make sure to familiarise yourself with the eligibility criteria regarding FAFSA for married students. If you are married and filing jointly, your FAFSA loans will probably change. This is due to the fact that your expected family contribution will be influenced by your spouse's income. 
Enrollment Status (Full-time vs Part-time)
Loan amounts will differ depending on whether you are a full-time or part-time student. The good news is that as a part-time student, you can still receive financial aid.
Private Loan Limits
Private student loan maximum amounts that can be borrowed tend to vary according to your ability to repay, but many private lenders will cover the entire cost of attendance.
One of the criteria used to approve private loans is good credit. The higher your credit score, the more likely you are to be approved for low-interest private student loans. A co-signer may be required if your credit score is too low. On the other hand, a high income score indicates whether you will be able to comfortably repay your student loans. In order to repay your student loans, you and/or your co-signer must demonstrate a stable income.
Lenders also look at a low debt-to-income ratio. Lenders will be hesitant to lend you money if you have a high debt-to-income ratio. A debt-to-income ratio of less than 50% is ideal. Furthermore, many lenders require that you be at least 18 years old and a U.S. citizen. Some lenders will consider international students if they have a co-signer who is a U.S. citizen.
Finally, lenders will want to know which schools or programs are eligible. They may come to your school to confirm your enrollment. However, some only work with a limited number of schools. They will also consider your total cost of attendance, minus any other aid, to ensure that you are not borrowing more than necessary. If you are not currently enrolled or accepted into an eligible program, you may not be eligible for private student loans.
Five Lenders Offering Private Student Loans
Lender
Scholaroo rating
Fixed rates starting (APR)
Variable rates starting (APR)

Earnest

$1,000 – $138,500

Visit website
4.19%
3.79%

M Power

$2,001 – $100,000

Visit website
12.99%
12.74%

PNC Bank

$1,000 – $100,000

Visit website
3.49%
3.89%

RISLA

$1,500 – $175,000

Visit website
4.29%
4.29%

SoFi

$1,000 – $138,500

Visit website
4.49%
4.62%
Further Options When Federal Maximum Loan Amounts are Reached
In the event that you've reached your federal student loan limit, consider the following options to help you secure funding.
Contact the Financial Aid Office
When you've exhausted your loan options, contact your university's financial aid office and explain your situation. By completing the FAFSA form, you may be eligible for other types of financial aid such as low-interest institutional loans or a work-study program.
Research Scholarships & Grants
When considering this route, make sure that you understand the difference between a student loan and a scholarship, and what is required. There are thousands of scholarships and college grants available to undergraduate and graduate students. You can even combine multiple awards to reduce your education costs because scholarships and grants do not have to be repaid as long as you meet their terms of eligibility. 
Apply for PLUS Loans
The aggregate limit does not apply to all federal student loans. Direct PLUS Loans, which are available to parents and graduate students (Grad PLUS loans), allow you to borrow up to the school-certified cost of attendance, with no annual or aggregate limit. If you are an undergraduate student, ask your parents if they would be willing to take out Parent PLUS Loans on your behalf.
FAQs
Here are some frequently asked questions.
Can I receive student loan forgiveness?
After making 120 qualifying payments – or 10 years of payments – you may be eligible for forgiveness of the whole outstanding balance of your Direct Loans if you are a full-time employee of a government or not-for-profit organization. You must pay back your federal student loans using an income-driven repayment (IDR) plan in order to qualify for PSLF.
Do student loans expire after a certain age? 
Student loans are not forgiven by the federal government at the ages of 50, 65, or when borrowers retire and begin receiving Social Security benefits. So, even after you retire, you'll still owe money on Parent PLUS Loans, FFEL Loans, and Direct Loans.
Is it better to start with subsidized or unsubsidized loans? 
You may have federal student loans that are subsidized or unsubsidized. Make sure that you're aware of the key differences between subsidized and unsubsidized loans. In this case, it's usually best to prioritize your unsubsidized loans first because they accrue interest while you're in school and during your grace period.
Final Thoughts
Many students' first major financial transaction will be an education loan, so it's important to be aware of the funding limits that come with a student loan. With Federal PLUS Loans, the only borrowing limit is your cost of attendance (less any other financial aid you've received). Private student loan limits, on the other hand, tend to vary according to your ability to repay. By understanding the aforementioned student loans and their limits, you can make an informed decision and get the most out of your chosen loan.