Loans For Medical Students
Looking for the most suitable medical student loan, here we have put together an in-depth review to help you make an informed decision and decide on what's best for you.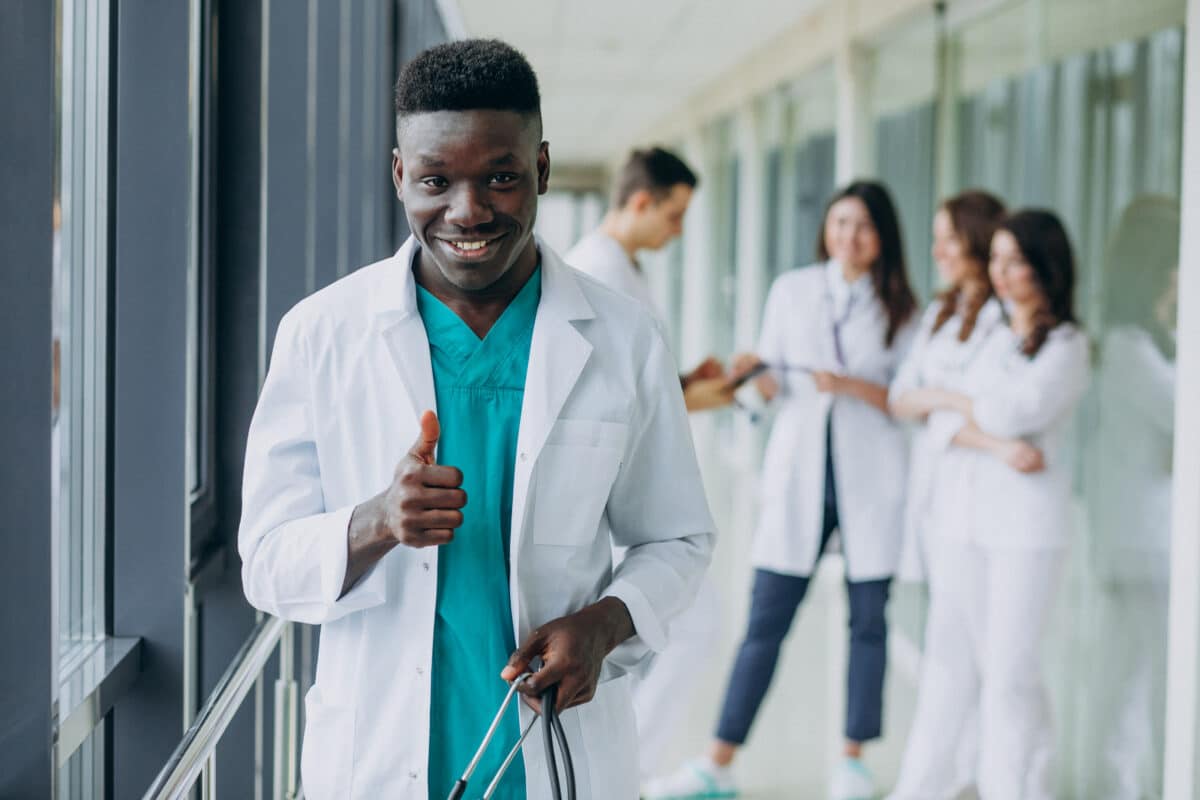 Loans for Medical Students can be an essential tool to help students pay for and finance their medical studies. In most cases, medical student loans provide more favorable terms than traditional bank loans. These loans can be used to cover a variety of expenses that arise during medical school such as tuition, living expenses, textbooks and other supplies. There are several different types of medical student loans available, each with its own set of benefits and drawbacks. It is important to understand the differences between them when considering a medical student loan. Make sure you understand any potential consequences if you are unable to repay the loan on time or in full. 
Federal Loans For Medical Students
Federal Student Loans are provided by the government and administered by the U.S. Department of Education and have a lower fixed rate compared to other loans. The loans from the government are capped and this means that a student can only borrow a limited amount from the government each year.
There are four types of federal direct loans offered through the William D. Ford Federal Direct Loan Program. For students entering medical school, there are two direct loans available for them. Medical students are eligible for the Direct Unsubsidized Loan and the Direct Plus Loan.
Direct Unsubsidized Loan
Direct Unsubsidized loans are offered to graduates and undergraduates on competitive interest rates and do not require proof of financial need. 
Direct unsubsidized loans for medical school are capped at $ 40,500 per year. This may not be enough to cover everything for medical students. Most medical students are encouraged to consider the federal direct plus loan option.
Direct PLUS Loans
The Direct Plus Loan offers the Grad Plus Loan which is best suited for medical students. The GRAD Plus Loan covers any additional cost of attendance that has not been covered by any other lender you might have borrowed from or by the Stafford Loans. Students with good credit scores can easily qualify for this type of federal direct plus loan.
For medical students, the Grad Plus Loan helps to cover any additional costs of attendance. All costs of attendance must be certified and determined by your institution of study.
How to Apply for Federal Loans?
1. Fill in the FAFSA
The first major step that medical students need to do is fill out the Free Application for Federal Student Aid (FAFSA). Filling in the FAFSA helps you identify the programs and loans that you qualify for. The application is done online every year and students need to fill it out as soon as they can. Since the form asks you to provide information about your finances, income, and taxes, make sure you gather all the necessary information before you proceed.
2. Analyze your Student Aid Report
After filling in the FAFSA, a student aid report is mailed back to you. The student aid report is mainly a summary of the information you provided while completing the FAFSA. The report will contain your expected family contribution. Analyze your SAR carefully to ensure that it is accurate and complete. If your application is not complete, your SAR will let you know that you have issues to resolve in order to get your EFC. The schools you listed on your FAFSA might ask you to verify some information.
3. Compare and Contrast your Financial Aid
The information provided on the FAFSA will be used by financial aid officers in the colleges you applied to. This will help them determine how much money will be made available for you. Colleges will then put together an aid package that includes federal aid, paid work, or other types of loans.
Ensure to compare and review all the aid you have been offered, the qualifying criteria, and the amount. Additionally, if you apply to more than one school, weigh up your offers as different schools may have different advantages/benefits.
4. Choose your School and Loan
Choosing your school and the loan to take out are two factors that have a big impact on how all this plays out. Failure to graduate after taking a loan or graduating with a huge amount of debt can affect you adversely in the future. Choose a loan that will help you complete your studies by covering most or all the cost of attendance expenses. After comparing your options, you will decide on the school and consequently the loan to accept.
Private Student Loans for Medical Students
Private Student Loans for medical students are facilitated and issued by banks, credit unions, or online platforms and require the applicant to have a good credit score or have a credit-worthy cosigner. The private lenders charge a higher interest rate and offer different terms of the agreement.
Private student loans help medical students when federal loans are not enough and are the only loan option for international students since they are not eligible for federal loans. Most lenders offer different loan options for medical students to cover the whole course, in-school tuition expenses, or residency. 
How to Get Private Student Loans?
1. Research on Multiple Lenders
Different loans have varying terms and you should check out all the lenders within your reach. Compare the terms of the loan, interest rates, and the fees involved in the application or the penalty charges involved. As you compare your loan offers, ensure that you aim for lenders that offer pre-qualification as this will help you compare offers without affecting your credit. Additionally, be on the lookout for special features or benefits associated with each lender/loan.
2. Meet & Maintain Eligibility
Most loans have straightforward eligibility criteria and most students at large do qualify for them. However, medical school loans have extra criteria for eligibility. Most of these loans will require you to attend specific schools and be pursuing one of their listed courses in your school of choice related to health, medicine, or medical technology. Other loans require you to meet satisfactory academic progress to continue receiving financial aid. Strong credit or a regular source of income are some eligibility requirements that may need to be met before receiving a loan.
3. Get a Cosigner
Private loans are based on the borrower's creditworthiness and the borrower must pass a credit check most of the time. The majority of lenders require borrowers to have a good credit history and a regular source of income to qualify for a private loan. For college students, this is not practical as they might still be in school full-time or have just recently graduated and have not yet secured a regular job. For this reason, most lenders require students to have a cosigner who will lend them their credit and maybe help them pay off some of their loans.
4. Apply for the Loan
Most loan applications are done online and can roughly take around 30 minutes to fill in the information and submit. Ensure that you have all the information needed about you and your cosigner-if one is required. You can also submit supporting documents to prove that the information you have provided is accurate. Depending on the lender, feedback can be immediate or can take up to several working days to get the verdict.
5. Accept the Loan
After your loan has been approved, the lender will send you the paperwork highlighting all the loan terms and rates. The documents will contain all your financial information and your obligation in repaying the loan. Make sure to confirm that everything in those documents is correct and comprehensible for you. If you feel that everything is okay then proceed with signing the final agreement and return it to your lender for disbursement.
Best Loans For Medical Students:
Detailed Review of Lenders
We have reviewed the top lenders for loans for medical students so that you can make an informed decision
Sallie Mae
Being one of the most sought-after and reliable lenders, Sallie Mae is one of the largest loan providers that extends its product to medical students. Sallie Mae provides loans to both students and parents for undergraduate and graduate studies. Sallie Mae offers special medical school loans to students planning to attend medical school. The Sallie Mae Medical School loan can cover medical degree expenses in allopathic, general, radiology, osteopathic, and veterinary medicine.
Pros of Sallie Mae:
No origination or penalty fees

100%  medical school expenses coverage

High approval rate for graduates with a cosigner

Streamlined application process
Cons of Sallie Mae
Requires a minimum credit score
Eligibility Requirements:
Be enrolled in a Medical School

A U.S. citizen or permanent resident

Borrowers should apply for a new loan each school year
Repayment Details:
48 months of deferment during residency and fellowship

Cosigner is released after 12 on-time payments

36 months grace period

Interest-only payments
College Ave
College Ave is a private lender offering a myriad of student loan products and options that can cater to medical students. The private lender offers an aggregate loan limit of $150,000 to borrowers and the loans are designed for students who are attending school. College Ave also provides refinancing options for students who would want to pay off some private student loans.
Pros of College Ave:
Has a cosigner release program

Quick turnaround (a decision is made within three minutes)

Full deferment during residency

Easy repayment options
Cons of College Ave:
May not cover all expenses
Eligibility Requirements:
Requires a minimum credit score

Be enrolled at an approved U.S. medical school

Be a U.S. citizen or permanent resident
Repayment Details:
20 different repayment schedules

36 months grace period

Repayment terms of five, eight, 10, 15, or 20 years
Earnest
Earnest is one of the best private student loan lenders that has financing options tailored to the specific needs of medical students. Earnest offers loan products such as private student loans, refinance student loans, and parent PLUS refinancing. All these loan products can offer a clear and simple private student loan to students enrolled in medical school.
 Pros of Earnest:
No fees (late payment, origination, or disbursement fees)

Has a longer grace period

Offers you a chance to skip a payment once a year without penalizing

Flexible terms to get an ideal customized monthly payment
Cons of Earnest:
Eligibility Requirements:
Must have a minimum credit score

Must be a U.S. citizen or permanent resident

Must have a credit-worthy cosigner who is a U.S. citizen or permanent resident
Repayment Details:
Four repayment options

Nine-month grace period

0.25% discount on enrollment to autopayments 
Ascent
Ascent is a private student loan lender that provides financial aid to undergraduate students. It provides cosigned, non cosigned, and out-come-based loans. Ascent encourages financial wellness for medical students and their families by offering graduate student loans. The graduate student loans cover most medical school degree programs, Dental school, Nursing, and Pharmacy. Medical students can qualify for any type of loan offered by Ascent.
Pros of Ascent:
No origination or application fees

1% cash reward for automatic payment enrollment

Covers up to 100% of the cost of attendance

Manageable repayment options
Cons of Ascent:
High maximum interest rates
Eligibility Requirements:
Be enrolled at least part-time or full-time for outcomes-based loans

Be enrolled at an Ascent-approved school

Be a U.S. citizen and reside within the 50 states
Repayment Details:
36 months grace period

48 month residency deferment options

Cosigner release after 24 on-time monthly payments
Citizens Bank
Citizens Bank was founded in 1800 in Rhode Island and is one of the largest commercial banks in the U.S. The financial institution offers loans to undergraduates, MBAs, graduates, and refinancing. The loans are designated for medical school, dental school, and medical residency. The loans offered to students range from $1,000- $350,000 in aggregate.
Pros of Citizens Bank:
Has multi-year approval loans that cover each year of college with just one application

International students can apply

Discounts for having a citizens account

Offers discounts of 0.25% for setting up automatic payments
Cons of Citizens Bank
No interest rate estimate with a soft credit check
Eligibility Requirements:
International students must have a U.S citizen cosigner

Must be enrolled at least part-time

A U.S citizen or permanent resident
Repayment Details:
Six months grace period

Repayment in five, 10, or 15 years

Cosigner release after 36 on-time payments
PNC Bank
The PNC Bank's Health and Medical Professions Student Loan offers loan options to borrowers attending medical school. Their aggregate loan limit is $225,000 and the available loan per year is up to $65,000 per annum. The bank has listed the approved disciplines that are eligible for the PNC Solution Loans for Health Professions e.g. Allied Health Sciences, Dentistry, Medical Imaging, Veterinary Medicine, etc. They also offer loans for Doctor of Pharmacy, Master of Physical Therapy, Master of Physician Assistant, and Nursing for medical accelerated students.
Pros of PNC Bank:
Offers double the interest rate discount compared to other lenders

Cosigner can be released

Has a long residency deferment period

Has a long coverage of medical-related courses
Cons of PNC Bank:
Eligibility Requirements:
Be enrolled in approved disciplines in undergraduate, graduate, or certificate program

Both student and cosigner must be  U.S. citizens or permanent residents

At Least attend on a part-time basis
Repayment Details:
Has a residency deferment option

0.5% interest rate discount for only automatic payments

Up to 15 years of loan repayment
Purefy
Purefy offers student loan refinancing options to students who are seeking favorable repayment plans or lower interest rates. Purefy allows borrowers to compare rates and terms of different student loans and refinancing. Through Purefy, medical students can refinance both private and federal loans. Purefy provides student loan refinancing for students with strong credit and those with a verifiable income.
 Pros of Purefy:
No origination fees

100% of the school's attendance costs covered

Discounts for fixed payment schedules

Easy repayment options

Needs a cosigner
Cons of Purefy:
Eligibility Requirements:
Be a college graduate

Be a United States citizen

Should have a credit score of at least 670

Have a payoff verification statement for existing loans that are to be refinanced. 
Repayment Details:
Five to 20 years loan term

Cosigner is released after several on-time frequent payments

Grace period starts from six months
Education Loan Finance
Education Loan Finance popularly known as ELFI is a nationwide private student loan provider that started offering private student loan products in December 2015. In conjunction with the SouthEast Bank based in Tennessee, ELFI offers loan refinancing options for students. It offers healthcare and medical resident student loans with fixed and variable rates.
 Pros of Education Loan Finance
Easy to get estimates without a hard credit check

Access to an assigned student loan advisor

Best for borrowers with big funding gaps

No fees
Cons of Education Loan Finance
Loans can not fund more than one academic year of the school-certified cost
Eligibility Requirements:
Be enrolled at least half-time in a Master's or Doctoral Program

Must be a U.S. citizen or permanent resident

Should have a minimum credit score of 680
Repayment Details:
A repayment period of 5,7,10, or 15 years

Six months grace period

Full-in-school deferment plan
FAQS
Should I get a federal or private loan for medical school?
For most students, federal loans are the best. Federal loans offer better repayment plans and have lower rates compared to private loans. Students in medical school should consider private loans if they are international students or if federal loans are not enough to cover the whole cost of attendance.
What are the best loans for medical students?
The best loans for medical students are the federal loans both direct unsubsidized loans and GRAD Plus Loans. They offer better terms such as lower interest rates and flexible repayment plans, and you can qualify for loan forgiveness. 
How do I get a loan for medical school?
You can get a loan for medical school by first filling out the FAFSA and seeing what loan you can qualify for. Private lenders also offer loans that are designed for students enrolled or planning to enroll in medical school.