The 14 Best Graduate Student Loans
Education can be costly but there are solutions to manage the high costs, here are the best graduate student loans to consider in 2023.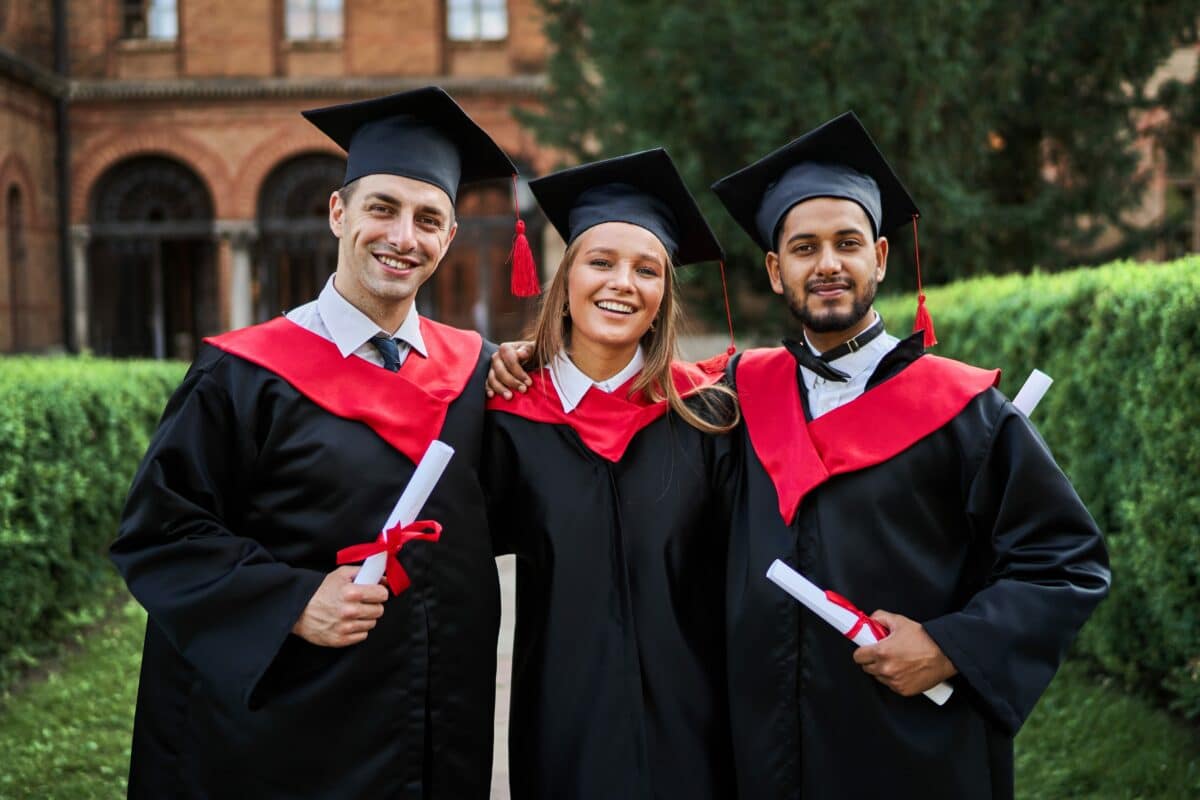 Graduate school can be a significant investment, and many students rely on loans to finance their education. When it comes to finding the best loans for graduate school, there are a few key factors to consider. These include the interest rate and repayment terms, any associated fees, and your personal financial situation and career goals.
There are several types of loans available to graduate students, including federal student loans, private student loans, and loan forgiveness programs. In this article, we highlight the best graduate student loans right now and how to choose between them.
14 Best Graduate Student Loans
Lender
Scholaroo rating
Fixed rates starting (APR)
Variable rates starting (APR)

College Ave

The best for low interest rates.

Visit website
4.24%
3.99%

Sallie Mae

A trusted lender with great offers.

Visit website
4.50%
4.62%

Earnest

The best for flexible loan offers.

Visit website
4.49%
4.49%

Custom Choice

Best for fixed-rate loans.

Visit website
3.65%
5.16%

SoFi

Best for flexible repayment options.

Visit website
5.25%
5.12%

Edly

Best for Income Based Repayment Plan

Visit website
4.67%
5.64%

Ascent

Most generous loan offering.

Visit website
5.62%
6.31%

Citizens Bank

Easiest application process in the long-term.

Visit website
5.99%
5.24%

RISLA

Best for student nurses

Visit website
4.45%
4.45%

Mefa

Ideal for fixed-interest loans.

Visit website
5.75%
N/A

PNC Bank

Best for automated payment discounts.

Visit website
4.39%
5.89%

EdvestinU

Ideal for applicants with cosigners.

Visit website
6.25%
7.96%

INvestEd

Best for Indiana residents.

Visit website
4.37%
5.86%

Education Loan Finance

Offers good refinancing options.

Visit website
4.48%
4.98%
#14 Education Loan Finance
Federal and Private Graduate Student Loans
Federal and private graduate student loans are both types of financing that can be used to pay for the costs of a graduate degree.
Federal Graduate Student Loans
Federal student loans are funded by the government and are available to eligible students who are enrolled in an approved program of study. They include direct unsubsidized loans, and Direct Grad PLUS loans, among others. Federal student loans generally have fixed interest rates and offer borrower protections such as income-driven repayment plans and loan forgiveness programs.
Private Graduate Student Loans
Private student loans are given by private financial establishments such as banks. The loans are not based on financial need and may have stricter eligibility requirements such as a good credit score. Private student loans may have variable interest rates and may not offer the same borrower protections as federal student loans. They may also have origination fees and other costs associated with borrowing.
Difference between Federal and Private Loans
The following table shows the main difference between the two types of loans.
Federal Loans
Private Loans
Interest rates
Fixed
Fixed, Variable
Borrower Protections
Loan forgiveness options, Income-driven repayment plans, forbearance, deferment
Generally No. Some lenders may offer forbearance and deferment
Borrowing Limit
Direct Unsubsidized Loan: Up to $20,500 per year;

Grad PLUS loan: Up to 100% Cost of Attendance

Higher limits than federal loans. Can borrow up to the 100% Cost of Attendance
FAFSA required?
Yes
No
Based on Credit?
Only PLUS loans check for an adverse credit history
Yes
Origination fee
Yes
Generally No
Cosigner required?
Generally No. Endoser required if you are a graduate student or parent applying for a Direct PLUS loan and have a poor credit history
Most private loans require cosigners if the borrower has poor credit
Which type of loan to get – Federal or Private?
When deciding between federal and private student loans, it is important to carefully compare the terms and conditions of each option and consider your personal financial situation. Federal student loans are often the more affordable and flexible option, but private student loans may be necessary for some students to fully cover the costs of their education.
How To Get Graduate Student Loans?
To apply for a graduate student loan, you will typically need to complete a Free Application for Federal Student Aid (FAFSA) or a similar application for a private student loan. This application will ask for information about your financial situation, including your income, assets, and expenses. Subsequently, you will be offered a loan with specific terms and conditions, such as the interest rate, repayment period, and any fees associated with borrowing.
Repayment terms for graduate student loans vary depending on the type of loan and the lender. Federal student loans typically have a fixed interest rate and offer several repayment plan options, including income-driven repayment plans and loan forgiveness programs. Private student loans may have variable interest rates and may require a co-signer if you have a low credit score.
In general, it's a good idea to try to pay off your student loans as soon as possible to minimize the amount of interest you pay over the life of the loan. This is because shorter loan terms reduce the total interest you pay on your loan which in turn reduces the total cost of the loan. You can calculate the total payment, total interest, and monthly payments of your loan depending on the terms you get using our student loan calculator below.
Enter your loan information
However, if you are having difficulty making your loan payments, you may be able to temporarily postpone or reduce your payments through a deferment or forbearance.
How to Choose the Best Loans for Grad School
Federal loans should be the first option when getting a student loan. However, private loans are the next option if you are unable to qualify for federal loans or need more money to cover all your educational expenses. There are some important factors to consider when shopping for the best private graduate student loans.
Interest rate: The lower the interest rates you get, the lesser the total loan cost will be and the more you will save up on monthly payments. Therefore, it is better to get a quote from multiple lenders and choose the one offering the lowest interest rates.
Loan terms: Different loans may have different repayment terms which can affect your monthly loan payments and the total loan cost. The longer the term is, the lower your monthly payment will be. This can make repayments more manageable. However, longer terms result in more interest to accrue and it increases the total loan cost that needs to be returned by the end of your term. Shorter terms may have higher monthly payments, but the total loan cost decreases as less interest is accrued. Moreover, lenders also offer lower rates to students who opt for shorter terms. The student calculator can help you calculate how your total loan cost, monthly payments, and interest accrued based on the interest rate offered, the total loan amount borrowed, and the term you want to opt for.
Maximum and minimum loan amounts: Some lenders may have a cap on how much you can borrow. It is important to check how much you can borrow and if the amount will be enough for your educational costs.
Other loan costs: There are various other types of costs associated with getting a graduate student loan. Some lenders may have an origination fee, application fee, or late payment fee, which can make your loan more expensive. It's better to avoid those lenders and go for ones that do not have such extra fees attached to the loan.
Autopay: Check if the lender you are considering has an automatic payment option. This is because when you sign up for autopay, lenders give interest rate discounts which lower your monthly payments and the total cost of the loan.
Eligibility requirements: Different lenders have different eligibility requirements. Compare different lenders and check their eligibility requirements to see if you qualify. This can save a lot of time and money.
Cosigner requirements: Check the minimum income and credit score requirements that the lender may have and if you meet them. In case you are unable to meet their basic requirements, you will need to look for a cosigner that does. Some lenders also have a cosigner release option which allows you to remove the cosigner from your loan once you are ready to do so. This is a good option to have in the long-term.
Alternatives to Graduate Student Loans
In case you are unable to qualify for federal or private loans, there are other options available to help you pay for your education.
Grants: Grants are a type of financial aid that is usually based on financial need and does not need to be paid back. Check if you are eligible for any type of government grant. They may not be able to cover your full cost of tuition but can help you pay off a good chunk of it.
Scholarships: Scholarships are financial gifts that are given out on the basis of certain eligibility criteria. Some scholarships might be need-based, some merit-based, some awesome degree-specific, and some may be based on certain talents. With scholarships, everyone can find something as there is a plethora of them available to students coming from every background. You can even apply for multiple scholarships for more money that can go towards your tuition.
Work-Study: Work-study is also a federal program in which students work part-time at the campus to earn money that goes towards their tuition fees. This also requires a FAFSA.
Get a job: You can get a part-time job on your own and use the money you earn to pay a part of your tuition fee. Theer are many online options available too now and students can work from the comfort of their homes. These jobs are usually quite flexible and can be easily adjusted around your study schedule.
FAQS
Which lending institution provides the best graduate student loan?
Based on this research, College Avenue offers the best graduate student loan. Specifically, its interest rates are lower on both fixed- and variable-rate loans and its repayment options and terms are flexible. The loan is also available to a wide group, including international students.
Do credit scores impact graduate student loans?
Credit scores play a significant role, particularly, when applying for private student loans. Many private student loan lenders use credit scores within their underwriting process to determine the interest rate and other loan terms. Those with higher credit scores may be offered better terms than those with lower scores.
What Credit Score Do You Need to Get a Student Loan for Graduate School?
For private student loans, the minimum credit requirement varies from one lender to another. Generally, most lenders require a good credit score of around 670 to approve the loan. In case of a low score, they might require a credit-worthy cosigner to cosign the loan. Federal loans generally do not require a minimum credit score with the exception of federal PLUS loans that may check credit history.
What is a good graduate student loan interest rate?
There are various factors that will impact the rates you are offered like the length of credit history and level of the score. In case of poor credit, cosigning the loan with a credit-withy cosigner can get you good rates. You can use federal loan fixed rates as a base mark to see if you are getting a good deal as federal loans have low rates. Currently, the rate for graduate Federal Direct Stafford Loans is 7.048% and for Federal Direct Grad PLUS Loans is 8.048%.
What loans can grad students get?
Graduate students can get both federal and private loans if they meet the eligibility requirements. It's best to try and get federal loans first and then fill the gap through private loans. In case you do not qualify for federal aid, then you can opt for private loans completely. To see if you qualify for a particular private graduate loan, check the eligibility requirements on the lender's website to see if you qualify.
Can you get FAFSA loans for grad school?
Yes, you can qualify for federal loans through FAFSA. FAFSA helps determine your eligibility for different types of federal aid for graduate students. Once you get your FAFSA results you can apply for the type of loans that you qualified for.
What is the maximum amount I can get for graduate student loans?
The maximum amount you can borrow depends on several factors, including the type of loan. For example, the federal direct unsubsidized loan offers up to $20,500 per academic year. On the other hand, many private student loan lenders will consider your credit score and income when determining your limit.