UNM Achievers
$2,000–$8,000
Award Amount
12/1/2022
Submission Deadline
Explore Similar Scholarships
Location:
Grade Level:
The University of New Mexico offers the UNM Achievers Scholarship under one of its institutional scholarships. The scholarship aims to provide academic support to undergraduate students and help them complete their degree programs.
The University of New Mexico Achievers Scholarship invites incoming students to apply. The scholarship offers high school graduate students or General Education Diploma residents a chance to study at the University of New Mexico.
The UNM Achievers scholarship awards one student $2,000 to study at the university. The scholarship is for New Mexico residents and offers them a chance to study at New Mexico University.
Key Information of UNM Achievers
Study Details
Country of Study
United States
Specific Schools
The University of New Mexico
Scholarship Details
Intended Level of Study
Undergraduate
Award Amount
$2,000–$8,000
UNM Achievers Timeline
January 2022
Application Opening Date
Applications open on January 1.
December 2022
Submission Deadline
The submission deadline is on December 31.
Scholarship Eligibility
To be eligible to apply, applicants must meet the following criteria.
Eligible Grade: High School Graduate – College Freshman
Maximum Age: Any
Required GPA: 3.6
Geographic Eligibility: New Mexico
Gender: Any
Race/Ethnicity:
Application Requirements
Here's what you need to submits besides your application.
How to ace the UNM Achievers
1
Have an outstanding academic record
The UNM Achievers Scholarship is highly competitive and applicants need to be the best in the crowd to stand out. Ensure that your academic record is impressive and you have a GPA of 3. 6 and above.
2
Hail from New Mexico
Applicants are expected to live in New Mexico at the time of the scholarship application. The UNM Achievers Scholarship gives consideration to high school graduates or New Mexico GED recipients.
3
Be college bound
Applicants should be college bound and they should be enrolled full-time in a degree program. The school of study should be UNM since the scholarship only applies to this specific institution.
4
Be in good standing
The UNM Achievers scholarship is a merit-based scholarship and applicants are expected to be the best in the pool of applicants. Good character and discipline will help you stand a better chance of winning this scholarship.
How the UNM Achievers is Judged
Applicants are evaluated based on their academic records. They should have a minimum of a 3.6 GPA and should maintain a 3.0 GPA each semester to remain eligible for the renewal of the scholarship.
Why We Love the UNM Achievers
It is a continuous scholarship
Applicants, who win the scholarship, can use the scholarship to cater to their education throughout their degree program. The UNM Achievers scholarship is renewable for up to four years.
Extended deadline
The scholarship has an extended deadline that runs all the way from the beginning of the year up to the end. Applicants have a longer time frame to submit their application accompanied by their transcripts.
A chance to study at top institution
The UNM is an accredited institution that is research-driven and offers quality post-secondary education. Applicants have a chance to join a highly qualified institution to develop their career paths.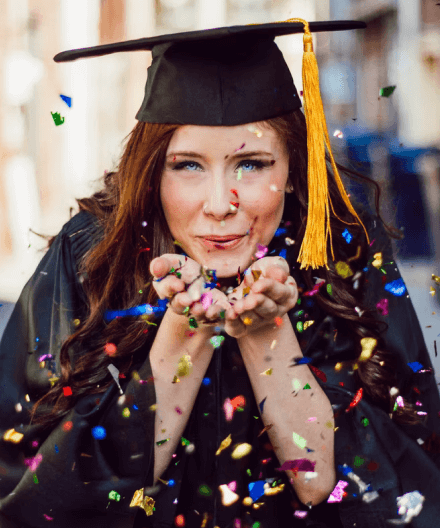 5 Facts About UNM Achievers
Over $50 million awarded each year
The University of New Mexico awards over $50 million in scholarships each academic year.
UNM has five major scholarship categories
The university has five major scholarship categories, namely, Institutional, State Funded, Departmental, Private and Public Scholarships, and Graduation Incentives.
Ranked among top 100 research institutions
The university is ranked among the top 100 research and development-performing institutions in the U.S. with expenditures of up to $240 million annually.
Nicknamed Lobo
The University of New Mexico has the nickname ''Lobo" which was adopted in 1920.
Ranked in the top 20% of institutions
The UNM has been ranked in the 20% of global universities by the Center for World University Ranking.