TMCF | Ford Blue Oval Scholarship
12/1/2022
Submission Deadline
Explore Similar Scholarships
Location:
The Thurgood Marshall College Fund (TMCF) is a non-profit American organization that has partnered with Ford Motor Company Fund to create this scholarship. Any male student that is either Hispanic or African American from anywhere in the United States can apply for this chance to study at one of the TMCF member schools.
TMCF member-schools are 47 educational institutions and include names such as Kentucky State University and Albany State University. Seven students will be chosen to study in any one of these TMCF member schools in any subject that they want with a spring scholarship of $6,200.
The Ford Blue Oval Scholarship aims to select students that exhibit leadership abilities, a strong academic record, and potential to contribute to their community. Scholars of TMCF have gone on to make their mark in the world, in fields ranging from computer engineering to law.
Key Information of TMCF | Ford Blue Oval Scholarship
Study Details
Specific Schools
TMCF Member-School
Scholarship Details
Intended Level of Study
Undergraduate
TMCF | Ford Blue Oval Scholarship Timeline
January 1, 2022
Application Opening Date
Applications open around the start of the year. Check the website for more accurate dates closer to the time.
December 1, 2022
Application Submission Deadline
Applications close around early December. Check the website for more accurate dates closer to the time.
Scholarship Eligibility
To be eligible to apply, applicants must meet the following criteria.
Eligible Grade: All
Maximum Age: Any
Required GPA: 3
Geographic Eligibility: United States
Gender: Men
Race/Ethnicity: Hispanic, Black
Application Requirements
Here's what you need to submits besides your application.
Essay
Recommendation letters
How to ace the TMCF | Ford Blue Oval Scholarship
1
Secure a top-notch recommendation
Recommendations are the most authentic way for a selection committee to get a third-party perspective that affirms who you are. This scholarship application requires the email address of someone who can fill out a character reference form that will include three questions about you. Seek out people who could provide potentially solid recommendations about you such as teachers, employers, supervisors, or mentors, and inform them about this form beforehand.
2
Work hard on your essay
There are very few requirements for this scholarship and an essay is one of them. Essays are the easiest way to convey to the committee about how you're a deserving candidate. This essay wants to know how your education will benefit you, your family, and your community. And it wants to know all this in under 250 words for each question! Plan out each prompt, create a rough draft of all the relevant points you want to add, and get your essays proofread by a peer or teacher.
3
Have a solid academic standing
There aren't any requirements for grade transcripts or test scores either but the application requires a cumulative grade point average of 3.0 or higher. Maintain a good academic record by putting in effort for perfect grades since the committee requires applicants with intellect and scholarly knowledge.
4
Portray your leadership qualities
Leadership abilities have been particularly emphasized in terms of the Ford Blue Oval Scholarship since the candidate must be someone who has the potential to be a leader. Showcase all the ways you've contributed to your community and represented leadership through the mention of awards, participations, and events pertaining to community service or fundraisers.
How the TMCF | Ford Blue Oval Scholarship is Judged
Applicants are assessed on the basis of their essay, transcript, and recommendation which should represent their strong academic record, and ability to lead and work for their community. They are expected to be scholarly and capable with qualities of taking initiative and giving back to the people around them. They are also expected to show a financial need.
Why We Love the TMCF | Ford Blue Oval Scholarship
It gives a chance to minority communities
The program wants to provide a financial award to students that are either African American or Hispanic. This focus on communities aims to end discrimination and prejudice against them.
There are 47 TMCF member schools
Attending a TMCF member school is a requirement of this scholarship but good news, there are 47 TMCF member schools located in multiple states throughout the U.S., such as California, Florida, and Pennsylvania.
You can study anything you want
There is no limitation on the area of study you can pursue, you have the liberty to choose anything you like, from medicine to law to engineering, and TMCF member schools provide a range of subjects.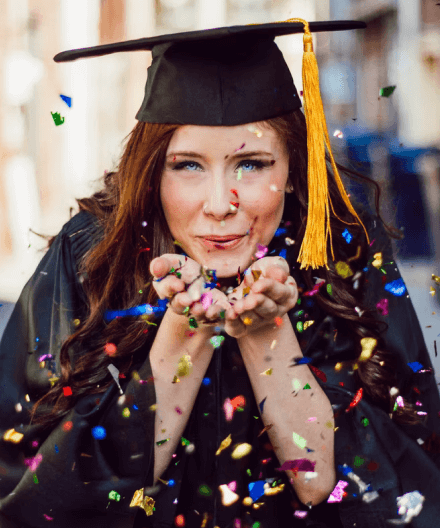 5 Facts ABout the Ford Blue Oval Scholarship
Award is only for verifiable costs
The scholarship money of $6,200 can only be used for costs associated with your average tuition and usual fees.
TMCF member schools have a vast breakdown
With 47 TMCF member schools, they include 42 HBCUs (Historically Black Colleges and Universities), 3 PBIs (4-year Predominantly Black Institutions), 1 JUCO (Community College), and 1 HBGI (Private Historically Black Graduate Institute).
You need to show financial need
This application requires a show of financial need. You have to provide a copy of the FAFSA Student Aid Report.
TMCF is a powerful organization
TMCF represents and supports nearly 300,000 students attending the TMCF member schools and is named after the Supreme Court's first African-American justice, Thurgood Marshall.
TMCF offers many other opportunities
Apart from this scholarship, TMCF has multiple other scholarships and internships for minority students. Their sponsors include many well-known brands such as Coca-Cola and Apple!