Olay Face the STEM Gap Scholarship
6/29/2023
Submission Deadline
Explore Similar Scholarships
The Olay Face the STEM Gap Scholarship Program realizes the extent of gender disparity for women of color. The aim is to bridge that gap and support such women with financial assistance. The program does this by offering students scholarships of $2,500, which is renewable for up to $5,000.
Scholars will also have the opportunity to apply for the Procter & Gambles Standout Program. The ambition of the Standout Program is to provide top students with valuable experiences in a culture that embraces all backgrounds and cultures and motivates others to make an impact. The focus is to have a diverse group of top candidates, significantly underrepresented, such as Black or African-American, Hispanic/Latino, Asian, Indian/Alaska Native, Native Hawaiian/Other Pacific Islander, and other POC women.
Suppose you fulfill their eligibility criteria and want to avail this unique and welcoming opportunity. First, you will have to complete the UNCF online application and describe your extra-curricular activities, honors, awards, and community service. Along with this, write an essay on the topic, "Interest in pursuing a career in STEM'', upload your recent résumé and letter of recommendation. Once you gather all this, just hit submit, and you're good to go!
Key Information of Olay Face the STEM Gap Scholarship
Study Details
Country of Study
United States
Scholarship Details
Intended Level of Study
Undergraduate
Olay Face the STEM Gap Scholarship Timeline
June 6, 2022
Application Opening Date
Applications usually open in early June. You can check the website for more accurate dates closer to the time.
June 29, 2023
Submission Deadline
The deadline for applications is around the middle of the month at 11:59 pm EST. Make sure to check the website for more accurate dates closer to the time.
Scholarship Eligibility
To be eligible to apply, applicants must meet the following criteria.
Eligible Grade: College Sophomore
Maximum Age: Any
Required GPA: 3
Geographic Eligibility: United States
Gender: Women
Race/Ethnicity: Alaskan Native, Asian American, Black, Hispanic, Native North American, Pacific Islander
Application Requirements
Here's what you need to submits besides your application.
Grade transcript
Recommendation letters
Essay
How to ace the Olay Face the STEM Gap Scholarship
1
Emphasize your engagement in extracurricular activities
In your application, add the experiences that show your leadership and volunteer work. Since this scholarship is all about inclusion and diversity, make sure you volunteer for different community programs and help out the disadvantaged people in your country to make an impact truly.
2
Have your application reviewed before submission
Such scholarships are competitive, with every application offering something different, so make sure your application is free of errors. Get your application reviewed by a senior or your teachers, and leave no room for spelling or grammatical errors.
3
Stand out from the crowd
This essay allows you to share more about yourself, your interests, and your goals and give you that edge to make you stand out. Ensure that you clearly describe why you desire to pursue a career in STEM. Answer this question from a professional, personal and logical point of view. Don't google written essays because that is not what they are looking for. The essay should describe you as a person, so make sure you have that personal element.
4
Reach out to former winners
There are many scholarship winners before you, so you can quickly look them up and read about them. This will give you beneficial insights into an ideal candidate and the specific requirements.
How the Olay Face the STEM Gap Scholarship is Judged
Applicants are evaluated on leadership, academics, extra-curricular, or work experience. They should be outstanding students who are academically talented and active in their communities. Participants should be willing to make a change and have a keen interest in eliminating inequalities and pursuing a career in STEM.
Why We Love the Olay Face the STEM Gap Scholarship
Scholarship can be renewed
Scholarship recipients can use their award of $2,500 and then renew it to up to $5,000. This is highly beneficial for the winners, as they can use this amount for various reasons for two years.
It helps reduce gender inequality
This scholarship is focused on the achievements of women, giving them a chance to make a difference and fulfill their dreams. Unfortunately, only a few scholarships are targeted primarily toward women.
It offers a welcoming environment to minorities
The scholarship is open to Black, Asian, Indian, Latino women, and so many others. This creates a healthy environment for these minorities, otherwise disadvantaged due to many constraints.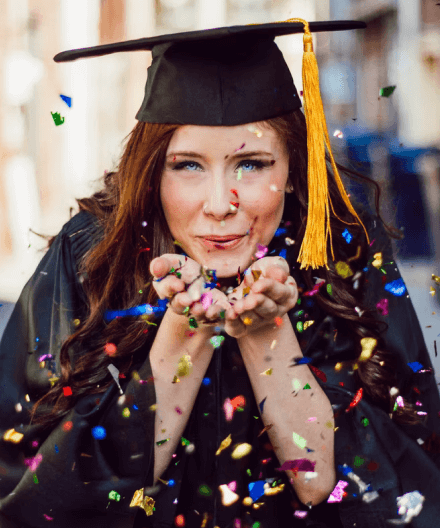 5 Facts About the Olay Face the STEM Gap Scholarship
An opportunity to attend a UNICEF conference
The Olay Face the STEM Gap Scholarship Program offers participants a chance to attend the UNICEF Student Leadership Conference, which will boost their courage and help them learn different skills.
Precise specifications in regards to the degree
Candidates who are applying should have a minimum 3.2 GPA on a 4-point scale and should be enrolled in an undergraduate full-time accredited four-year college or university in the U.S. and their degree should be associated with science, technology, engineering, or math.
The scholarship is U.S. based
The opportunity is for U.S.-based candidates only — applicants should be U.S. citizens or legal U.S. residents studying at a U.S. university.
Opportunities at P&G Standout Program and Careers
If you are an academically outstanding student, the scholarship will enable you to apply for the P&G Standout Program and learn all about it. You can also use it for various careers at P&G careers.com.
It is a gender and ethnicity-based scholarship
Not everyone can apply for this scholarship, as it is gender-specific and only for women. Moreover, underrepresented people are encouraged to apply, such as African American/Black, American Indian - Alaska Native, Asian Pacific Islander American, and Hispanic American.