Make Me Laugh Scholarship
8/31/2023
Submission Deadline
Explore Similar Scholarships
Location:
Grade Level:
Are you a witty person who can make people smile by recounting a humorous experience? The Make Me Laugh Scholarship is designed to help students, who like you, have a sense of humor. This scholarship requires you to narrate a funny incident that happened to you (it could be anything that makes people laugh) and if you are successful, you could win $1,500.
Unigo is a scholarship website that features tons of scholarships and even sponsors some themself. They understand that searching for scholarships can get really boring so they decided to add some fun with the Make Me Laugh Scholarship.
To apply for this scholarship, students must submit a complete scholarship application online on the Unigo website and write a short essay, no more than 250 words long on the given topic. The prospective winner will be contacted via email and the scholarship prize will be awarded in a cheque payable directly to the Scholarship Prize Recipient's accredited institute.
Key Information of Make Me Laugh Scholarship
Study Details
Country of Study
United States
Scholarship Details
Intended Level of Study
Undergraduate
Make Me Laugh Scholarship Timeline
August 31, 2022
Application Opening Date
Applications are open a year before the deadline. Check the Unigo website for more details.
August 31, 2023
Submission Deadline
The deadline for applications is on the last day of August 31 at 11: 59 Pacific Time.
November 2023
Winner Announcement
The winner among the applicants is selected and announced usually by the end of November.
Scholarship Eligibility
To be eligible to apply, applicants must meet the following criteria.
Eligible Grade: 8th Grade – High School Senior
Minimum Age: 14
Required GPA: Any
Geographic Eligibility: United States
Gender: Any
Race/Ethnicity: Any
Application Requirements
Here's what you need to submits besides your application.
How to ace the Make Me Laugh Scholarship
1
Focus on creativity
You need to narrate a funny experience that you encountered in your life so remember to illustrate that creatively with humor to make your application stand out.
2
Recheck your application
Make sure that your application is complete and you do not leave out any details. Remember that submitting a complete application is one of the key criteria to enter this scholarship.
3
Keep tabs on your writing
Ensure that your application does not have any grammatical errors or spelling mistakes. Check that your essay is written in a systematic flow and in an appealing enough way to give your story a boost.
4
Emphasis on originality
One of the judging criteria for this scholarship is originality so ensure that your essay is not plagiarized or copied from somewhere else.
How the Make Me Laugh Scholarship is Judged
Applicants are evaluated in four categories, each accounting for 25%. The categories are writing ability, creativity, originality, and overall excellence. The essay is the only way of judging so it needs to be good.
Why We Love the Make Me Laugh Scholarship
The scholarship is about having fun
The scholarship distinguishes itself from the rest of the scholarships as it focuses on having fun and being funny. Unlike the rest, this scholarship judges the applicant based on how well they can make the panel laugh and spread happiness.
The scholarship focuses on young minds
The eligible age for this scholarship starts from just 14 years and ranges to graduation level. The scholarship provides an opportunity for young teenagers to show their creative side and writing ability.
Emphasis on non-academic skills
This scholarship is one of those rare scholarships that does not take your academic ability into account while judging the application.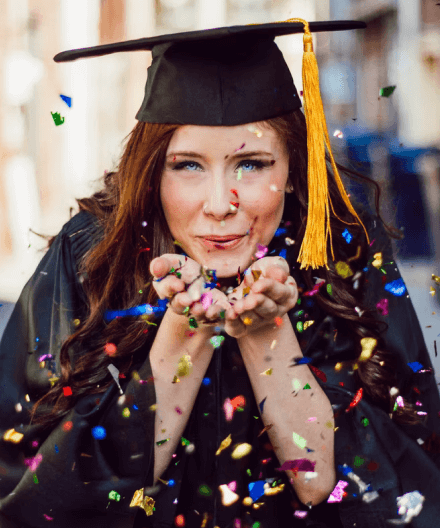 5 Facts About the Make Me Laugh Scholarship
It is for U.S. residents only
The Make Me Laugh Scholarship is for residents in any of the 50 states located in the United States and the District of Columbia.
Age eligibility restrictions
The eligible age for this scholarship starts from 14 and goes up to students studying in colleges and universities who are currently enrolled or will be enrolled by the fall of 2027.
Sponsors of the scholarship cannot participate
The sponsor (Unigo) and their affiliated companies' employees, officers, executives, and representatives, as well as members of their immediate families and those living at the same location, are not eligible to participate.
One application for each entry
Only one scholarship application is allowed per entry, which means that the applicant will only be able to submit the scholarship application only once.
Any objectionable material will be disqualified
Offensive, defaming, or otherwise objectionable written responses will be disqualified immediately and the applicant will be out for the scholarship consideration.