HSF Scholarship
3/15/2023
Submission Deadline
Explore Similar Scholarships
Location:
Demographic:
The Hispanic Scholarship Fund was founded in 1975, and has since then supported students with funds and other services to pursue higher education. It offers scholarships ranging from $500 to $5,000, depending on the requirement. The scholarships are open to students of Hispanic heritage only.
The sum of money spent each year by HSF amounts to more than $30 million. The students are selected based on academic performance, requiring a minimum 3.0 GPA (on a scale of 4.0) for high-school students and a 2.5 GPA (on a scale of 4.0) for graduates to be eligible. The scholarships are applicable for U.S. citizens, permanent residents and DACA.
The selected students receive funds, along with the opportunity to attend Scholar Conferences for STEM, finance, media and entertainment, entrepreneurship and healthcare, depending on their area of interest and learn from experienced professionals.
Key Information of HSF Scholarship
Study Details
Country of Study
United States
Scholarship Details
Intended Level of Study
Undergraduate
Postgraduate
Key moments in
January 1, 2023
Application Opening Date
The applications are generally accepted starting in January, keep track of the website for exact dates around this time.
March 15, 2023
Submission Deadline
The last dates for applying for the scholarships are in the beginning of March. Make sure you check the actual deadline, which will be announced on the website.
June 2023
Selection
The candidates are informed of their selection in June.
November 2023
Submission of documents
The selected candidates can submit the required documents between June and November. The submission deadline will be updated on the website during this time.
December 2023
Award announcement
After document submission, the selected candidates are awarded the scholarships in December.
Scholarship Eligibility
To be eligible to apply, applicants must meet the following criteria.
Eligible Grade: All
Maximum Age: Any
Required GPA: 3
Geographic Eligibility: United States
Gender: Any
Race/Ethnicity: Hispanic
Application Requirements
Here's what you need to submits besides your application.
How to ace the HSF Scholarship
1
Maintain above par grades
Keep the scholarship in mind from now and maintain a GPA or grade substantially above the requirement.
2
Participate in extracurricular activities
Along with academics, the selectors are looking for involvement in extracurricular activities and leadership skills.
3
Commitment to community
The HSF itself is a result of being committed to giving back to the community. If you can prove this commitment, by participating in activities related to the well-being of the community, you stand a better chance.
4
Focus on prioritized fields
Although the scholarships are awarded to students pursuing all fields of interest, Hispanic students are underrepresented in some areas, such as STEM fields. So research well before selecting your field of interest.
How the HSF Scholarship is Judged
Only students with Hispanic heritage can apply for the scholarships. The scholarships are awarded based on merit, with a minimum requirement of 3.0 GPA (on a scale of 4.0) for high school students and 2.5 GPA (on a scale of 4.0) for college students and graduates. Only US citizens, permanent residents and DACA are eligible. Scholarships are applicable for enrollment in an accredited, US-based, public/non-profit, graduate school or four-year university.
Why We Love the HSF Scholarship
Merit and need-based criteria
The students are selected on merit, but the amount to be awarded is based on need.
Different awards, one application
HSF Scholarship doesn't offer a single award, but many of them as per merit. The students can apply for all of them at once and then be judged by the selectors accordingly.
Many added benefits
Awardees recieve various added benefits to go with the scholarships. They get support in finding jobs and also become eligible to attend useful conferences and seminars.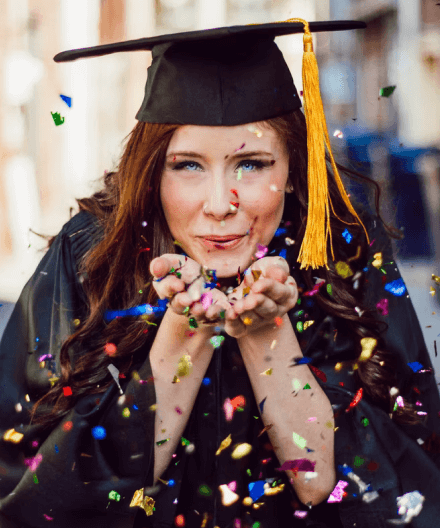 5 Facts About HSF Scholarship
Nearing 50 years of community service
HSF was formed in 1975 and has continued to support students from the Hispanic community with scholarships.
A massive sum of money spent
Since its inception, the organization has spent more than $675 million on the education of selected students.
Educational and career support services
Scholar support services include mentorship, career services, knowledge building, leadership development, and wellness training.
Notable awardees in business
The alumni hall of fame of HSF Scholarship features various high-achieving individuals, which include Luis Ubinas, former President of Ford Foundation, and Cesar Conde, Chairman of NBCUniversal International Group and NBCUniversal Telemundo Enterprises.
HSF alumni in government
HSF scholars have also held notable positions in the government. Top names include Rosie Rios (former Treasurer of the United States), Raul Yzaguirre (former US Ambassador to the Dominican Republic), and Dr. Richard Carmona (former US Surgeon General).