HSF General College Scholarships
3/15/2023
Submission Deadline
Explore Similar Scholarships
Location:
Demographic:
The HSF General College Scholarships are merit-based scholarships offered to students of Hispanic heritage within the U.S. The scholarships awarded by HSF are available on a competitive basis to applicants who range from graduating high school seniors to graduate students. Each year, HSF admits thousands of students as HSF Scholars, who are then eligible to receive the scholarships.
To be admitted as an HSF Scholar, you need to be a U.S. citizen permanent resident or a Deferred Action for Childhood Arrivals (DACA) designee. You must also be of Hispanic heritage. Additionally, you should have enrolled or plan to enroll in an accredited four-year university or graduate school within the U.S. in the year your scholarship is disbursed.
Recipients of the scholarships receive awards that range from $500 to $5,000, which are paid directly to the students. However, an HSF Scholar gains more than just the scholarship award. For example, a Scholar is eligible to apply for HSF-sponsored Scholar Conferences such as the Healthcare Summit and the Finance Conference.
Key Information of HSF General College Scholarships
Study Details
Country of Study
United States
Scholarship Details
Intended Level of Study
Undergraduate
Postgraduate
HSF General College Scholarships Timeline
January 1, 2023
Application Open Date
Each year, applications usually open on January 1.
March 15, 2023
Submission Deadline
Applications typically close mid-March.
June 2023
Finalists' selection
Scholarship finalists are selected and notified in June.
June–November 2023
Documents submission
All finalists are expected to submit additional supporting documents.
December 2023
Award Announcement Date
HSF Scholars are announced.
Scholarship Eligibility
To be eligible to apply, applicants must meet the following criteria.
Eligible Grade: All
Maximum Age: Any
Required GPA: 2.5
Geographic Eligibility: United States
Gender: Any
Race/Ethnicity: Hispanic
Application Requirements
Here's what you need to submits besides your application.
How to ace the HSF General College Scholarships
1
Provide all required documents
Provide all the documents required to process your application. For instance, make sure that you have a FAFSA form to demonstrate that you are, indeed, not capable of supporting your college education fully on your own.
2
Fill the application form accurately
The application form should be filled out carefully and with accurate information. Proofread your responses before submission to catch any errors or omissions you might have made.
3
Ensure that you meet all the requirements
Your application will only be considered if you meet all the requirements. Read the instructions keenly and only apply if you are eligible and can prove so.
4
Seek your recommenders carefully
You will need to provide recommendation letters as part of your application. Only seek recommendation letters from people who know you, your work, and your suitability for the HSF Scholars program best.
How the HSF General College Scholarships is Judged
Applications for the HSF General College Scholarships are judged based on two key factors: completeness of the application and suitability of the candidate. As such, ensure that you submit a fully-filled application form as well as requested supporting documents. Additionally, your application should speak strongly of your abilities as a student and why you are the most suitable recipient of the scholarship.
Why We Love the HSF General College Scholarships
It's a need-based scholarship
The Scholarships target exceptional students who, due to their financial backgrounds, could find it extremely challenging to fund their post-secondary education pursuits.
Additional support available to scholars
HSF Scholars have access to the HSF's Scholar Support Services, which include career guidance services, mentorship, and leadership development programs.
Variable award amount
The HSF scholarships awards range from $500 to $5,000 depending on the needs of the student. We especially love this arrangement as it means that Scholars with the most demonstrable need can receive high awards.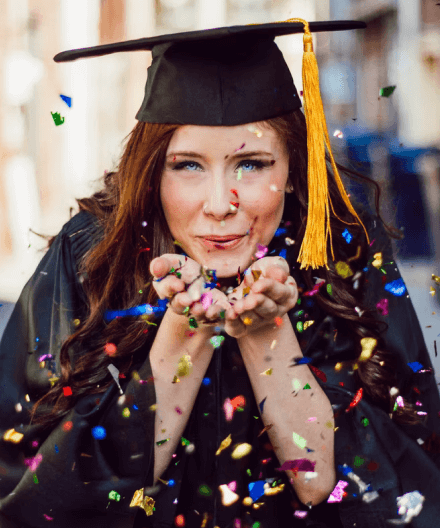 5 Facts About the HSF General College Scholarships
HSF awards about $30 million annually
As an organization, HSF awards scholarships of more than $30 million annually to eligible students studying in various universities across the United States.
Some awards are renewable
A significant advantage of the HSF General College Scholarships is that some of the granted awards are renewable and recipients are notified of any renewal requirements.
Recipients can receive only one award
HSF grants several scholarships and an applicant can be considered for multiple opportunities; however, a recipient can only receive one award a year.
Proof of enrollment is required
After finalists are selected, HSF notifies all finalists to provide proof of their enrollment status at accredited universities within the U.S. before distributing the awards.
Available to a large group of students
Each year, HSF selects up to 10,000 students as HSF Scholars regardless of their college or program of study as long as they meet the eligibility criteria.