CACESF Scholarship
$1,500–$2,500
Award Amount
6/30/2023
Submission Deadline
Explore Similar Scholarships
Location:
Grade Level:
Established by the California Association of Collectors (CAC), the Education Scholarship Foundation (ESF) is an annual scholarship contest open to high school students in California. CACESF scholarships promote smart money and borrowing habits in California's students as they prepare for college and life.
Founded in 2006, the California Association of Collectors Educational Scholarship Foundation (CACESF) awards $2,500, $2,000, and $1,500 to three high school seniors or juniors enrolled in California who will be entering a trade school college, or university within 12 months of their graduation.
Applicants must complete an application form and submit an original essay on a chosen topic. This year, applicants are required to write on the following topic: The importance of establishing and maintaining good financial credit during your college years.
Key Information of CACESF Scholarship
Study Details
Country of Study
United States
Scholarship Details
Intended Level of Study
Undergraduate
Award Amount
$1,500–$2,500
CACESF Scholarship Timeline
January 23, 2023
Applications open
The contest officially opens in January.
June 30, 2023
Applications deadline
The application deadline is the first Friday of June.
October 2022
Semi-finalists are announced
The semi-finalists are announced before the CAC's annual banquet in October.
October 2022
Final placing
The final placings of the semi-finalists are announced at the CAC's annual banquet.
Scholarship Eligibility
To be eligible to apply, applicants must meet the following criteria.
Eligible Grade: High School Junior – High School Senior
Minimum Age: 18
Required GPA: Any
Geographic Eligibility: California
Gender: Any
Race/Ethnicity: Any
Application Requirements
Here's what you need to submits besides your application.
How to ace the CACESF Scholarship
1
Follow the essay guidelines
Essays are required to be between 700–1,000 words and typed using 12-point font and double space. The document should include the word count at its top and must not have any personal information.
2
Review your essay
Before submitting your essay, have a teacher, parent, or guardian review it to check for grammatical and spelling errors.
3
Practice public speaking
It is best to start practicing your public speaking and reading skills early as semi-finalists are required to read their essay at the California Association of Collectors annual event.
4
Include research in your essay
Doing some research and including some statistics in your essay will indicate that you've given some thought to the topic. It also shows that you have dedicated time to understanding the essay topic.
How the CACESF Scholarship is Judged
A team of about 20 volunteer readers read and rank essays using a double-elimination style process to select the semi-finalists. The semi-finalists would be required to attend the California Association of Collectors' annual event in October (expenses paid for student and one parent). At the event, they would be required to read the essays and would be judged by five judges (legislators, financial industry representatives) who will rank the presentations and determine the final placing.
Why We Love the CACESF Scholarship
It is easy to apply
Unlike other scholarships, the CACESF requires a simple one-page application and an essay on "The Importance of Establishing and Maintaining Good Financial Credit During Your College Years".
Annual banquet
The scholarship contest winners are recognized at the CAC's annual banquet and promoted within their community with an official press release.
No GPA requirement
Unlike most other scholarships, there is no minimum GPA requirement applicants are required to meet.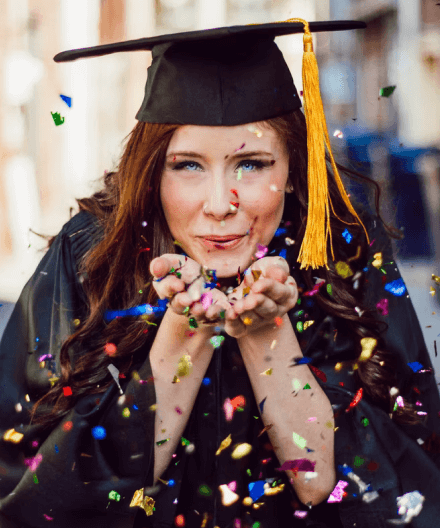 5 Facts About The CACESF
Open to seniors and juniors
The scholarship is open to high school seniors and juniors as long as they plan to attend college or university within 12 months of graduation.
$75,000 in college scholarships
Since its founding, the CACESF has awarded$75,000 in college scholarships to 36 California high school students.
The CAC was founded in 1917
The California Association of Collectors (CAC) was founded in 1917, making it the first organized association of collection professionals in the country.
CAC help found ACA International
The CAC became the founding unit of ACA International (the Association of Credit and Collection Professionals) in 1939.
Entries are properties of the foundation
Once submitted, the essays become the property of the California Association of Collectors Educational Scholarship Foundation. The foundation is allowed to print, district, and publish in full or in part at its discretion.