Bridging the Dream Scholarship Program for High School Seniors
2/28/2023
Submission Deadline
Explore Similar Scholarships
Location:
Grade Level:
Sallie Mae is a bank that specializes in offering loans to help students get through college. They also provide support and tips to help students find and win scholarships. They partnered with Thurgood Marshall College Fund to support 75 students from 2021 to 2024 with the Bridge the Dream Scholarship Program.
The scholarship awards $10,000 to 25 high school seniors each year for undergraduate studies. It supports students from minority groups and underserved communities who demonstrate leadership skills and good character. Eligible students must demonstrate financial need by being eligible for the Pell Grant.
Applicants are required to submit a grade transcript for their last completed term and a copy of the FAFSA Student Aid report for the academic year. A video statement that is two minutes or less should also be submitted answering the prompt given. The minimum cumulative GPA is 2.75.
Key Information of Bridging the Dream Scholarship Program for High School Seniors
Study Details
Country of Study
United States
Scholarship Details
Intended Level of Study
Undergraduate
Vocational/Technical School
Bridging the Dream Scholarship Program for High School Seniors Timeline
January 2023
Application Opening Date
Applications open on January 17.
February 2023
Submission Deadline
The submission deadline is on February 28.
August 2023
Application Deadline
Winners are announced in August prior to the beginning of the fall semester.
Scholarship Eligibility
To be eligible to apply, applicants must meet the following criteria.
Eligible Grade: High School Senior
Maximum Age: Any
Required GPA: 2.8
Geographic Eligibility: United States
Gender: Any
Race/Ethnicity: Any
Application Requirements
Here's what you need to submits besides your application.
Video Submission
Grade transcript
Financial Information
How to ace the Bridging the Dream Scholarship Program for High School Seniors
1
Prepare your answers on paper
The scholarship requires a video submission, but that's not a reason to go in unprepared. Jot down three of your most important short-term goals – you can list more than three, weigh them for importance and narrow them down to three. Write down points on how the scholarship will help you attain them. Writing down your thoughts helps you organize your ideas and serve as prompts when recording the video.
2
Do several recording attempts
Now that you have your points ready, it's time to practice. Do several voice recordings focusing on answering the prompt and getting the best version. Let the first trial have everything you have in mind then work towards making it fit the 2-minute limit. Voice recordings reduce the pressure of getting the video part right and put all your focus on the content.
3
Set up your shooting studio
When you have your words right, it's time to get the video set right. Locate a well-lit silent place with a neutral background. Prepare the clothes you'll wear for the recording – smart casual will do. Be sure to set your phone to landscape mode.
4
Record your video
Since you already have your words right, this part will involve making sure that the video looks good. Record the video several times to ensure that you have the best lighting and camera angles. When your video is good to go, you can do minor editing. Remember to take a deep breath and assume you're talking to a friend if you are camera-anxious.
How the Bridging the Dream Scholarship Program for High School Seniors is Judged
Applicants are judged based on financial need, academic achievement, and goals. Applicants should show how the scholarship will enable them to attain their goals. Involvement in community activities, awards, and other personal milestones achieved also strengthen your application.
Why We Love the Bridging the Dream Scholarship Program for High School Seniors
Puerto Ricans are eligible
High school seniors from Puerto Rico can apply for the scholarship.
All accredited institutions are supported
Students going to any accredited institution in the U.S. can apply for the scholarship.
Two-year programs are supported
Students planning to join two-year programs or attend vocational schools are eligible to apply.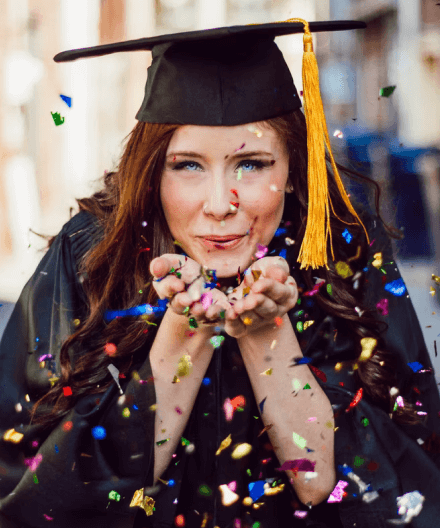 5 Facts About Sallie Mae
It has awarded more than $875,000
Since 2016, the Sallie Mae Fund has awarded over $875,000 in scholarships.
It has monthly sweepstakes
Each month students have the opportunity to win $1,000.
It's giving away $3M in three years
In partnership with Thurgood Marshall College Fund, the Sallie Mae Fund is awarding $3M in scholarships to high school seniors, undergraduate seniors, and graduate students.
Its search tool features over six million scholarships
Students can sign up for their free scholarship matching service and get matched from a pool of over six million scholarships.
It offers valuable scholarship tips
The website features tips to help you apply for and win scholarships.