Bridge to Success Scholarship
2/1/2023
Submission Deadline
Explore Similar Scholarships
Location:
Grade Level:
The Bridge to Success Scholarship is offered to students at the University of New Mexico (UNM). It is one of the several scholarships offered by UNM to learners who can be either residents or non-residents of New Mexico. Unlike some of the scholarships at UNM, the Bridge to Success Scholarship is offered only to freshmen students in their first semester.
To be eligible for this scholarship, you must be a resident of New Mexico. In addition, you must be a graduate of a high school in New Mexico or a New Mexico General Educational Development recipient. All applicants must have good academic performance with a Cumulative GPA score of 3.30 or higher.
This scholarship is a one-time award and past recipients cannot renew their awards. The winning scholar is awarded a sum of $1,000. This award money can be used to settle educational-related expenses such as tuition and fees.
Key Information of Bridge to Success Scholarship
Study Details
Country of Study
United States
Specific Schools
The University of New Mexico
Scholarship Details
Intended Level of Study
Any
Bridge to Success Scholarship Timeline
January 2023
Application Opening Date
Applications officially open on January 1.
February 2023
Submission Deadline
The submission deadline is on February 1.
Scholarship Eligibility
To be eligible to apply, applicants must meet the following criteria.
Eligible Grade: High School Graduate – College Freshman
Maximum Age: Any
Required GPA: 3.3
Geographic Eligibility: New Mexico
Gender: Any
Race/Ethnicity: Any
Application Requirements
Here's what you need to submits besides your application.
How to ace the Bridge to Success Scholarship
1
Pay attention to detail
Pay close attention to detail while filling out the application form to avoid filling out the wrong details of your phone numbers, mailing address, or any other personal information.
2
Select a reviewer carefully
After you finish writing your application, choose a knowledgeable individual who supports your interests to review and correct any possible mistakes in your application before submission.
3
Avoid late submissions
Starting your application on time gives you enough time to collect all the necessary information, fill out the application form carefully, and make your submissions before the deadline.
4
Make a checklist of the requirements
Make a checklist of all the requirements of the scholarship to ensure that you do not miss out on any important information or supporting documents.
How the Bridge to Success Scholarship is Judged
Candidates are evaluated based on their academic performance and their application form responses. While standardized scores such as the SATs or ACTs are not part of the requirements, they may be considered during the selection process.
Why We Love the Bridge to Success Scholarship
The requirements are simple
There is no complexity associated with the application process as the candidates are only required to fill out an application form.
It supports a wide range of majors
Bridge to Success scholars can choose to pursue any major offered at the University of New Mexico without any restrictions from the awarding body.
Eases transition to university life
The scholarship eases the financial burden that is often experienced by freshmen students when they join the university.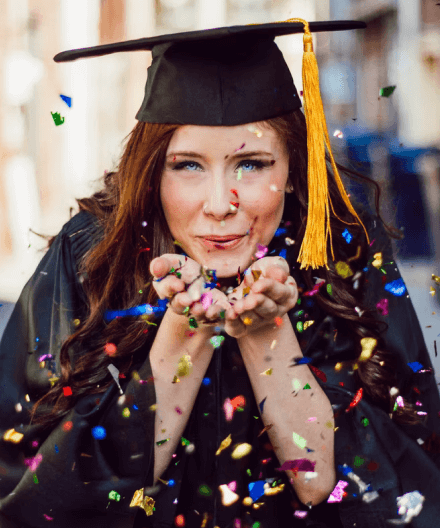 5 Facts About Bridge to Success Scholarship
Dual Credit students can apply
Students, who may have earned credit for college courses that they pursued while still in high school, are eligible to apply for the scholarship.
Home-schooled students' evaluation
Students, who have received homeschooling or those from non-accredited high schools, can apply for the scholarship.
Non-traditional students have a separate application process
Students, who did not graduate from high school, are encouraged to take the GED as well as the ACT or SAT to be considered for admission into UNM and the scholarship.
Other first semester scholarships
Aside from the Bridge to Success scholarship, the University of New Mexico offers another first-semester scholarship known as Success Grant.
$80 million in scholarships
For the year 2021–2022, the University of New Mexico has offered more than $80 million in scholarships for thousands of students.