BLM² Scholarship
7/3/2023
Submission Deadline
Explore Similar Scholarships
Location:
Grade Level:
The BLM² Foundation established the BLM² Scholarship in the belief that any motivated individual in need should have the opportunity to further their education. The annual one-time scholarship is based on biblical giving. Every year, the foundation awards $1,000 to minority students, wishing to pursue higher education.
Eligible applicants are students from minorities in the U.S. Applicants must be graduating seniors in the year of the award. Students must have a GPA of 3.0 or higher to be considered.
Applicants must be enrolled full-time students at an accredited four-year college or university. Successful applicants will receive a $1,000 award that is paid directly to the college or university. The funds can only be used to cover the costs of tuition, books, and fees.
Key Information of BLM² Scholarship
Study Details
Country of Study
United States
Scholarship Details
Intended Level of Study
Undergraduate
BLM² Scholarship Timeline
January 2023
Application Opening Date
Applications open on January 16.
July 2023
Submission Deadline
The submission deadline is on July 3.
July 2023
Awards Announcement Date
Winners are announced on July 10 via Facebook.
Scholarship Eligibility
To be eligible to apply, applicants must meet the following criteria.
Eligible Grade: High School Senior
Maximum Age: Any
Required GPA: 3
Geographic Eligibility: Illinois
Gender: Any
Race/Ethnicity: Alaskan Native, Asian American, Black, Hispanic, Native American, Native Hawaiian, Pacific Islander
Application Requirements
Here's what you need to submits besides your application.
Grade transcript
Essay
Standardized Test Scores
Recommendation letters
School Verification
How to ace the BLM² Scholarship
1
Highlight your writing skills
The application includes writing two essays of between 1,000 and 2,500 words each. Express your creativity and show your mastery of language in your essays. Make sure to keep your essays within the word count.
2
Determine your educational and professional goals
Before submitting your application, determine your career goals and the educational objectives that will help you achieve them. This will ensure that by the time of submission, you will have clarity on how the scholarship will assist you to achieve your goals.
3
Reach out to a mentor
As you work on your application, reach out to a mentor such as your teachers or counselors. Your mentors will assist you in making your career and academic goals and even help you improve your essays. Your mentors will also be the best people to write a good recommendation for you, which is also required in your application.
4
Submit your application on time
The scholarship is highly competitive and only complete applications are accepted. Make sure to prepare all the necessary documents in advance and reach out to your school early to ensure you submit a complete application on time.
How the BLM² Scholarship is Judged
Eligible applicants will be assessed based on the strength of their academic achievements, history of extracurricular activities, and participation in non-school-sponsored volunteer activities.
Why We Love the BLM² Scholarship
Applicants challenged to give back to community
The BLM² Foundation prides itself on empowering minorities to serve their communities. Applicants and recipients are motivated to think of ways to continue the culture of service by serving their own communities.
Applicants get to learn during application process
The essay topics are designed to push students to conduct some research and apply their judgment to write a good essay. This becomes an opportunity for applicants to acquire some lessons while making the application.
The scholarship cultivates the virtue of giving
The scholarship, which is based on biblical giving, cultivates the virtue of giving among applicants and recipients.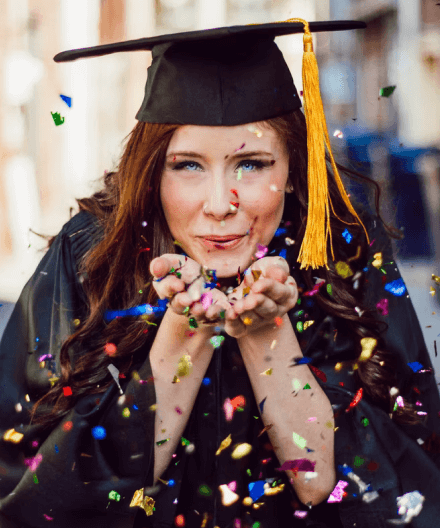 5 Facts about BLM² Scholarship Foundation
The BLM² foundation is 8 years old
The Foundation was established in 2014 by Bernard L. Macon Jr. and his wife Brandy L. Macon.
Establishment of Foundation was inspired by hardship
Bernard L. Macon Jr was inspired to establish the Foundation after going through hardship pursuing his university education and growing up in the inner city.
Community service and extracurriculars are a must
Applicants must be involved in community service and/or extracurricular activities to increase their chances of winning.
Foundation has awarded over $10,000 in scholarships
The Foundation has spent over $10,500 on scholars since its inception.
The BLM² Foundation inspired by biblical virtues
The inspiration to establish the Foundation comes from Deuteronomy 16:17 which says "Every man shall give as he is able, according to the Lord your God which He has given you".