AfterCollege/AACN Scholarship
12/31/2022
Submission Deadline
Explore Similar Scholarships
College Major:
Location:
Grade Level:
AfterCollege's mission is to connect students and recent graduates with hiring employers for internships at entry-level positions. It is a job-matching service for college students. AACN on the other hand is the natural voice for academic nursing establishing quality standards for nursing education, research, and practice.
Together, they have established the AfterCollege/AACN Scholarship of $10,000 annually. The scholarship awards $2,500 to students pursuing a baccalaureate, master's, or doctoral degree in nursing every quarter. It aims to help exceptional and deserving students cover expenses during school and elevate them into fulfilling careers after college.
Applicants for this scholarship must be enrolled at an AACN-accredited member institution.
Special consideration is given to students in a graduate program aspiring to become nurse educators, those enrolled in an accelerated program, and those completing an RN to BSN or MSN program. The AACN administers the scholarship and terms.
Key Information of AfterCollege/AACN Scholarship
Study Details
Country of Study
United States
Scholarship Details
Intended Level of Study
Postgraduate
Doctorate
Undergraduate
AfterCollege/AACN Scholarship Timeline
January 2022
Application Opening Date
Applications open on January 1.
March 2022
First Quarter Submission Deadline
The submission deadline is on March 31.
April 2022
First Quarter Award Announcement Date
The winner is announced in April.
June 2022
Second Quarter Submission Deadline
The submission deadline is on June 30.
July 2022
Second Quarter Award Announcement Date
The winner is announced in July.
September 2022
Third Quarter Submission Deadline
The submission deadline is on September 30.
October 2022
Third Quarter Award Announcement Date
The winner is announced in October.
December 2022
Fourth Quarter Submission Deadline
The submission deadline is on December 31.
January 2023
Fourth Quarter Award Announcement Date
The winner is announced in January.
Scholarship Eligibility
To be eligible to apply, applicants must meet the following criteria.
Eligible Grade: Undergraduate – Doctorate
Maximum Age: Any
Required GPA: Any
Geographic Eligibility: United States
Gender: Any
Race/Ethnicity:
Application Requirements
Here's what you need to submits besides your application.
Recommendation letters
Present Work Experiences
Grade transcript
School Verification
How to ace the AfterCollege/AACN Scholarship
1
Follow directions carefully
Ensure to follow all the directions carefully and adhere to them. Make sure that you create a clean and professional profile that well represents you. Additionally, ensure that you submit a complete application.
2
Demonstrate your dedication to healthcare
The best way to demonstrate your dedication to health care is by highlighting your involvement through volunteer work, work experience, or awards received. Ensure that your application highlights your achievements and the skills gathered.
3
Demonstrate your unique qualities
Applicants pursuing nursing to be educators should demonstrate their teaching and mentorship capabilities. Additionally, patient care nursing students should demonstrate their unique characteristics that help improve patient outcomes.
4
Have an impressive academic record
For students to qualify for this scholarship they must have a commendable academic record and have completed notable school projects. For postgraduates, ensure to highlight your thesis and how it brought meaningful change to healthcare.
How the AfterCollege/AACN Scholarship is Judged
Applicants are judged based on academic records, professionalism, and accomplishments demonstrated in their profile, personal statements, relevant experience, honors, awards, and other skills.
Why We Love the AfterCollege/AACN Scholarship
The scholarship is available quarterly
Applicants can send in their applications up to four times a year, increasing the chances of winning. The program aims to support students and help them reach their goals by allowing as many deserving students as possible access to higher education.
The sponsors are student oriented
Both the AfterCollege and AACN are organizations that root for students and are mainly concerned about the student's welfare. Students benefit from a body that ensures that they get a quality education and the other that helps them secure jobs after completing their studies.
You become a member of an association
Receiving this scholarship reinstates your membership in the American Association of Colleges of Nursing. Being both a member and a recipient has its advantages such as frequent networking opportunities through webinars and staying up to date with the trends in nursing.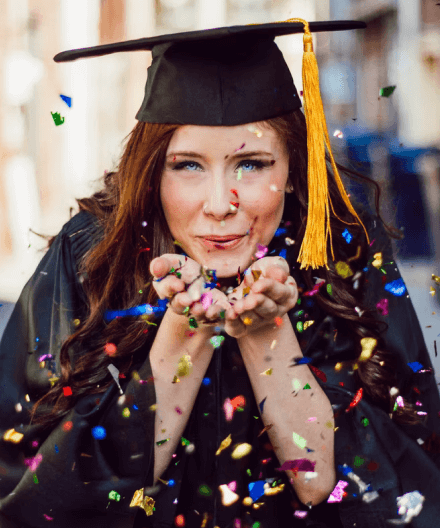 5 Facts About the AfterCollege/AACN Scholarship
Only enrolled students are eligible
Applicants must be enrolled and not just accepted at AACN member schools.
It's a nationwide program
Eligible nursing students at AACN member schools across the U.S. can apply.
Over 4,000,000 students are catered each year
The AfterCollege serves over 4 million students each year by linking them up with internships or job placements.
AACN has over 5,000,000 registered students
The AACN has a membership of over 5,000,000 students, 52,000 faculty members, and 850 schools.
The AACN controls curriculum standards
A series of essential documents by AACN outline competency expectations for graduates and schools of nursing use them to adhere to the highest standards for educational programs.