Adobe Women-in-Technology Scholarship
9/15/2023
Submission Deadline
Explore Similar Scholarships
Location:
Grade Level:
Created to bring more gender diversity to the technology industry, the Adobe Women-in-Technology scholarship aims to recognize outstanding undergraduate and postgraduate female students in the United States. The scholarship is open to women studying data science, computer science, and artificial intelligence at any North American university.
Every year, the Adobe Women-in-Technology Scholars program provides college scholarships worth $10,000 to at least 15 students enrolled in undergraduate and postgraduate programs. Applicants must have completed at least one year of college education before applying for the scholarship. The scholarship award is only paid once to help pay for each student's college education.
The Adobe Women-in-Technology Scholars Program brings on board women enthusiastic about technology and who are high academic performers. They are exposed to Adobe products and stand a chance of being involved in the company's research and development programs. This program has greatly benefited the recipients of the scholarship with many expressing their gratitude even years after graduating. The program gave them much-needed exposure and experience in the fast-changing field of Technology.
Key Information of Adobe Women-in-Technology Scholarship
Study Details
Area of Study
Computer Engineering
Computer Information Systems
Computer Science
Country of Study
United States
Scholarship Details
Intended Level of Study
Undergraduate
Postgraduate
Adobe Women-in-Technology Scholarship Timeline
July 30, 2023
Application Opening Date
Applications usually open at the end of July, every year. Check the website once the application portal is open.
September 15, 2023
Submission Deadline
The submission deadline for the application is at the beginning of the fall of 2022.
December, 2023
Award Announcement Date
Recipients of the award are contacted and published on the website in December.
Scholarship Eligibility
To be eligible to apply, applicants must meet the following criteria.
Eligible Grade: College Junior – Postgraduate
Maximum Age: Any
Required GPA: Any
Geographic Eligibility: Canada, United States
Gender: Women
Race/Ethnicity: Any
Application Requirements
Here's what you need to submits besides your application.
Standardized Test Scores
Essay
Recommendation letters
Grade transcript
How to ace the Adobe Women-in-Technology Scholarship
1
Maintain an outstanding academic record
It is very important to maintain an excellent academic record since successful applicants have to demonstrate this in their application. If you are about to join college, ensure you ace your first-year academics before applying in the second year.
2
Spotlight your leadership experience
In your application, carefully select experiences where you not only lead yourself to achieve something worthwhile but also experiences where you stepped up to lead your community or those around you with remarkable outcomes.
3
Document your community/school service participation
It is required of applicants to have a great record of community/school service involvements. Applicants who exhibit a great experience in this regard are considered over those who have a great academic record with no community engagements.
4
Reach out to previous years' winners
All the past winners of the awards are published on the website. Take advantage of this by reaching out to them to get more specific insights on how to ace the application.
How the Adobe Women-in-Technology Scholarship is Judged
Applicants are assessed on three main areas: academic record, leadership experience, and community/school service records. Successful applicants have outstanding results in these key areas. The applicants must also demonstrate a desire to benefit from the program and a commitment to better their communities.
Why We Love the Adobe Women-in-Technology Scholarship
You get a Creative Cloud subscription membership
The recipients of the scholarship also receive a one-year Creative Cloud subscription that gives them a chance to use all Adobe products for free. These tools and products are shaping the future of the digital and tech world, so having all of them at once is a great opportunity to learn and perfect the skills of the future.
There's an opportunity for Adobe internships
Scholarship recipients have a unique opportunity to interview for an Adobe internship. The internships are very competitive and many students look forward to applying to get a chance to work at a tech-innovator like Adobe. Therefore being considered for an interview is a great privilege.
You join the Adobe WIT scholars community
The scholars' community comprises past winners of the scholarship and industry experts from Adobe. This community of women in technology is a great pivot for young women with budding careers and enthusiasm for technology and leadership.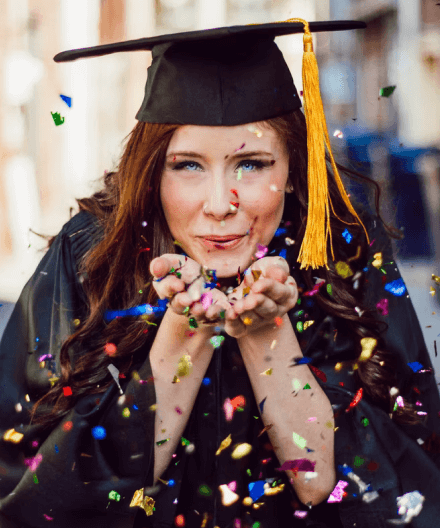 5 Facts about Adobe Scholars Program
Committed to enhancing gender diversity
The technology field has for many years now been dominated by men and the Adobe WIT program has brought a much-needed balance by giving high-achieving women an opportunity to have a fulfilling career in technology and computer science.
They have an open distinguished lectures series
Through the free distinguished lectures series, women in colleges are given a unique chance to meet and learn from eminent researchers and professionals.
Adobe Research Fellowship has had resounding impact
Through the Research Fellowship program, Adobe has given the academic community a great opportunity to collaborate in creating products that solve some of the world's biggest challenges through technology.
A scholarship exclusive for Indian women-in-technology
There is a separate scholarship program exclusive to women who are citizens of India, the recipients are also offered an internship opportunity at the Adobe India office.
Awarding data science research champions
Adobe provides up to $50,000 to any North American college for each research proposal selected - the award is gifted to the institution with the name of the researcher that submitted the proposal.